Saving those yellows? This 21 Day Fix Meal Plan and Grocery List – More "No Yellow" Meals is the easy answer to low carb meals all week long! Following the 2B Mindset? No worries – check out the tips for 2B specific suggestions! Enjoy! This post contains affiliate links for products I'm obsessed with.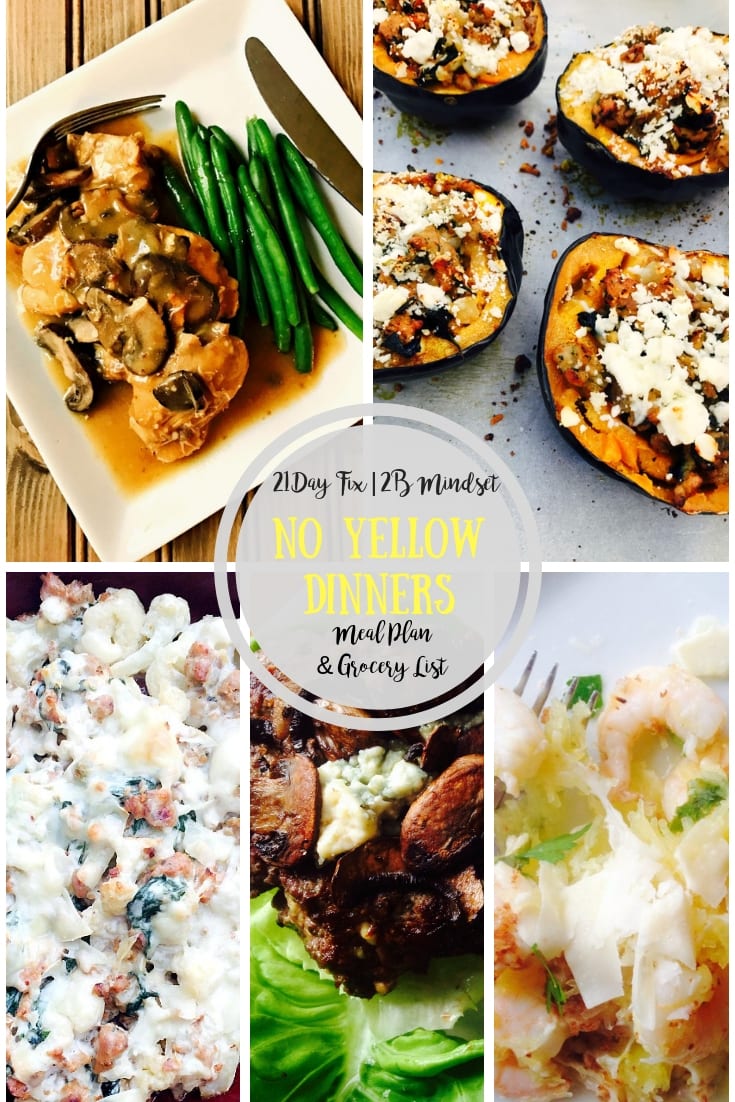 Guys.
I've been hanging out in Maintenance for a few years now after doing two rounds of the 21 Day Fix to lose that baby weight. If you aren't quite in maintenance yet, it's honestly really hard. Almost harder than the actual round of the FIX because you don't have that goal anymore…and you feel like you can indulge more. And then you start to track less. You eyeball portions. You don't listen to your body and how you are feeling.
And soon, it's Fall and your skinny jeans are just a little more, well, skinny than you remember.
Hopefully this isn't your story, but…confession…it is mine.
So I started a full round of the FIX this past week and I feel amazing. And I'm also back to the art of hoarding all my yellows. Since I backwards plan and think about my dinners first, I love having no yellow dinners to allow more flexibility in my day (read: wine)
As it turns out, this plan is also perfect for people following the 2B Mindset...or, let's face it, anyone who likes to eat period, because they are as delicious as they are healthy. Just sayin'
Enjoy!
Meal Plan & Grocery List – More "No Yellow" Meals
Groceries:
1 head of cauliflower, chopped into florets

Spicy turkey sausage (I used 3 REDS worth/about 3 links)

1/4 onion

1 clove of garlic

1/3 cup of low sodium chicken broth

1 cup of ricotta cheese

1-2 cups Spinach and/or kale

olive oil cooking spray [affiliate

I use my EVO

]

1/3 cup Parmesan cheese blend – I love the shaved kind
Tips:
Prep – this is an awesome make ahead dish! Put everything together on Sunday and bake on Monday evening!
Groceries:
1 medium spaghetti squash, cooked and shredded

1 1/4 lbs of shrimp

butter flavored olive oil, olive oil, or butter

2 lemons

4 cloves garlic

1 shallot

fresh Italian parsley

2/3 cup organic low-sodium chicken broth

1/2 slice of gluten free bread (or any bread you have)

2/3 cup of good Parmesan cheese, divided
Tips:
Prep: Make your Spaghetti Squash on Sunday for a quick and easy weeknight meal!
For kids: Serve shrimp over regular pasta if they aren't fans of spaghetti squash yet
For 2B Mindset: Do not add the breadcrumbs to eliminate the small amount of yellow container
Groceries:
1-2 pounds of chicken thighs (or breasts if you prefer)

4 tsp butter or ghee

olive oil spray

[affiliate

I use my EVO

]

2 cups sliced mushrooms

1 shallot

3 cloves of garlic

salt

pepper

garlic powder

3/4 cup of Marsala wine

1/2 cup chicken stock

1 T of tapioca starch, corn starch or rice flour (can sub whatever flour/thickener you have on hand)
Tips:
For a delicious combo, serve with Cauliflower mash, recipe below. Or if you are short on time use a bag of steam fresh veggies!
Groceries:
Cauliflower

Garlic powder

2 tbsp. Parmesan cheese

2 tbsp. Greek yogurt
Groceries:
2 Acorn Squash

4 tsp olive oil

1 lb sweet or spicy poultry sausage (mine was chicken with feta and spinach)

4 tsp olive oil, divided

olive oil spray

[affiliate

I use my EVO

]

1/2 onion

3 cloves of garlic

2 cups of spinach

1/2 cup of feta cheese (or sub your favorite cheese)

2 T of pecorino romano

sea or Himalayan salt
Tips:
Prep – roast (and even stuff) your acorn squash the night before while making your Chicken Marsala!
2B Mindset – since Acorn Squash is an FFC, you can make this a stir fry dish by adding chopped zucchini or stuff a zucchini the same way you would the acorn squash! Use this recipe for guidance: 21 Day Fix Zucchini Lasagna Boats
Groceries:
1 1/2 lb extra lean ground sirloin

1/3 cup of blue cheese crumbles

Himalayan salt

1 tsp of olive oil

optional – sliced mushrooms to use as a topping!
Tips:
Try these turnip fries as a yummy side option!
For kids – make a few patties before adding in blue cheese crumbles, serve with sweet potato fries.
For 2B Mindset – serve with grilled asparagus for 1 Green container