This Chocolate Chia Pudding makes a delicious breakfast or after dinner treat when you need something slightly sweet, but also want to get a nice dose of protein before bed. Chia Pudding is naturally gluten free, dairy free, vegan, and can be keto/low carb, as well! This post contains affiliate links for products I'm obsessed with.
This is a sponsored post on behalf of Bob's Red Mill. As always, all opinions are 100% mine. Thank you for supporting the brands that help make Confessions of a Fit Foodie possible.
Confession: We have become a dessert every night family. Not entirely sure when that happened, but it happened and my kids expect "dessert" every night.
I'm sure it's my fault. I love a sweet treat after a meal. I went a solid decade of my twenties eating ice cream like every single night after dinner. Sometimes in bed while watching TV because that's normal. Side note – if you eat an ice cream cone in bed, you don't have to go back downstairs and put the bowl in the sink. #justsayin
Now that I am, ahem, over 40, my metabolism just isn't what it used to be. However, I still love something sweet in the evening (and sometimes before) and so I've gotten really good at prepping small healthy "desserts" for myself to have and they totally kill my cravings.
And while I set out to make this Chocolate Chia Pudding as a breakfast, I have to say, I've been enjoying them as an after dinner treat all week, so they really work any time of day! Woohoo!
What is Chia Pudding?
Chia Pudding is so simple! It's basically adding Chia Seeds to a liquid, usually milk, and adding flavors and/or sweeteners and allowing this mixture to gel and thicken into a pudding like consistency!
I use Bob's Red Mill Chia Seeds because they are organic and certified gluten free, and can be found at any of my local grocery stores. If you follow my blog, you know I am a huge fan of Bob's Red Mill products and use them for muffins, for oatmeal recipes, for lentil soup…for anything, really, because their products are always in my pantry!
What does Chia Pudding taste like?
Chia by itself has a really mild, almost neutral flavor, so Chia pudding tends to taste like whatever ingredients are mixed in with it! In this case, it tastes mildly sweet and chocolatey like a chocolate pudding!
**Just a note – I originally wanted to do a blended Chia Pudding recipe – with a mousse like texture – but I quickly learned that blended chia seeds have a bitter flavor to them (who knew???) and in order to get the flavor of the mousse the way I wanted it, I needed to use a pretty large amount of extra sweetener. For me, it just wasn't worth it!
Is Chia Pudding Healthy?
Yes! Chia Seeds, in general, are so freaking good for you! It's amazing how much nutrition is in these tiny little seeds!
They're a good source of:
Omega 3 fatty acids – good for reducing inflammation in the body and helping to

regulate blood sugar levels and insulin.

Plant-based protein –

good for building lean muscle

Antioxidants –

good for ridding our body of free radicals, which have been linked to cancer and heart disease.

Fiber –

g

ood for weight loss by keeping you feeling full and satisfied – making this the perfect breakfast or snack to hold you over!
Chia Seeds also contain magnesium and potassium, two very important nutrients that we tend to be lacking in our diets.
What ingredients do I need for Chocolate Chia Pudding?
Chia Seeds – like I said, I use Bob's Red Mill Organic Chia Seeds because they are non-gmo, organic, and easy to find at any grocery storee
Cocoa or Cacao powder – for a delicious chocolate flavor and extra magnesium boost
Dairy free milk – this keeps the recipe vegan. I love using vanilla flavored almond or cashew milk
Pure vanilla extract – for extra flavor without additional sweeteners
Pure Maple Syrup – you can sub honey if you aren't vegan. For whole 30, you can sub date paste. To make this keto friendly, you can sub stevia.
Cinnamon – this is optional, but I love how it gives the pudding a little more depth of flavor!
Salt – I love adding a little flakey sea salt to all of my chocolate treats!
Toppings – you can eat this Chocolate Chia Pudding by itself, but I also love adding some homemade coconut whip and raspberries! See below for more topping ideas!
How to Make Chocolate Chia Pudding
Chia Pudding is one of the easiest recipes you can make – and because of this, it's perfect for Meal Prep! With Valentine's Day right around the corner, I've made a Chocolate Chia Pudding, but the flavor combinations are really endless!
In a medium-size bowl, add in the cocoa powder, maple syrup, vanilla extract, dairy-free milk, salt and chia seeds. Whisk together until all ingredients are combined and the cocoa powder is completely incorporated into the mix.

Leave the chia seed mixture in the bowl for a few minutes – this kick starts the chia gelling process. After about 5 minutes, mix your chia pudding again.

At this point, you can just cover the mixing bowl that the chia pudding is in, or you can divide your pudding into smaller containers now (I love these Weck Tulip Jars) and cover. Place your chocolate chia pudding in the r

efrigerator overnight or a minimum of 4 hours.

Before eating, mix your pudding again. If it's too thick, you could always add some extra milk, but I find the consistency to be perfect!
What are some Topping Ideas for Chocolate Chia Pudding?
This pudding is delicious on it's own, but I love topping it with some fresh raspberries and 1-2 T of homemade coconut cream to really take it from to snack to dessert. For a homemade coconut whip tutorial, check out my Healthy Strawberry Shortcake recipe.
You could also top it with:
clementines or mandarins
strawberries
a drizzle of peanut butter or almond butter
chopped almonds or walnuts
you could also add in some peppermint extract and for a minty flavor!
How long does Chia Pudding Last in the refrigerator? Can you freeze Chia Pudding?
As I said earlier, you can meal prep this chia pudding and it should last 4-5 days in the refrigerator. I also love freezing Chia Pudding using my Souper Cubes! I just freeze into serving sized portions and then thaw in the fridge or place the ziplock baggie in water to thaw quicker. This is perfect for when a chocolate craving hits!
Tip: Store your bag of Chia Seeds in the fridge to keep them as fresh as possible!
How do I count Chia Seeds and Chia Pudding on the 21 Day Fix?
According to the Ultimate Portion Fix Food List, 2 Tablespoons of Chia Seeds are one orange, making this Chocolate Chia pudding 1 orange and 1/2 teaspoon (almond milk) per serving. If you count sweetener teaspoons, this would be 2 sweetener teaspoons per serving. Not bad for a treat! Don't forget to count any toppings!
Looking for More Chia Pudding Recipes? Check out these posts:
Cardamom Chia Seed pudding With Mango | The Foodie and The Fix
Almond Butter Jelly Chia Pudding | Life is But a Dish
Triple Berry Chia Pudding | Skinnytaste
Strawberry Cheesecake Chia Seed Pudding | The Foodie and The Fix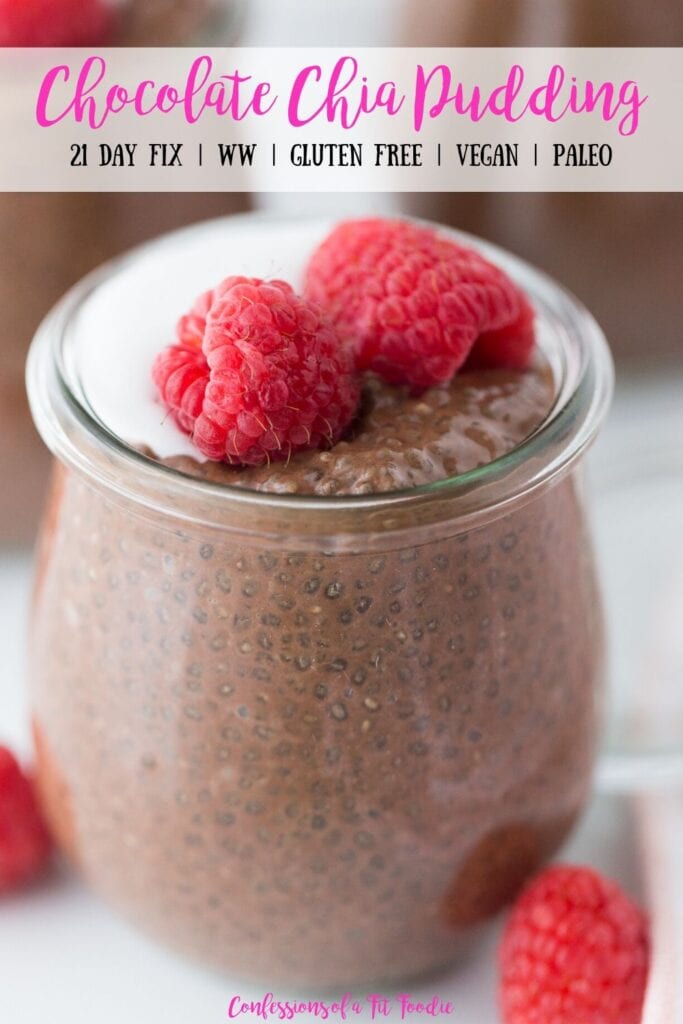 Looking for more Fiber Filled breakfasts that can sub as snacks? Check out these posts:
Thank you Bob's Red Mill for sponsoring this post. It means so much to me to work with brands that I love and use in my kitchen daily!
Chocolate Chia Pudding
This Chocolate Chia Pudding makes a delicious breakfast or after dinner treat when you need something slightly sweet, but also want to get a nice dose of protein before bed.  Chia Pudding is naturally gluten free, dairy free, vegan, and can also be keto/low carb as well! 
Ingredients
1/2

cup

Bob's Red Mill chia seeds

3-4

tablespoons

unsweetened cocoa powder or raw cacao powder

1/4

teaspoon

salt

1/2

teaspoon

of cinnamon

optional

3-4

tablespoons

pure maple syrup or honey

2

teaspoons

vanilla extract

2

cups

dairy free milk - almond or cashew are my favorites
Optional Toppings
raspberries or other fruit

homemade coconut whip cream - see this Strawberry Shortcake recipe for a quick tutorial
Instructions
In a medium-size bowl, add the cocoa powder, maple syrup, vanilla extract, dairy-free milk, salt and chia seeds. Whisk together until all ingredients are combined and the cocoa powder is completely mixed in. 

Leave the chia seed mixture in the bowl for 5 minutes without stirring for the chia seeds to gel. After 5 minutes, whisk it one more time. 

Cover the bowl or divide into 4 equal servings (I love these

Weck jars

or mini mason jars) and place it in the refrigerator overnight or a minimum of 4 hours. Remove chia seed pudding from the fridge and stir together with a spoon.

If desired, top with raspberries and 2 T of coconut whipped cream
Notes
21 Day Fix: 1 ORANGE, 1/2 TSP, 2 sweetener TSP (per serving) plus toppings WW: 6 points per serving (using 3T of maple syrup)
Nutrition
Serving:
0.5
cup
Calories:
176
kcal
Carbohydrates:
22
g
Protein:
5
g
Fat:
9
g
Saturated Fat:
1
g
Polyunsaturated Fat:
6
g
Monounsaturated Fat:
1
g
Trans Fat:
0.03
g
Sodium:
314
mg
Potassium:
181
mg
Fiber:
9
g
Sugar:
9
g
Vitamin A:
12
IU
Vitamin C:
0.4
mg
Calcium:
308
mg
Iron:
2
mg