Need a quick and easy holiday appetizer? This Instant Pot
Baked Brie is perfect – super simple, so delicious, and you can serve it right in the same dish you made it in!
It's the first week of December and I've been in full holiday mode for weeks now…and it's seriously the best. Tonight we will be celebrating St. Nick night…have you guys done this? My kids put their shoes out in the hallway at night before bed and then St. Nick comes and fill their shoes with little treats and toys.
It's super fun.
It's also the night that our Elf comes. So thank, you, Pinterest, in advance for saving my butt for the next few weeks.
Anyway, I'm starting to plan my holiday party menu and how I can get use my Instant Pot
to help make hosting a little easier. I tested this Instant Pot Baked Brie for the first time on Thanksgiving and couldn't believe how easy it was – and how much less of a mess that I made than usual when I work with brie.
I mean, brie is super easy to make – you can simply bake it or even put it in the microwave, but I LOVE that I can cook it right in my IP, saving my oven for other things, and then serve this right in the SAME dish I cooked it in. Boom.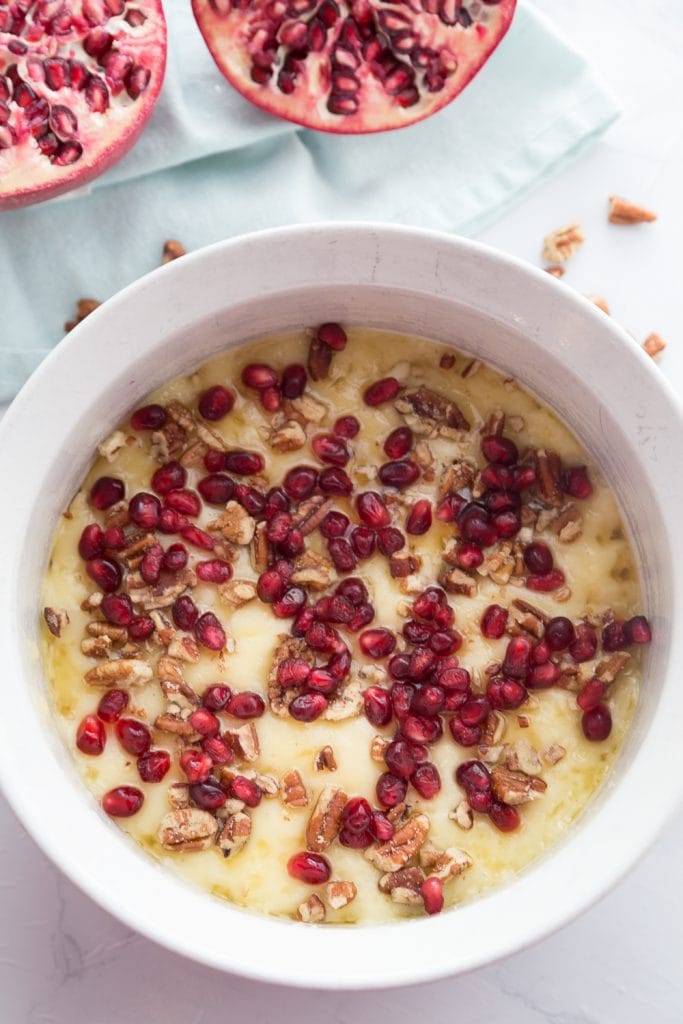 Once upon a time I used to serve brie in a puff pastry with tons of brown sugar and dried cranberries…delicious, but I swear, just adding some pomegranate seeds, nuts, and either honey or maple syrup is just as good, and worlds better for you.
You could go the dried fruit route here if you want, and feel free to switch up the nuts. I had extra pecans, so that's what I used here, but I love me some brie with pistachios, walnuts or even almonds. Nut allergy? Just skip!
And it's really easy to remove the seeds from a pomegranate. Just cut it in half and hold one half over a bowl. Give it a good whack with a wooden spoon or spatula and they should come right out! Not gonna lie – it's kinda fun.
So fun and festive! I love serving this with a mixture of both FIX and non FIX approved foods to keep everyone happy and to keep me on plan!
And before we get to the recipe, here are some FAQs about this Instant Pot Baked Brie:
Is Brie approved for the 21 Day Fix?
Brie is not on the food list, but when comparing the nutritional information of brie and cheddar cheese, the stats are similar…and brie actually has less fat and calories than cheddar, so it seems like a perfect use of the BLUE container.
What kind of dish or pan do I use in my Instant Pot to cook this brie?
You can use a small casserole dish
or even a small Springform Pan
for this Instant Pot Baked Brie. And I LOVE this silicone sling
to help remove the pot!
Can I make this Instant Pot Baked Brie ahead of time?
You really don't need to – it's so quick and simple. I would prep it, but serve it freshly warmed if you can!
Can I reheat this Instant Pot Baked Brie?
Yes! It's very easy to warm in your Instant Pot for a few minutes, in the microwave or in your oven!
What can I serve this Instant Pot Baked Brie with?
I love it with apples the best, but it's also delicious with crackers, toasts or a sliced baguettes. I even love it with cucumbers! If you are following the 21 Day Fix and plan to eat this brie with a yellow, just make sure they are whole grain options.
What if I don't have an Instant Pot?
You need one – this is the one
I use the most! But, you can melt brie in the microwave in 3-4 minutes or bake in the oven on 350 for ten minutes.
Looking for more 21 Day Fix Appetizers? Check out these posts!
21 Day Fix Roasted Shrimp Cocktail with Cranberry Horseradish Chutney
21 Day Fix Harvest Salad Bites with Honey Goat Cheese
21 Day Fix Italian Stuffed Mushrooms
21 Day Fix Mini Arancini (Rice Balls)
Pear, Pecan, and Goat Cheese Appetizers | The Foodie and the Fix
21 Day Fix Buffalo Chicken Dip | My Crazy Good Life
21 Day Fix Bean Dip | Carrie Elle
21 Day Fix Appetizers for the Holiday Season
Just getting started with an Instant Pot? I can help!
Easy Instant Pot Recipes for Beginners | What to Cook First in Your New Instant Pot
Gifts for Instant Pot Owners [from someone who has THREE] | My Favorite Instant Pot Accessories
What Does the Instant Pot Burn Message Mean? | Troubleshooting the Instant Pot Burn Message
Looking for more Instant Pot recipes? Here are some of my favorite roundups!
31 Days of Healthy Instant Pot Recipes [21 Day Fix | Weight Watchers Freestyle]
Healthy Instant Pot Summer Recipes | 21 Day Fix | Weight Watchers
Healthy Instant Pot Mexican Favorites (21 Day Fix | 80 Day Obsession | Weight Watchers)
Healthy Instant Pot Meal Plan & Grocery List Round Up | 21 Day Fix | 2B Mindset
Enjoy this Instant Pot Baked Brie recipe!
Instant Pot Baked Brie
Need a quick and easy holiday appetizer?  This Instant Pot Baked Brie is perfect - super simple, so delicious, and you can serve it right in the same dish you made it in!
Ingredients
8

oz

wheel of Brie

1/4

cup

chopped pecans

1/2

cup

pomegranate seeds

1/4

cup

honey

or maple syrup
Instructions
Unwrap brie and, using a sharp knife, slice the top of the rind off, but place it back on the wheel of brie to keep the cheese from spilling over while it cooks.

Pour a cup of water in your instant pot and then place the trivet at the bottom of the pot.

Either put your brie wheel in a small IP safe bowl or pan (a small springform pan works great or 7 inch casserole dish), or make a bowl out of foil for it to sit in while cooking.  Cover the bowl tightly with foil.

Prepare a foil sling for lifting the baking dish out of the pressure cooker by taking an 18" strip of foil and folding it twice lengthwise, or use your silicone sling. Place your sling under your pot of brie and put the pot on the trivet.

Lock lid and set instant pot for 16 minutes.

Quick release and check to make sure the brie is melty and hot.

Carefully remove top of brie wheel and discard (be sure to scrape off any melted brie first!). Drizzle brie with the honey or maple syrup and top with chopped pecans and pomegranate seeds.

Serve with apples, gluten free crackers, and veggies.
Notes
21 Day Fix: 1 serving is 1/2 blue, 1.5 sweetener teaspoons, PLUS whatever dippers you use
WW link for personal points: Instant Pot Baked Brie (8 servings)
Nutrition
Serving:
3
T of Brie plus dippers
Calories:
172
kcal
Carbohydrates:
4
g
Protein:
9
g
Fat:
14
g
Saturated Fat:
7
g
Polyunsaturated Fat:
1
g
Monounsaturated Fat:
5
g
Cholesterol:
38
mg
Sodium:
239
mg
Potassium:
124
mg
Fiber:
1
g
Sugar:
3
g
Vitamin A:
230
IU
Vitamin C:
3
mg
Calcium:
75
mg
Iron:
0.4
mg