This Instant Pot Ramen Noodles Stir Fry is hands down one of the quickest and easiest dinners you can make and yet it's one of our new favorites! And by using brown rice ramen noodles and a homemade stir fry sauce, this dinner is gluten free, dairy free, 21 Day Fix and Weight Watchers approved! This post contains affiliate links for products I'm obsessed with.
Guys. This recipe.
The inspo behind it comes from two wildly popular recipes – my Asian Chicken Meatballs and my Chicken Ramen Noodle Stir Fry.
That should tell you all you need to know, friends.
Except that there is more. This recipe is basically the I-don't-have-time-for-that version of both of those recipes combined because there is:
minimal chopping
only one minute of hands-off cook time in the IP
no need to roll any meatballs
And yet, there is the same delicious flavor of the Asian Chicken Meatballs and also the fun, noodle-y deliciousness of the stir fry.
Boom.
It's also Gluten Free thanks to my favorite amazing Gluten Free Ramen Noodles, and it's also dairy free, too!
Ingredients
This recipe starts out with a similar stir fry sauce as I use in many of my other Asian inspired recipes, including those famous meatballs.
To make the sauce you need:
pure maple syrup – Yes, you can sub honey!
coconut aminos

– You can sub tamari or low sodium soy sauce if you aren't gluten free.

tomato paste – To amp up the flavor a bit. TIP: freeze the rest of the can of tomato paste, as it's the perfect amount for my Sloppy Joe Stuffed Sweet Potatoes and my Instant Pot BBQ Chicken [Crock Pot Option].
low sodium chicken broth – This isn't typically in my stir fry sauces, but the Instant Pot needs a little bit of extra liquid.
sprinkle of salt – If you are really watching your sodium, you can omit this and add some salt at then end of cooktime, as needed.
Remaning Stir Fry Ingredients:
avocado, olive, or coconut oil – I prefer the neutral taste of the avocado oil.
lean ground chicken, ground beef, or ground turkey – Whatever you want to use here will be delish! You could even use chicken sausage for a fun twist!
garlic – I use two cloves, but garlic lovers can can up this amount.
fresh ginger – I store fresh ginger in the freezer so it keeps fresh longer, plus it's easier to grate this way!
matchstick carrots – To save time, I buy a bag of already shredded carrots! They are great to use in salads, too, and my kids even snack on them.
sugar snap peas or snow peas – Since both of these come bagged and washed already, this is another way I save time in this particular recipe.
brown rice ramen noodle cakes – Not only are these brown rice ramen noodles gluten free, they have two grams of fiber per serving! **See note below on where to purchase these!
optional – Sesame oil and chili garlic paste – I love Sambal Oelek and always have it in my fridge. I just drizzle a tiny bit of both sesame oil and sambal oelek on my plate before serving and YUM! You could also garnish with some green onion or cilantro, but I love that this dinner is so no fuss and delish without any fresh herbs.
Where can I buy Brown Rice Ramen Noodles?
I can find them in my local store, and also at Costco, but I have purchased them on Amazon as well.
Note: If you use my affiliate link for ramen, please note that it's for 2 twelve packs! This is the best price per unit option on Amazon, if you can't find them locally. But know that you'll be getting 24 noodle cakes!! They last for a long time in the pantry, so not to worry!
How to Make Instant Pot Ramen Noodles Stir Fry
Step one: Prepare your Stir Fry Sauce. It's important to have this ready before you begin so your veggies don't overcook while sautéing them.
Step two: Cook up your ground meat and add in garlic and ginger until fragrant.
Step three: Stir in your veggies. No need to saute them, just stir to combine.
Step four: Place your ramen cakes on top of the veggie mixture, then pour half of the stir fry sauce over top of them. Flip cakes over and pour in the other half of the sauce. Lock lid and cook on manual high pressure for 1 minute, followed by a quick release.
Step five: After cook time, remove your lid and gently pull the ramen noodles apart using two forks. It's likely that your ramen noodles won't be fully cooked yet, and that's ok! Just pull them apart, mix up the stir fry, and place the lid back on top. Give everything a couple of minutes to steam, and then you should be good to go!
Step six: Serve with a little (optional) drizzle of chili garlic paste and sesame oil. It's also yum with freshly chopped green onions and cilantro!
Can I make the Ramen Noodles Separately?
Yes! You can follow the instructions on the packet or use my favorite hot water method – just place the ramen in a bowl of hot tap water until soft. Then you can add it to the cooked stir fry.
I don't have an Instant Pot. Can I make this Stir Fry on the stove?
Absolutely! You will just cook the ground meat, add your veggies, then add stir fry sauce and cooked noodles! It's still a really quick meal when you make it this way! See the recipe card below for full details.
I don't like Snow Peas. Can I switch to a different veggie?
Absolutely. My husband isn't the biggest fan of them, but I really loved that they didn't need to be prepped at all! You could swap out string beans, bell peppers, whatever you like! Just know that broccoli gets super soft really quick in the instant pot, so one minute of cooktime is too long. If you plan to use broccoli, steam it separately!
More Gluten Free Ramen Noodles Recipes:
Instant Pot Ramen Noodles | Gluten Free Ramen Noodles
Healthy Chicken Ramen Noodle Stir Fry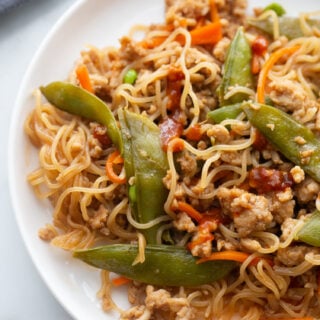 Instant Pot Ramen Stir Fry
This Instant Pot Ramen Stir Fry is hands down one of the quickest and easiest dinners you can make and yet it's one of our new favorites! And by using brown rice ramen noodles and a homemade stir fry sauce, this dinner is gluten free, dairy free, 21 Day Fix and Weight Watchers approved!
Ingredients
1/4

cup

pure maple syrup

can sub honey

1/3

cup

coconut aminos

or sub low sodium soy sauce if you aren't gluten free

¼

cup

low sodium chicken broth

1

tablespoon

tomato paste

Sprinkle

salt

2

teaspoon

avocado, olive, or coconut oil

1

lb

lean ground chicken

or ground beef

2

cloves

garlic

minced

1-2

tablespoons

fresh minced ginger

1

cup

matchstick carrots

8

oz

sugar snap peas or snow peas

2

brown rice ramen noodle cakes

Optional - sesame oil, chili paste (Sambal Oelek)
Instructions
Instant Pot
In a small bowl, mix together stir fry sauce - maple syrup, coconut aminos, chicken broth, tomato paste, and a sprinkle of salt.  Set aside. 

Set Instant Pot to saute and once hot, add in oil and ground chicken.  Stir fry until almost cooked through, then add in ginger and garlic.  Cook for an additional minute, or until fragrant. 

Add in matchstick carrots and sugar snap peas. Give everything a stir, but no need to cook the veggies.  Then place ramen noodle cakes on top of the veggies.  Pour half of the stir fry sauce over top of the ramen cakes, the flip them over and pour the rest of the sauce on top.  Try to make sure all of the cakes have gotten wet - especially the sides, but also make sure the ramen cakes rest on top of the meat and veggies. 

Set your Instant Pot for 1 minute on manual pressure. After cooktime, do a quick release. 

Using two forks, gently break up the ramen cakes and stir up the stir fry.  The ramen noodles will likely still be a little hard, so after stirring, pop the lid back on for a few minutes before serving. 

Optional - drizzle a tiny amount (I use ⅛-¼ tsp) of sesame oil and chili paste on top before enjoying (my kids don't love this, but I do!)
Stovetop Directions:
In a small bowl, mix together stir fry sauce - maple syrup, coconut aminos, chicken broth, tomato paste, and a sprinkle of salt.  Set aside.

Place the two 

ramen

noodle cakes in a bowl and cover with very hot tap water – not boiling, just very hot.  Set the bowl aside and start your stir fry. 

In a large skillet, add in oil and ground chicken.  Stir fry until almost cooked through, then add in ginger and garlic.  Cook for an additional minute, or until fragrant. 

Add in matchstick carrots and sugar snap peas. Cook until veggies are tender. 

Drain noodles and gently pull them apart. Add noodles to the pan with the chicken and veggies.  Top with sauce and cook everything together for 1-2 minutes or until hot and the sauce begins to thicken.

Optional - drizzle a tiny amount (I use ⅛-¼ tsp) of sesame oil and chili paste on top before enjoying (my kids don't love this, but I do!)
Notes
21 Day Fix: 1 YELLOW, 1 RED, 1 GREEN, 1/2 TSP, 3 sweetener TSP (per serving)  WW: 10 points (per serving) [Calculated using olive oil, 98% ground chicken and sugar snap peas]
Nutrition
Serving:
1.5
cups
Calories:
488
kcal
Carbohydrates:
54
g
Protein:
27
g
Fat:
18
g
Saturated Fat:
6
g
Polyunsaturated Fat:
3
g
Monounsaturated Fat:
9
g
Trans Fat:
0.1
g
Cholesterol:
98
mg
Sodium:
1448
mg
Potassium:
996
mg
Fiber:
4
g
Sugar:
17
g
Vitamin A:
6028
IU
Vitamin C:
37
mg
Calcium:
81
mg
Iron:
4
mg