This 21 Day Fix Ramen Noodle Salad is a healthy remake of the classic potluck favorite!  It's made with a low sugar, olive oil based dressing, crispy brown rice ramen noodle topping, and tons of veggies. This recipe contains affiliate links for products I'm obsessed with. 
The first time I had Ramen Noodle Salad was at a brunch held at my father-in-laws house and omg – I fell in love at first bite.
It's like crack slaw.  Right?  Tell me you have had Ramen Noodle Salad before.  Isn't it just to die for?
Recently a member of our online Facebook group asked about additional Ramen Noodle recipes since she bought a lot for my 21 Day Fix Ramen Noodle Soup, so this was the first recipe I thought of.  I knew it was time to finally FIX it.
This healthier, 21 Day Fix version uses my favorite brown rice ramen noodles
(or these
, which are sometimes easier to find at the grocery store) and a low sugar dressing made with olive oil instead of canola oil like the original recipe calls for, so you can indulge and feel good on plan.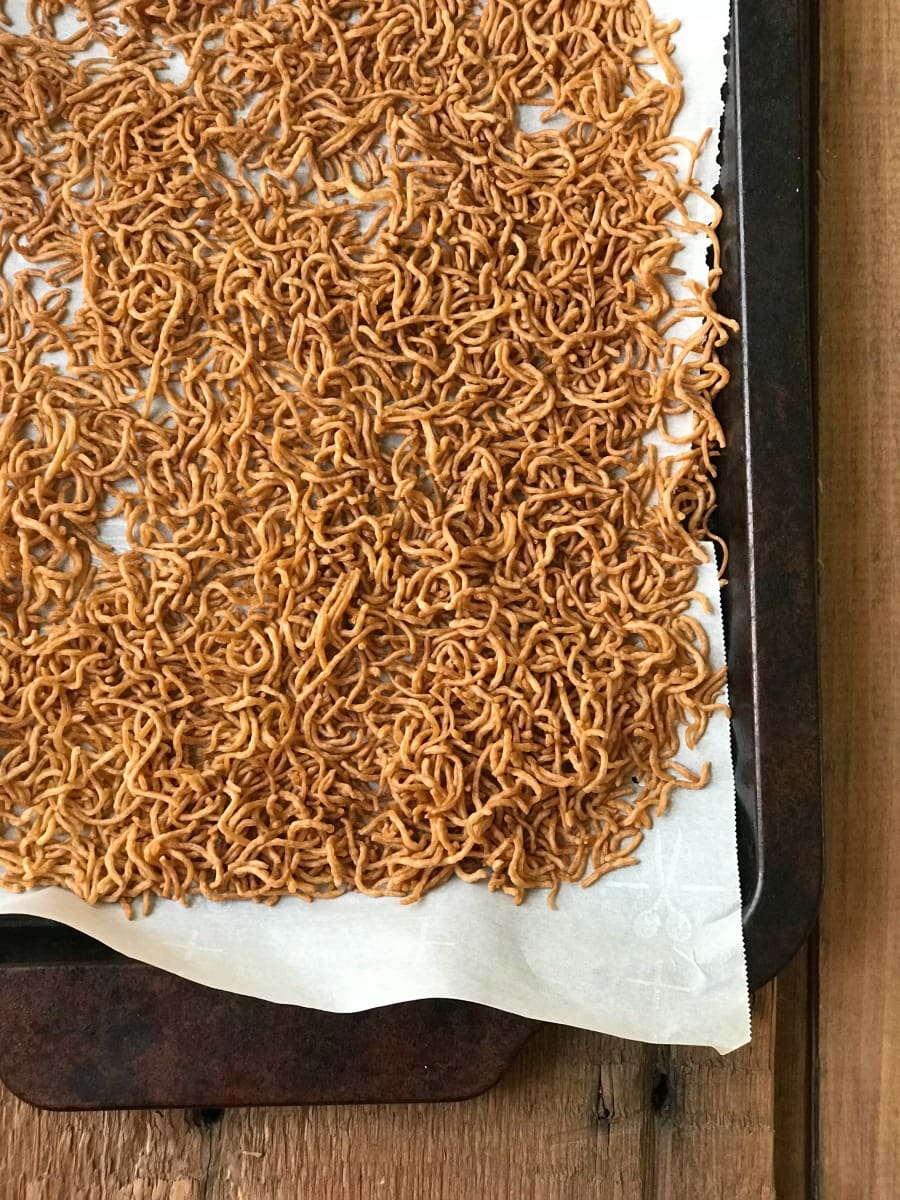 I just toasted my noodles to give them the necessary crunch – they taste SO yummy this way, my kids were snacking on them.  My littlest was calling them chips! (score!)
And I added some carrots, green onions, almonds (which you could also toast) and some shelled edamame to the cole slaw mix.
Then I tossed in my homemade Asian vinaigrette.  After consulting with my mom, I added a bit more dressing to this recipe…so this is now a full orange, but totally worth it.  I want to put this dressing on all the things!!
These healthier ramen noodles don't stay as crunchy as the regular kind, so I usually wait to toss them in right before serving…kind of like a topping.
And while it's totally a no-brainer recipe to bring to potlucks because it makes SO much…it's also a super easy, prep ahead lunch or dinner that will last in your fridge for a couple of days.
If I am making this for a meal, I love adding in some diced grilled chicken.  It's also the perfect side dish for my Instant Pot Maple BBQ Chicken (Slow Cooker Option) or my 21 Day Fix Pulled Pork.
Oh – and if you aren't feeling the canned mandarin oranges (I know, I get it), this is SO GOOD with some diced mango.  And since it's only 1/2 blue per serving, I also love to top mine with avocado.  I don't mix it in to the big bowl because it doesn't keep well that way, but I will throw a sliver or two right on top.
So. Much. Yum.  If you make this deliciousness, don't forget to tag me or #confessionsofafitfoodie on social.  I LOVE seeing your healthy creations!
Check out some of these other crowd pleasing potluck salad ideas!
Easy Gluten-free Mediterranean Chickpea Salad | 21 Day Fix | Weight Watchers | 2B Mindset
21 Day Fix Mexican Street Corn Salad
Maple Cider Holiday Salad [21 Day Fix | 2B Mindset]
Ramen Noodle Salad
This Ramen Noodle Salad is a healthy remake of the classic potluck favorite!  It's made with a low sugar, oil based dressing, crispy brown rice ramen noodle topping, and tons of veggies. 
Ingredients
For the dressing
1/2

cup

olive or avocado oil

3/4

teaspoon

sesame oil

3

tablespoons

rice vinegar

or sub apple cider vinegar

2 1/2

tablespoons

honey

1 1/2

tablespoons

coconut aminos

or sub low sodium soy sauce

Sprinkle

salt

1

teaspoon

grated ginger

optional, but highly recommended
For the salad
2

brown rice ramen noodle cakes

crumbled (should equal 1 cup or 200 calories)

16

ounce

coleslaw mix

(shredded cabbage)

2/3

cup

sliced almonds

1

cup

shelled frozen edamame

thawed

1

cup

shredded matchstick carrots

4

scallions

thinly sliced

1

cup

canned mandarin orange segments

rinsed and drained (or sub diced mandarins or mangos)
Instructions
Preheat to 425 degrees. Place the crumbled ramen noodles on a baking sheet lined with parchment. Bake for 5 minutes or until golden brown and crispy. Remove from oven and let cool. (Tip - you can also toast your almond with the ramen if you want!)

Mix ingredients for dressing together and whisk well or shake it up in a small mason jar.

Toss coleslaw mix into a large salad bowl and add almonds, edamame, carrots, and scallions. Then gently fold in the mandarins.

Pour dressing over top of the salad and toss to combine. **If you are making this ahead of time, I would add the dressing close to the serving time...but it should keep in the fridge for a few days even after mixing.

Top with toasted ramen noodles before serving!

If you have extra blue, try it topped with some avocado! YUM! Have fun with it!
Notes
6 servings = 1 1/2 cups per serving
21 Day Fix: 1 1/2 GREEN, 2/3 YELLOW, 1 ORANGE, 1/3 BLUE, 1/6 PURPLE, 1 sweetener TSP (per serving)
WW: Salad without dressing - 4 points (per serving); Dressing - 6 points (per serving) [Calculated using avocado oil]
8 servings = 1 cup per serving
21 Day Fix: 1 GREEN, 1/2 YELLOW, 2/3 ORANGE, 1/4 BLUE, trace PURPLE, 2/3 sweetener TSP (per serving)
WW: Salad without dressing - 3 points (per serving); Dressing - 6 points (per serving) [Calculated using avocado oil]
Nutrition
Calories:
426
kcal
Carbohydrates:
35
g
Protein:
9
g
Fat:
29
g
Saturated Fat:
5
g
Polyunsaturated Fat:
4
g
Monounsaturated Fat:
18
g
Trans Fat:
0.002
g
Sodium:
695
mg
Potassium:
514
mg
Fiber:
6
g
Sugar:
8
g
Vitamin A:
4138
IU
Vitamin C:
42
mg
Calcium:
104
mg
Iron:
3
mg