This protein-rich, filling, and hearty Black Beans and Quinoa Salad recipe is the perfect side dish or easy main dish to whip up. Bright and summery quinoa salad is bursting with delicious veggies and flavor from fresh ingredients, like cucumbers, grape tomatoes, mangoes, bell peppers, red onions, and a homemade dressing.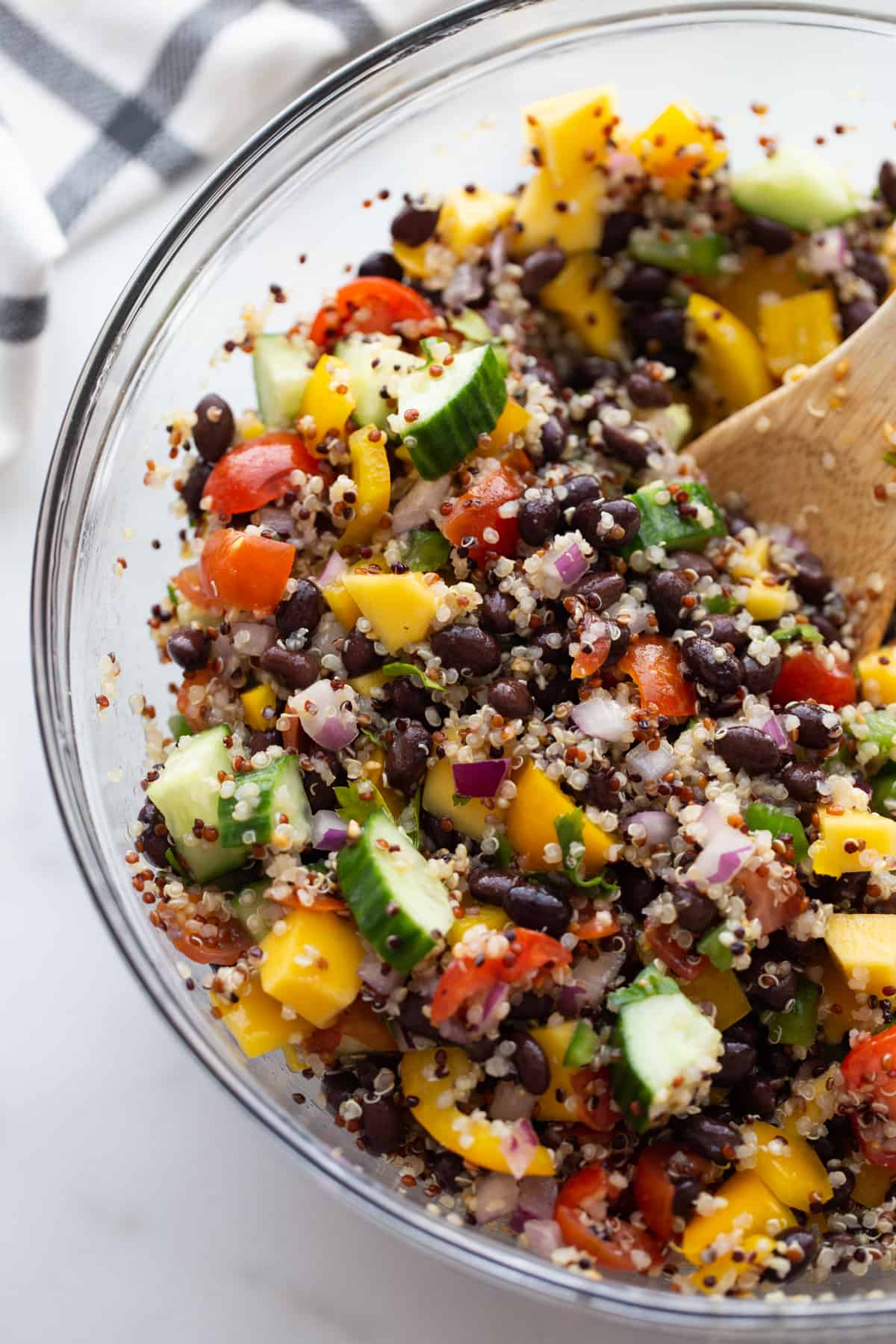 One of my favorite things to meal prep is Instant Pot Quinoa– I love making a big batch of it to use in breakfasts, salads, sides, and mains all week long – I even freeze quinoa to have on hand whenever I need a healthy carb. And I love using it in recipes like my Air Fryer Stuffed Acorn Squash with Sausage, Quinoa & Apple, or Chicken Quinoa Mediterranean Salad with Tzatziki Dressing, or Avocado, Mango and Quinoa Salad, and, of course, this Black Bean and Quinoa Salad – one of my new go-to dishes. It's perfect for summer potlucks or summer meal prep because it's light, fresh, and delicious!
Why I Love This Quinoa Salad
It's a great way to make sure you get lots of veggies, protein, fruit, carbs, and healthy fats in one yummy dish
It's super easy to make and the whole salad is ready in about 5-10 minutes
It's full of fantastic flavors and easy to customize
Easy to make a double batch of for meal prep and have many meals made all week long
Simple to serve as a healthy side dish or main course
Ingredients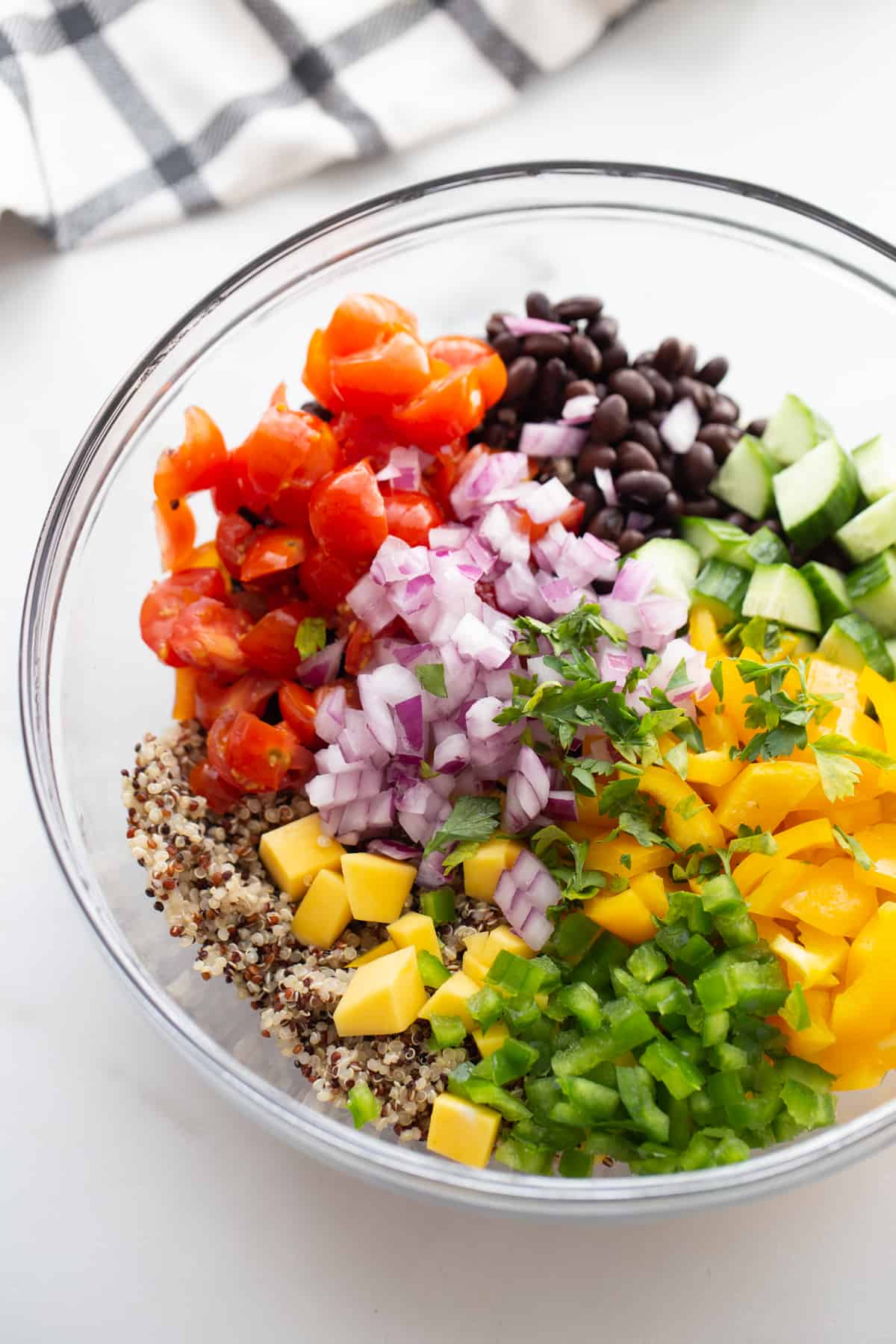 For the quinoa salad recipe, here are the fresh ingredients you will use:
Quinoa- Cooked quinoa that has cooled is what's best for this recipe. You can pop your cooked quinoa in the fridge to cool it faster, if needed. Here's my post on how to meal prep quinoa!
Black beans- Dried and rinsed beans will work best. Black beans are a great source of protein and healthy carbs, but if you're out of them, you can use other bean choices, if needed. Love it with chickpeas, too.
Bell peppers – Use any color pepper you want for this!
Cucumbers- Cucumbers are low in calories and provide various health benefits from necessary vitamins, minerals, and antioxidants, and they add a nice crunch in this salad.
Grape tomatoes- Or whatever tomato you have on hand (BTW, I am sooo excited for my summer garden tomatoes for this salad)
Mango- This is the secret ingredient that packs a nice punch of sweetness to this otherwise veggie, grain and protein rich salad. Mangoes help promote healthy immune systems and support overall heart health.
Red onion- These provide great antioxidant properties, especially from the quercetin, which helps fight off inflammation and boosts the immune system. You can swap this red onion out for other onion varieties, but I love the crisp crunch and flavor red onions bring.
Cilantro- I prefer to use fresh cilantro as it provides better flavor and nutrition. But this is an optional ingredient that you don't have to use. You can also use parsley or dill if you're anti-cilantro.
jalapeño- Freshly diced jalapeño brings a nice pop of mild heat to the dish and another fantastic texture with every bite. Just be sure to remove the seeds or the end result might be spicier than you wish! For more on jalapeños and other spicy peppers, check out this How hot is that pepper post!
For the dressing, you'll need:
Lime- I used the juice from 2 limes. Ultimately, you'll need about 4 Tablespoons of fresh lime juice. If you have less juicy limes, you may need another lime or two to reach the necessary amount.
Olive oil- You may choose to swap this out for other approved oil choices like avocado oil, but keep in mind the flavor profile you're going for.
Maple syrup- This is your natural sweetener to help balance the salad dressing. You can also use honey instead, but if you're looking for an all-vegan recipe, honey isn't vegan, so stick to the pure maple syrup.
Salt- I use just a sprinkle of salt to enhance all of these flavors so they can meld together. Just a pinch is all you need.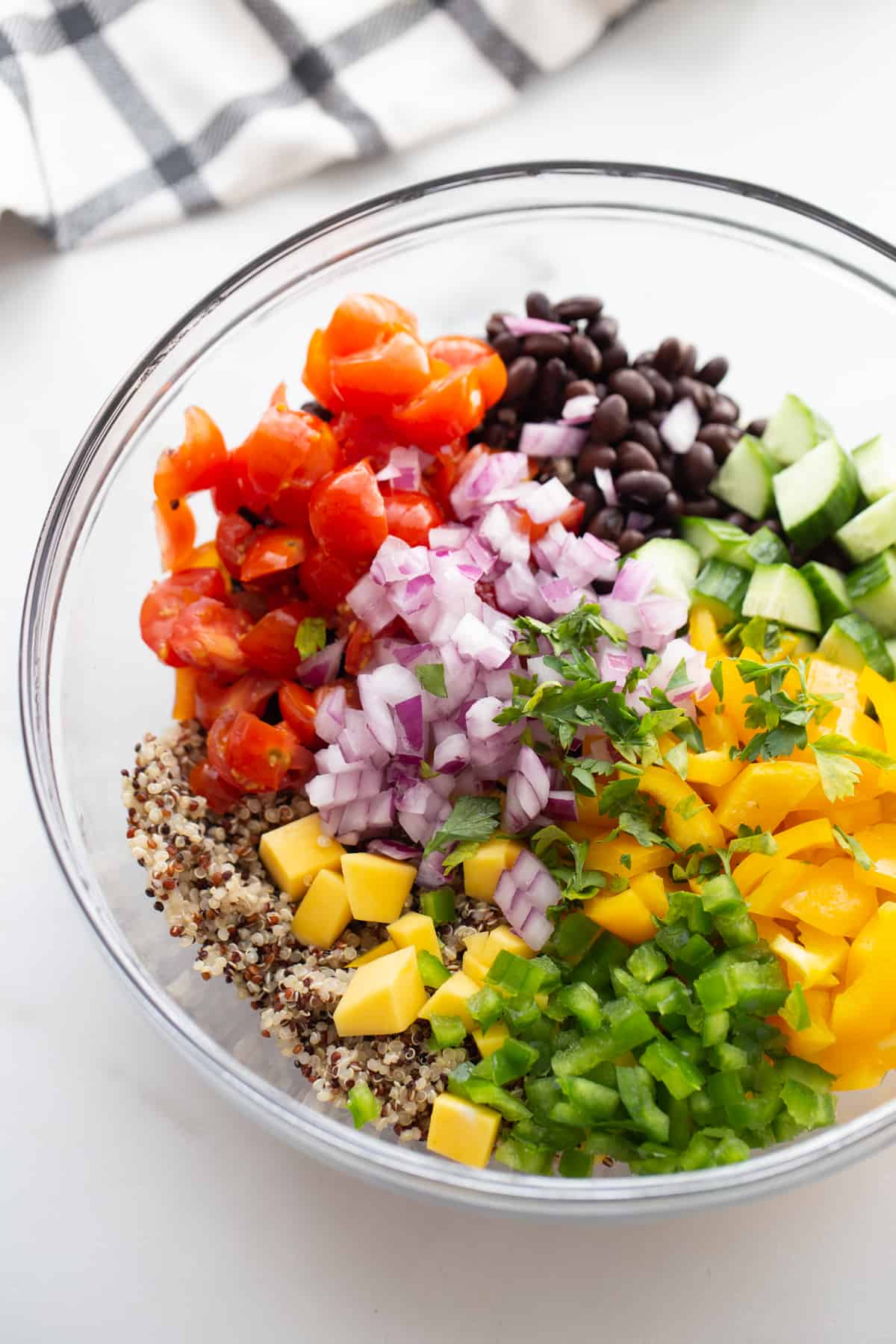 Instructions
This quinoa salad comes together in one, two, three
Combine all the salad ingredients in a large bowl.
Mix the salad dressing ingredients in a small bowl and then pour over the salad. Mix well and garnish with cilantro and jalapenos, if desired.
Wait a few minutes to let the flavors meld before serving this great recipe.
Does this recipe work for 4 Week Gut Protocol and the 21 Day Fix?
Yes! And since the Red Container list is different for the 21 Day Fix and 4WGP, check the container counts and serving sizes in the recipe card below ffjor
Helpful Tips for Meal Prep
The longer you let this salad meld together, the more it enhances the flavor. But if you are worried about your quino salad lasting for meal prep, dress only half the salad at first, then keep the other half of the salad and the dressing in separate airtight containers until you are ready for it.
You could also mix in the mango (and other optional toppings) right before serving.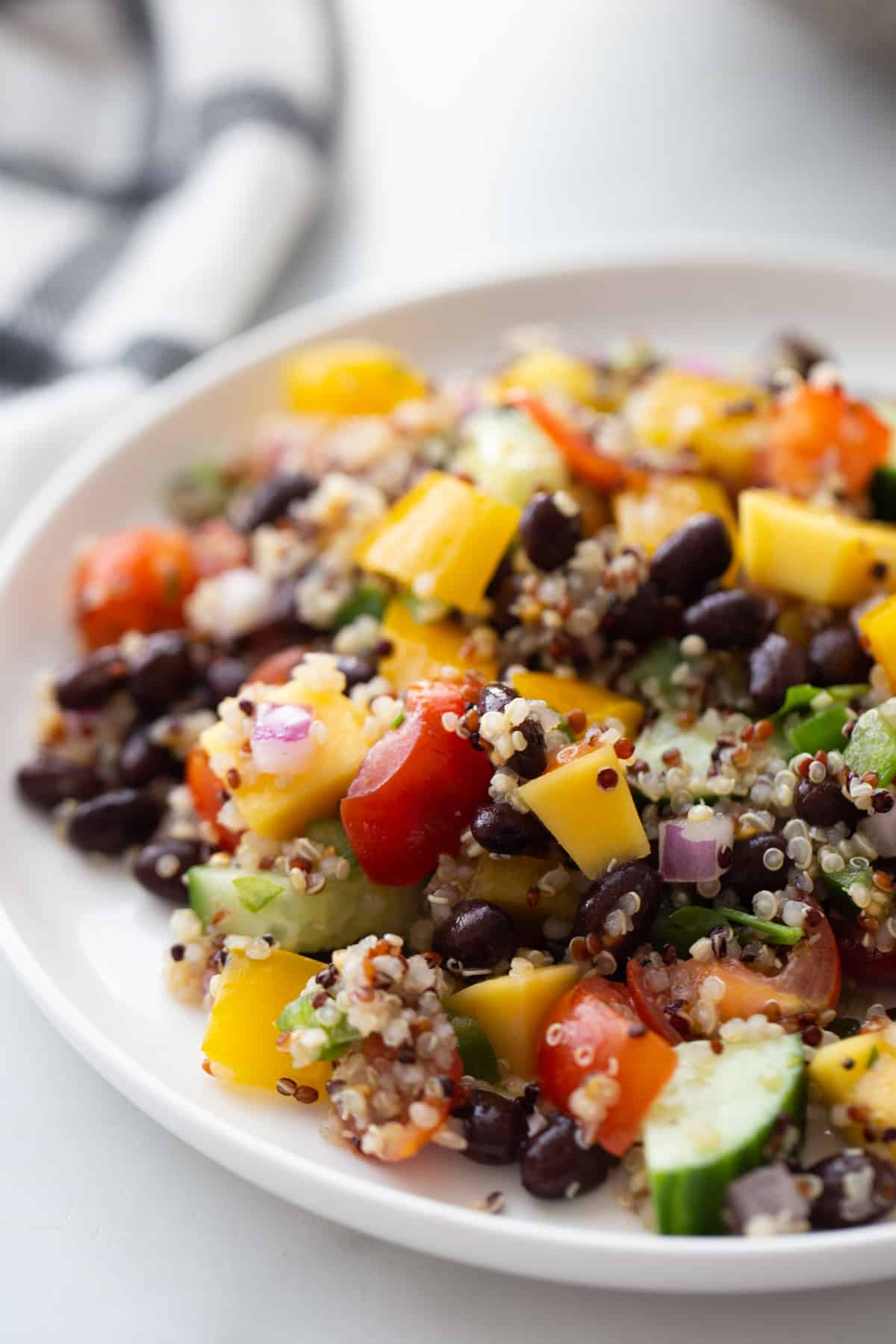 What Kind Of Quinoa Should I Use?
You can choose from red quinoa, black quinoa, or white quinoa for this recipe. I chose to use tricolored quinoa in this recipe, so use what you have!
Additions | Substitutions
This quinoa salad is so versatile – feel free to make it your own!
Like more heat? Add a dash of red pepper flakes, chili powder, or cayenne pepper.
Want more veggies/green in this? You can add some chopped spinach to your bowl or double any of the veggies already in the salad.
Want more protein? You can add in some diced grilled chicken or tofu.
Love toppings? Optional add-ons to try are avocado slices and feta cheese, both of which are perfect to fill your blue containers and yummy topping choices.
How to Store This Fresh Black Bean Quinoa Salad
This salad should be stored in an airtight container for up to 4 days in the fridge. Give it a good stir before serving.
What to Serve with this Black Beans and Quinoa Recipe
This is a great potluck or side dish and here are a few main course options to serve alongside it: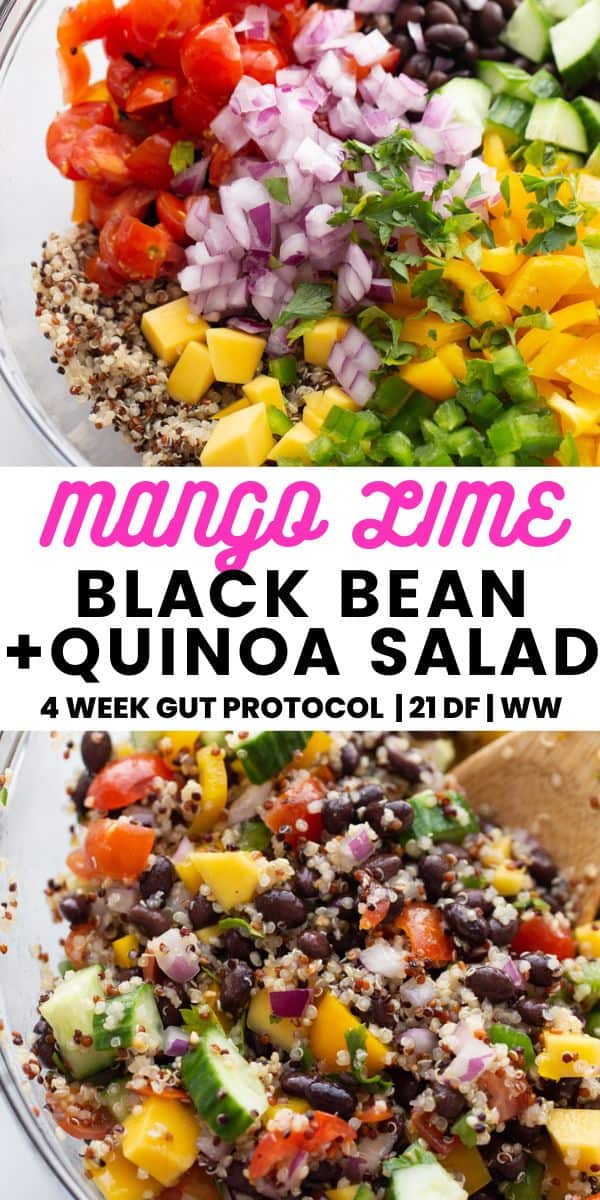 More Healthy Potluck Sides:
Quinoa and Black Bean Salad
This protein-rich, filling, and hearty Black Beans and Quinoa recipe is the perfect side dish or easy main dish to whip up. Quinoa and Black Bean salad is bursting with delicious veggies and flavor from fresh ingredients, like cucumber, grape tomatoes, mangos, bell peppers, red onions, and a homemade dressing.
Ingredients
For the Salad: 
For the Dressing: 
Juice from 2 Limes

you want around 2T of juice per lime, so grab extra in case your limes aren't juicy

1

teaspoon

olive oil

2-4

teaspoon

maple syrup or honey

honey is not vegan

Sprinkle of salt
Instructions
Combine ingredients for the salad. 

Mix dressing separately, then pour over salad. Mix, then garnish with cilantro and jalapeno, if desired. 

Let the flavors melt for a few before serving. 
Notes
21 Day Fix – 6 servings, about
1 cup each –
1 YELLOW, ¾ GREEN, ¾ PURPLE, ⅙ TSP, ½ sweetener TSP (per serving) [
To make this a full green on the fix, I have served it over chopped spinach]
4WGP – 4 servings, about
1 ½ cups each –
1 RED, 1 GREEN, ¼ PURPLE, ¼ TSP, ½-1 sweetener TSP (per serving)
WW: 2 points (per serving) [Calculated using maple syrup]
Nutrition
Serving:
1
cups
Calories:
272
kcal
Carbohydrates:
51
g
Protein:
14
g
Fat:
3
g
Saturated Fat:
0.4
g
Polyunsaturated Fat:
1
g
Monounsaturated Fat:
1
g
Sodium:
10
mg
Potassium:
1038
mg
Fiber:
11
g
Sugar:
10
g
Vitamin A:
1711
IU
Vitamin C:
63
mg
Calcium:
84
mg
Iron:
3
mg