Want to have a healthy grain on hand for weeknight easy meals? Making a multi-serving batch of this Freezer Friendly Instant Pot Quinoa could not be easier! Follow my step-by-step instructions to cut your meal prep time in half. This post contains affiliate links for products I am obsessed with.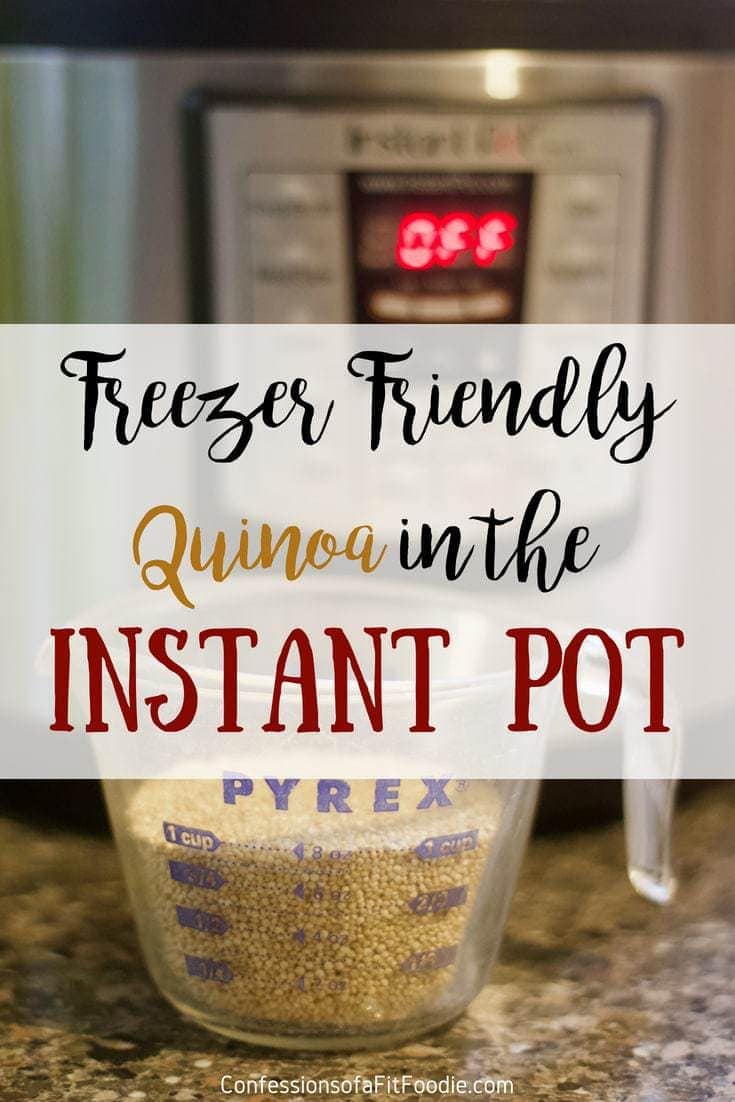 After I published my easy tutorial on how to meal prep brown rice in the Instant Pot, a lot of you asked about how to make quinoa as well! Both are staples in my house for quick meals for the family, so I definitely have figured out a way to make both easily and nearly mess-free(!) using the Instant Pot.
Check out my (easy!) instructions for making a large batch of quinoa in the Instant Pot and storing it for use in future meals and recipes.
How to Rinse Quinoa
First, before you even begin to cook your quinoa, you will want to rinse it with cold water. Why you ask? This will help get rid of the bitter tasting saponin that coats the seeds, so your quinoa tastes great after cooking. And it's really easy to do. You will need a fine mesh strainer (or your mesh coffee strainer or a nut milk bag if you have it) in order to rinse your quinoa and not loose all the seeds down the drain. Just simply add your quinoa to the mesh strainer and rinse well with cold water.
If you don't have a mesh strainer, place your quinoa in the middle of a thin kitchen towel or cheesecloth and bring the sizes of the cloth together like you are creating a bag. Run the quinoa under the water for 1-2 minutes, then squeeze out the water.
Another idea is to line your colander with a coffee filter. This should allow you to rinse off the tiny seeds without losing them in the holes.
Can you freeze quinoa?
Yes, yes, yes! I love meal prepping quinoa in big batches and then freezing it into individual portions (hello Souper Cubes) to grab whenever I need it! Keep reading and I will show you how to freeze your quinoa, too!
How To Make Quinoa in the Instant Pot in two easy steps
STEP 1
Spray Instant Pot with cooking oil spray (optional, but this helps if your Instant Pot tends to trigger the burn notice). Measure out equal parts rinsed quinoa and water (I usually do 2 cups of each) and place in the pot.
STEP 2
Set Instant Pot for 1 minute (yes, one!!) and allow for a NATURAL release. Once the natural release is complete, remove the lid and fluff your quinoa with a fork
How To Freeze Quinoa
STEP 1
Once your quinoa is finished cooking, spread it out on a parchment paper lined baking sheet to cool.
STEP 2
Once quinoa is cool, scoop individual servings into ziplock bags and lay flat 0r – UPDATED – put your quinoa directly into your Souper Cubes and freeze into individual serving sizes!
If you are using freezer bags, don't forget to label them with the date and the amount frozen!
STEP 5
Place in the freezer to freeze and use for future meals and recipes.
So simple and 21 Day Fix Approved, of course! ? This method (and the brown rice one!) are great ways to ensure you always have a healthy carb on hand to pair with veggies and a lean protein. A perfectly balanced meal is only minutes away when you plan ahead!
What are "meal prep" foods would you like to see me make in the Instant Pot?
Now that you know how to cook quinoa, check out these Healthy Quinoa Recipes
Air Fryer Stuffed Acorn Squash with Sausage, Quinoa + Apple
Chicken Quinoa Mediterranean Salad with Tzatziki Dressing
Avocado, Mango and Quinoa Salad
Freezer Friendly Instant Pot Quinoa
Making a multi-serving batch of this Freezer Friendly Instant Pot Quinoa could not be easier! Follow my step-by-step instructions to make a big batch of quinoa and freeze it for later!
Instructions
Spray your Instant Pot with cooking oil spray. Add in equal parts quinoa and water (I usually do 2 cups of each).

Place lid on your Instant Pot and set for 1 minute using the manual or pressure cook setting. After cook time, allow for a full natural release.

Remove quinoa from your Instant Pot and place on a baking sheet lined with parchment paper to cool.

Once it's cool, measure and place into freezer friendly ziplock bags and store flat in your freezer.

To thaw, place quinoa and 1-2 T of water in a microwave and heat for 1-3 minutes.
Notes
21 Day Fix: 1/2 cup = 1 YELLOW WW: 1/2 cup = Green - 3 points, Blue - 3 points, Purple - ZERO points
Nutrition
Serving:
0.5
cup
Calories:
111
kcal
Carbohydrates:
20
g
Protein:
4
g
Fat:
2
g
Saturated Fat:
0.2
g
Polyunsaturated Fat:
1
g
Monounsaturated Fat:
0.5
g
Sodium:
6
mg
Potassium:
159
mg
Fiber:
3
g
Sugar:
1
g
Vitamin A:
5
IU
Calcium:
16
mg
Iron:
1
mg