Looking for some Fast and Simple meals to make your busy nights run more smoothly?  I have taken all of my favorite  21 Day Fix Quick and Easy Meal Plans and put them all in one spot for you to find!  Enjoy! This post contains affiliate links for products I'm obsessed with.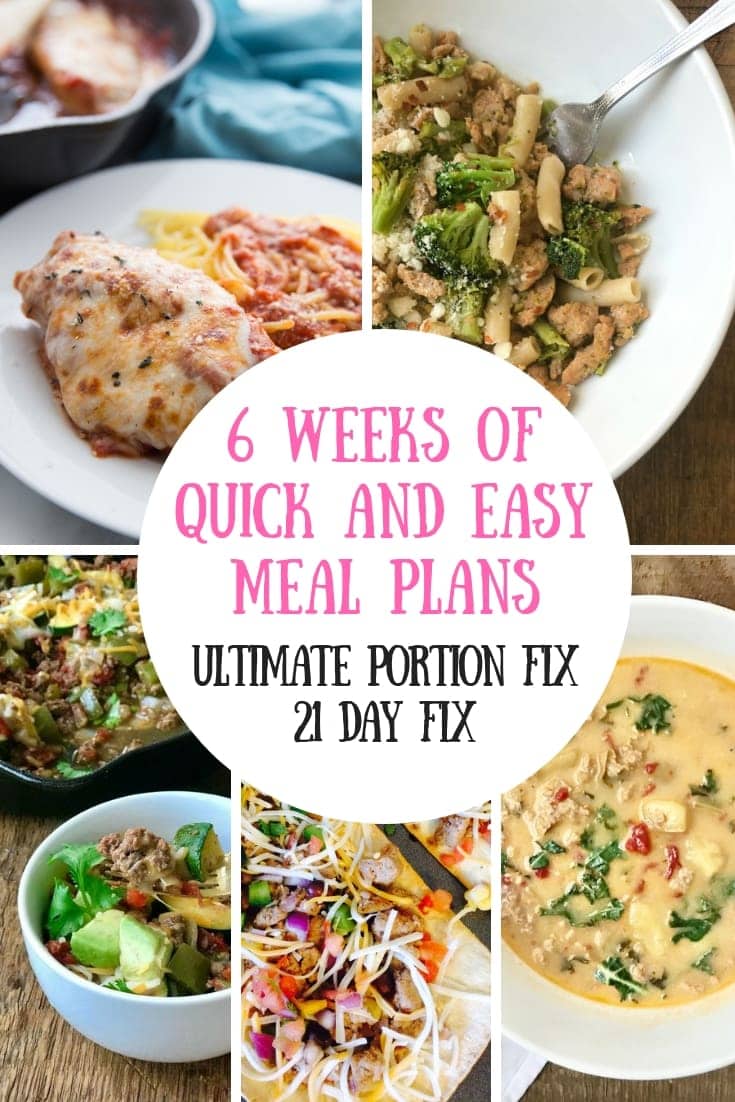 Guys.
Have you seen that parody on "Maycember" by the Holderness family – that husband and wife who makes hilarious videos about parenting and just life in general?  Well I have never heard of a truer term.  May is NUTS.  And we are currently two days into Memorial Day Weekend and my kids are overtired and cranky and I realized we still have A FULL WEEK of Maycember left.
And because there is barely a second to think about what you are making for dinner and even less time to actually cook it, I have a round up here of quick, easy, and simple meals to keep you sane in the kitchen (even if everything is insane around you).
21 Day Fix Quick and Easy Meal Plan Roundup
Week 1: 21 Day Fix Meal Plan & Grocery List {28} Quick and Easy
One skillet meals mean dinner can be on the table quickly and with very little clean up to be done afterward.  Use this plan for an extra crazy week!  Featuring: One Skillet Caprese Chicken, One Skillet Burrito Bowl, Instant Pot Balsamic Pork Tenderloin, Sausage Bean and Kale Skillet, and Turkey Burgers with Goat Cheese and Citrus Maple Dijon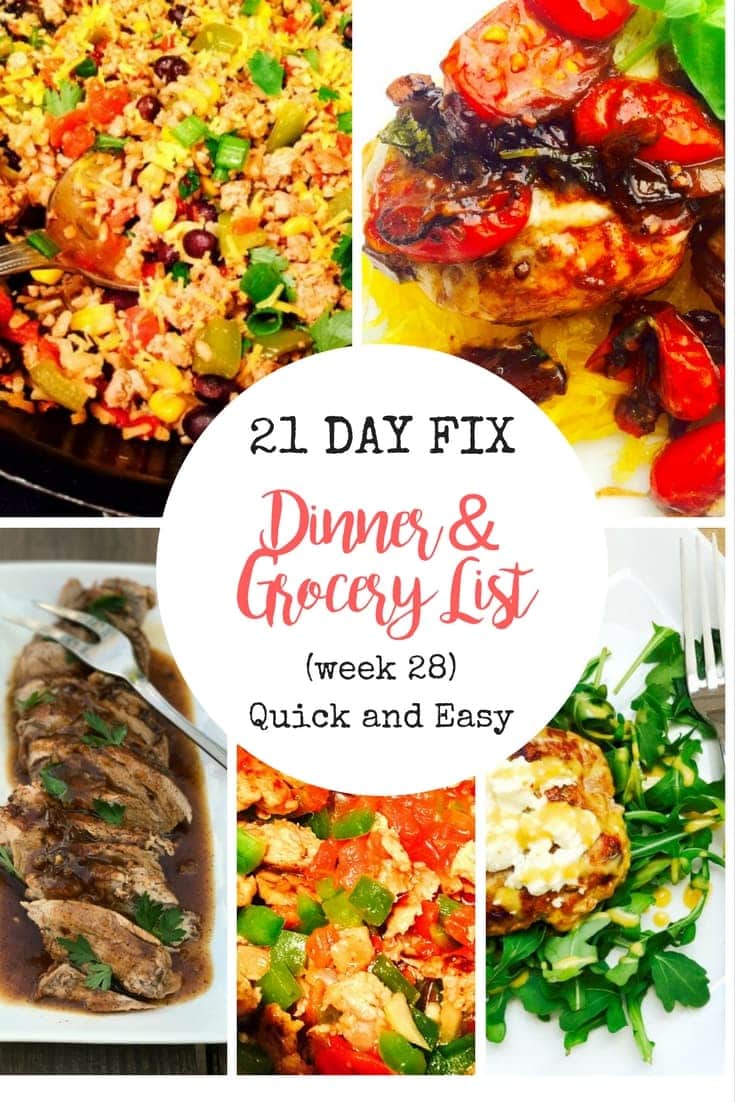 Week 2: 21 Day Fix Meal Plan & Grocery Liist {30} Fast and Simple
There is a lot of versatility this week, while still keeping things SIMPLE!  Featured recipes: Italian Chicken Skillet, Salsa Verde Pork, IP or Crock Pot Caprese Chicken, Cheesy Zucchini Mexican Skillet, and Sausage Bean and Kale Skillet
Week 3: 21 Day Fix Meal Plan & Grocery List {49} No Stress Meals
No stressing while you make Crock Pot Chili Chicken, Cauliflower Cheeseburger "Mac", Salsa Verde Pork, Italian Chicken Skillet, and Zuppa Toscana
Week 4: 21 Day Fix Meal Plan & Grocery List {50} Simple Ingredient Dinners
Cooking up this week: Philly Cheesesteak Stuffed Pepper Nachos, Shrimp Kale and Butternut Squash Sautee, Instant Pot Sausage and Broccoli Pasta, Turkey Burgers with Goat Cheese and Citrus Maple Dijon, and Chicken & Veggie Stir Fry
Week 5: 21 Day Fix Meal Plan & Grocery List {4} Simple and Fast
Having some ingredients repeat throughout the week makes prep time that much easier!  Featured recipes this week include: Cauliflower Cheeseburger "Mac", Sloppy Joe Stuffed Sweet Potatoes, Quinoa Taco Casserole, Cauliflower Potato Soup, and Taco Pizza
Week 6: 21 Day Fix Meal Plan & Grocery List {13} More Quick and Easy
More quick meals- Pasta Fagioli from The Foodie and the Fix, Mediterranean Salad with Tzatziki Dressing, Sausage Bean and Kale Skillet, Crock Pot Quinoa Taco Casserole, and Fish Tacos with Avocado Mango Salsa