This 21 Day Fix Meal Plan and Grocery List is perfect for busy weeks! These recipes are simple and quick to put together without a lot of fuss or prep!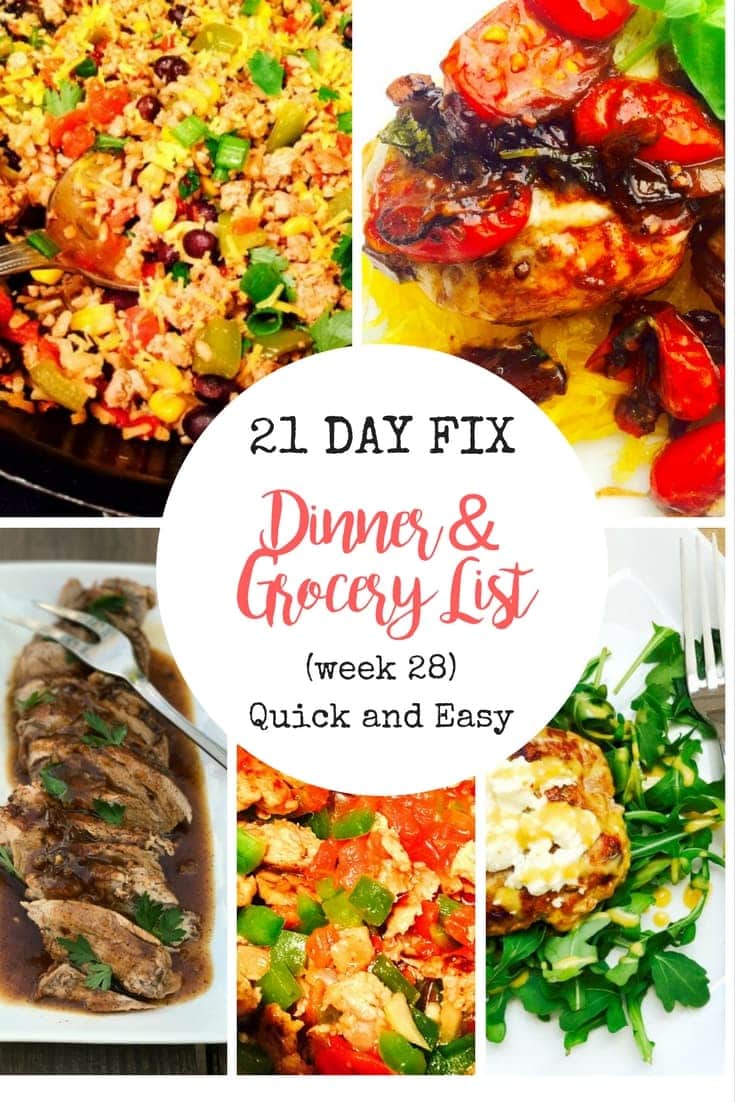 Between activities, sports, Halloween, and some awesome fall weather, I feel like life is flying by at a crazy pace and I am resorting back to all of my quickest and easiest to prep dinners..and I promise I don't mean cereal and milk (even though that sounds supper yummy right now). In case I'm not alone, I decided to dedicate this week's meal plan to super simple meals that are no fuss and easy to get on the table at night!
All the power to the busy parents out there!
Quick and Easy Meal Plan & Grocery List
Monday: 21 Day Fix One Skillet Caprese Chicken (tip – precook your spaghetti squash in your crock pot or Instant Pot)
Groceries:
olive oil
olive oil cooking spray
1 lb. boneless skinless chicken breasts
kosher salt
black pepper
balsamic vinegar
garlic, minced
1 pint grape tomatoes
red onion
shredded basil
shredded mozzarella cheese
4 cups of cooked spaghetti squash
Tuesday: 21 Day Fix One Skillet Burrito Bowl
Groceries:
olive oil spray
2 bell peppers
1lb lean ground meat (I used ground turkey)
1 (14.5oz) can of diced tomatoes
quick cook brown rice (I LOVE Aldi organic)
1 cup of organic low sodium chicken stock or broth
1/4 cup of black beans
1/4 cup of corn
garlic powder
chili powder
cumin
shredded cheddar or Mexican blend cheese
fresh cilantro
chopped green onion
Wednesday: 21 Day Fix Instant Pot Balsamic Pork Tenderloin (make this a one pot meal with potatoes and carrots!)
Groceries:
1 (1.5 lb) pork tenderloin
olive oil
1/3 cup of chicken broth or stock
balsamic vinegar
honey or maple syrup
salt and pepper
1 T rice or arrowroot flour (can sub thickener of choice)
Optional: 2 cups of baby carrots and 2 cups of cubed red potatoes
Thursday: 21 Day Fix Sausage, Bean, and Kale Skillet
Groceries:
olive oil cooking spray
1 package Italian chicken sausage
3 cups of kale
1 cup of chickpeas
1 1/2 cups of crushed tomatoes
1 tsp Italian seasoning
2/3 shredded mozzarella
Friday: 21 Day Fix Turkey Burgers with Goat Cheese and Citrus Maple Dijon
Groceries:
Dijon mustard
maple syrup or honey
fresh orange juice
orange zest
fresh lemon juice
lemon zest
lean ground turkey or chicken
2/3 cup of crumbly goat cheese (I used the honey goat cheese from Aldi)
salt and pepper
arugula or mixed greens