These 21 Day Fix Instant Pot Flank Steak Tacos might be my new favorite taco recipe…and that's really saying something!  Tender, oh-so-delicious meat topped with a cilantro lime slaw and using the IP, it's ready in minutes. 
Confession # 120- It dawned on me that it's nearing the end of summer and I haven't added a single taco recipe to this blog.  Not that anyone needs it to be summer (or a Tuesday for that matter) to enjoy a delicious taco dinner, but some of my favorite taco recipes have been inspired by casual summer nights on the patio.  Like my Fish Tacos with Avocado Mango Salsa or the 21 Day Fix Grilled Pork Tacos with Avocado Peach Salsa to name a couple.
Anyway, these Instant Pot Flank Steak Tacos can definitely hold a candle to my other favorites and I've been dying to share them with you…but I have two major distractions going on this summer.  One is named Max, the other goes by Mia.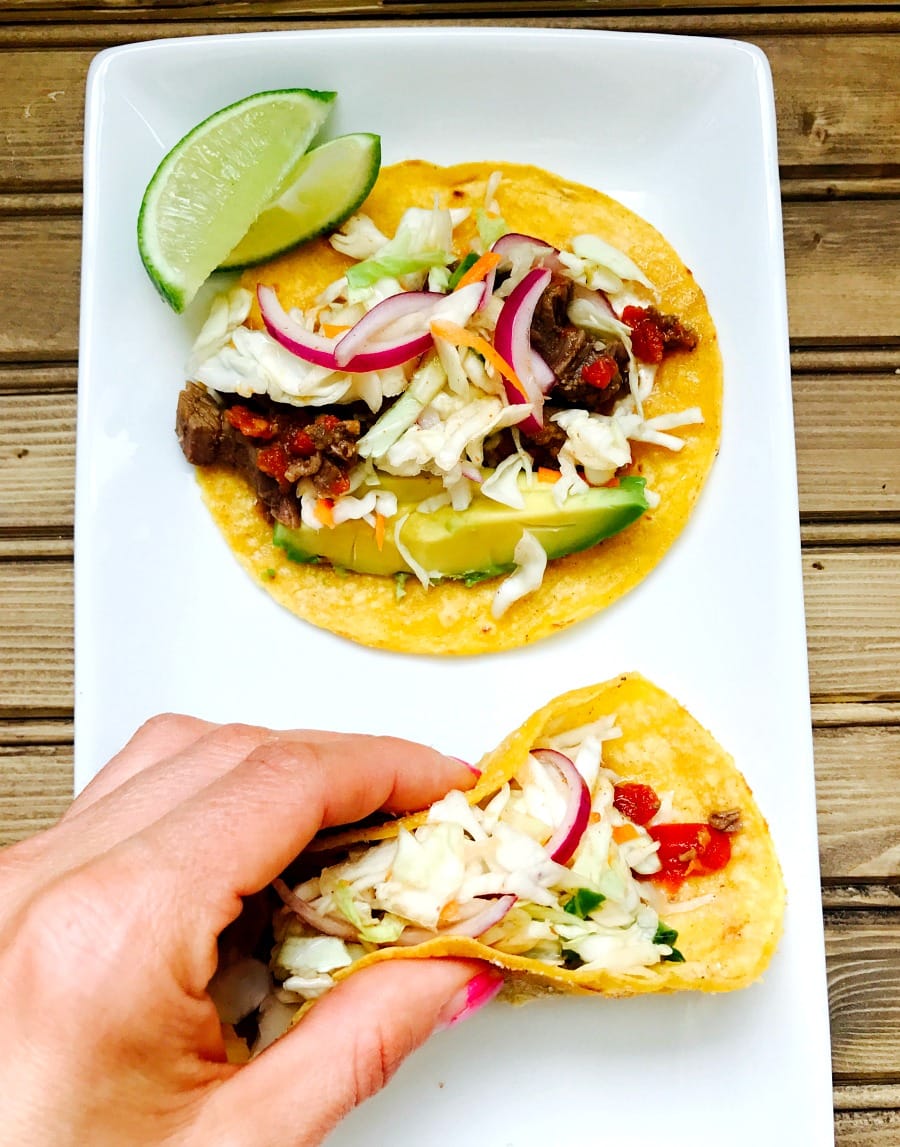 And I am soaking them up because my daughter is going into second grade this year and I really have no idea where the time goes.  I mean, she is seven.  
How on earth is that even possible?
But unlike other jobs I've had in the past, when I am not blogging, I miss it like crazy!  It's pretty freaking incredible to love what you do that much.  So know even in my absence, I am thinking of y'all!
Ok, so back to tacos.
I was worried about Flank Steak in the Instant Pot, but holy guacamole is it good.  So much flavor, so tender – this recipe is giving my grill a run for it's money.
I thought I would saute the steak first, but at the last minute I decided I didn't have time.  But you could totally try it for some extra flavor.  And if your meat feels tough when you finish cooking, you need to cook it a little more.  I cooked it for 12 minutes and it was perfect.  If you need a little more time, you could always turn the IP on saute or leave in on the warm setting. It will continue to cook in the juice.
You could serve this meat in a burrito bowl or with cauliflower rice, as well, and I will probably feature that another time, but for now we made our tacos with corn tortillas and a cilantro-lime coleslaw that would be yummy even on it's own.
If you want the slaw as a side dish, too, it is very easily doubled!  We kept it simple and added just some Greek yogurt, extra cilantro and avocado for our toppings!  For dairy free, just leave the yogurt off!  Super yummy either way, I promise!
Looking for more Instant Pot Recipes for the 21 Day Fix?  Join our IP Community on Facebook!  
Yields: 8 tacos
21 Day Fix Instant Pot Flank Steak Tacos
Ingredients
1 -1 1/2lb flank steak, trimmed of any fat and sliced thin - about 1/2 inch strips
2 limes
2 tsp olive oil
2 cloves of garlic, minced
1 tablespoon of salt-free taco seasoning
1 can of diced tomatoes with green chilies
salt
4 T cilantro
2 cups of coleslaw mix (or chop your own cabbage)
1/4 of a red onion cut into skinny strips
1/2 of a jalapeno, diced and seeds removed
1-2 tsp maple syrup or honey
chili powder (optional)
corn tortillas, warmed
Toppings: avocado, cilantro, plain Greek yogurt
Instructions
Mix juice and zest of one lime, 2 tsp of olive oil, garlic, salt, 2 T of chopped cilantro, 1/2 tsp of salt and 1 tablespoon of taco seasoning together in the Instant Pot. Add in Flank Steak and let it marinate together for a few minutes, coating both sides of the steak.
After a couple of minutes, add the can of tomatoes with green chilies to the Instant Pot, place the cover on top and cook on manual, high pressure for 12 minutes. Once cook time is over, let meat sit for five minutes before carefully switching to quick release. Let steam escape before opening your pot.
While meat is cooking, put together the coleslaw by mixing together the coleslaw mix, red onion, jalapeno, 2 T of chopped cilantro, juice from one lime, maple syrup or honey, and a sprinkle of salt. Mix well and let flavors sit. Sprinkle on some chili powder, if desired.
Warm tortillas on a grill pan, then serve tacos with yogurt, meat, coleslaw and top with avocado and some extra cilantro. Enjoy!
21 Day Fix Container Count:
Serves 4 - 2 tacos per serving - 1 yellow, 1 red, 2/3 green, .5 tsp, 1/2 blue (be sure you measure your avocado topping accordingly)
Weight Watchers Freestyle Points - 8 per serving
7.6.9.2
171
https://confessionsofafitfoodie.com/2017/08/21-day-fix-instant-pot-flank-steak-tacos/
Confessions of a FIt Foodie
Join the newsletter
Subscribe to get our latest content by email.