This Instant Pot Jambalaya uses chicken andouille sausage and a homemade Cajun seasoning to give the traditional New Orleans favorite a healthy twist!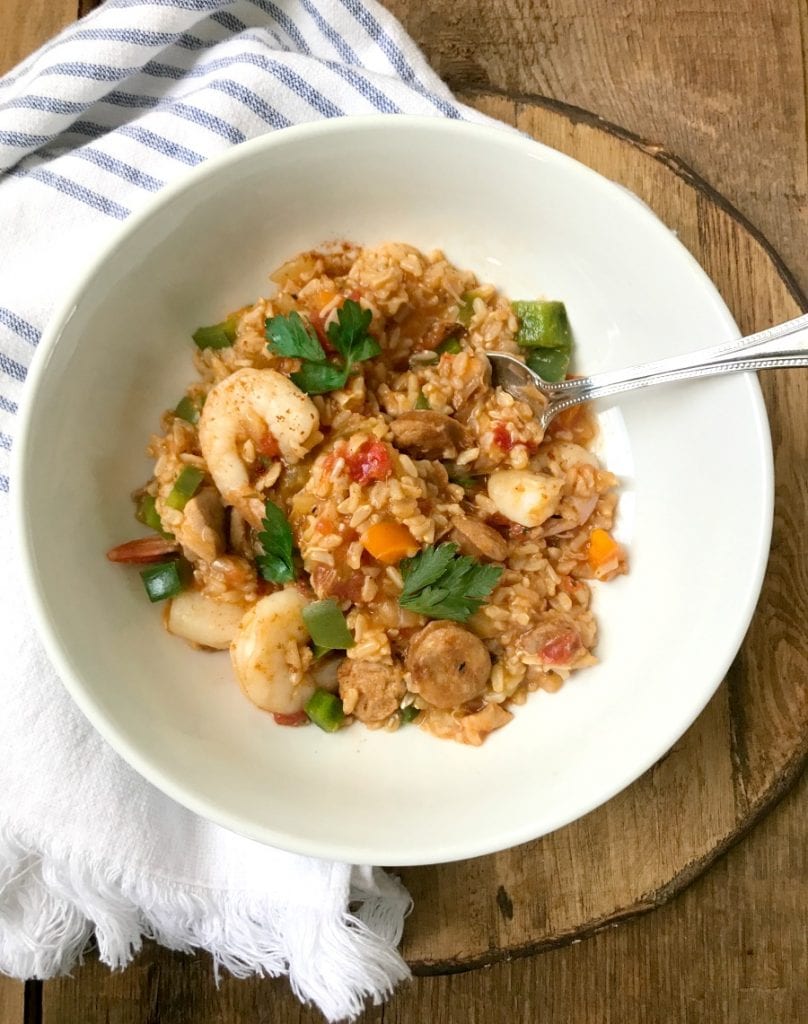 Confession #142:  I never thought this recipe was going see the light of day…at least on this blog.  After making and loving my Instant Pot Brown Rice and Sausage Stuffing, I've wanted to do an Instant Pot Jambalaya that's healthy and FIX approved.
But this recipe was trickier.  First, I had the hardest time finding a clean, low enough sodium andouille chicken sausage that tasted like the real thing.  I finally found this one by Brat Hans at Whole Foods, as well as one by Johnsonville.  There is another one by Al Fresco, but I couldn't find it and I wasn't a huge fan of the Trader Joe's version.
Once I started working with the sausage, I realized very quickly that precooked sausage does NOT do well in Instant Pot for longer than a few minutes…at least for dishes like this where we are cooking rice along with the meat.   If I wasn't writing a food blog, I probably would have used raw spicy Italian sausage removed from the casing and called it a day.  But using Italian sausage in Jambalaya in the food blog world would NOT fly, so I decided to sauté the sausage first, then I removed it from the pot and cooked the shrimp.  (Just an FYI – you want to grab some spicy Italian sausage for this dish – you will get NO judgment from me!  #igetyou)
Anyway, precooking the sausage and removing it from the pot worked perfectly, so it was game on again!  The next issue is that I bought a Cajun spice blend from my grocery store and hated it.  So I whipped up a homemade spice blend which was much cheaper and I love being able to control the intensity and the salt content.
And finally, the rest of the recipe went perfectly as planned…so you all get the benefit of my many mistakes along the way.
I used diced up chicken thighs along with the rice, veggies, and broth and this withstood perfectly to the cook time.
And in the end, all I had to do was stir the sausage and shrimp back in and sprinkle on a little more seasoning and dinner was served!
Overall, I still think this is an awesome way to make Jambalaya – one pot, pretty hands off, and the rice cooks perfectly. And you can use whatever protein combo you want to use.  Don't like shrimp?   Leave it out!  Want to skip the sausage? Do it!  Make it your own and, of course, let me know what you think!
Print
Instant Pot Jambalaya (21 Day Fix)
Author:

Yield:

6 servings
---
Description
This Instant Pot Jambalaya uses chicken andouille sausage and a homemade Cajun seasoning to give the traditional New Orleans favorite a healthy twist!
---
Ingredients
For the Cajun Seasoning
1/2 tsp of sea or kosher salt
1 tsp garlic powder
1 tsp paprika
1/4 tsp black pepper
1/2 tsp onion powder
1/2 tsp dried oregano
1/2 tsp dried thyme
1/8 tsp cayenne pepper
1/8 red pepper flakes (optional)
For the Jambalaya
6 tsp olive oil, divided
1/2 lb chicken sausage, sliced – I used fully cooked Andouille Sausage
1/2 lb medium sized shrimp – I kept the tail on for pics, but it might be better with the tail off
1/2 lb boneless skinless chicken thighs, diced
1 1/2 cups brown rice
1 1/2 cups organic chicken stock or broth
1 (14.5oz) can of diced tomatoes
1 onion diced
3 cloves of garlic, minced
3 stalks of celery, diced
2 bell peppers, diced
---
Instructions
Mix up the Cajun Seasoning and set aside.
Turn IP to sauté and add in 2 tsp of olive oil. Brown sausage slices, then remove from pot. Add in an additional 2 tsp of oil. Season shrimp with 1/2 tsp of the cajun seasoning. Add shrimp to the Instant Pot and sauté until cooked through, usually just a few minutes. Remove from Pot and set aside with the chicken sausage.
Add remaining 2 tsp of olive oil to the IP, and add in onions, celery, bell peppers, garlic and 3 tsp cajun seasoning. Stir until fragrant, then add in rice, chicken, diced tomatoes, and broth. Place lid on the IP and set to manual for 22 minutes.
When cook time is finished, do a natural release for 10 minutes, then a quick release for any remaining steam.
After the lid unlocked, open and stir in sausage and shrimp. Taste and adjust salt/seasoning as desired (there should be extra seasoning left over to add if you want to!
---
Notes
1 Red, 1 Yellow, 1 Green, 1 tsp
Weight Watchers Freestyle Points – 9 per serving or 8 if using chicken breast instead of thighs
---
Nutrition
Serving Size:

approx 1 cup