These 21 Day Fix Shaved Brussels Sprouts with Bacon, Parmesan, and Balsamic are so quick and easy, but taste special enough for a holiday side!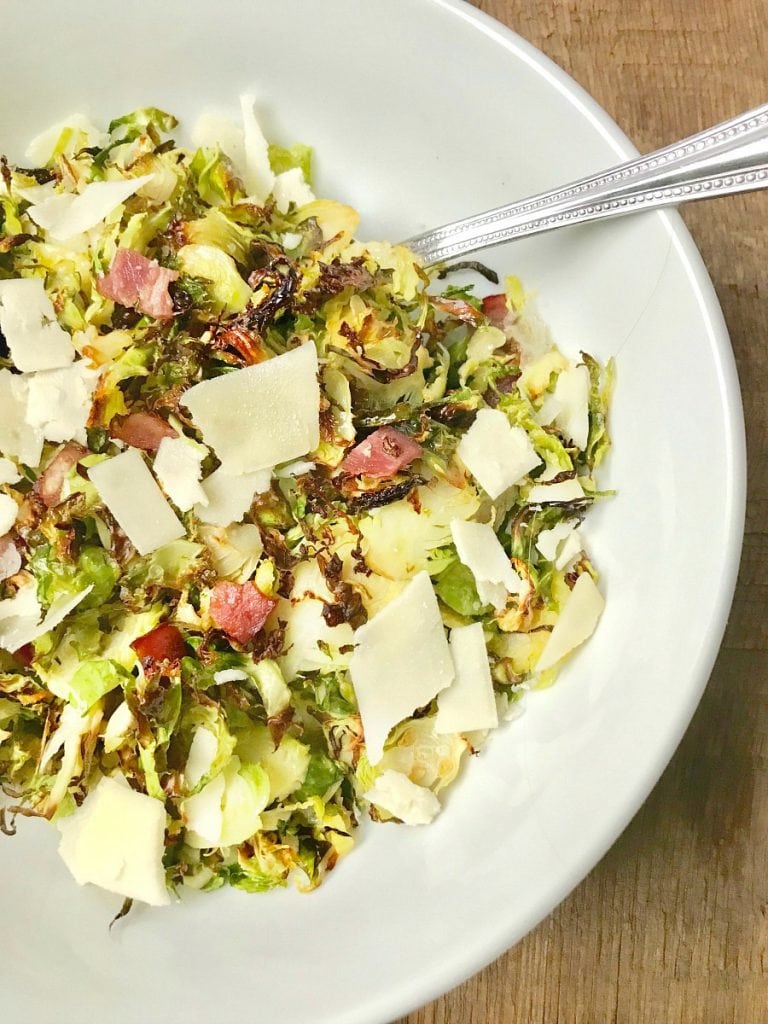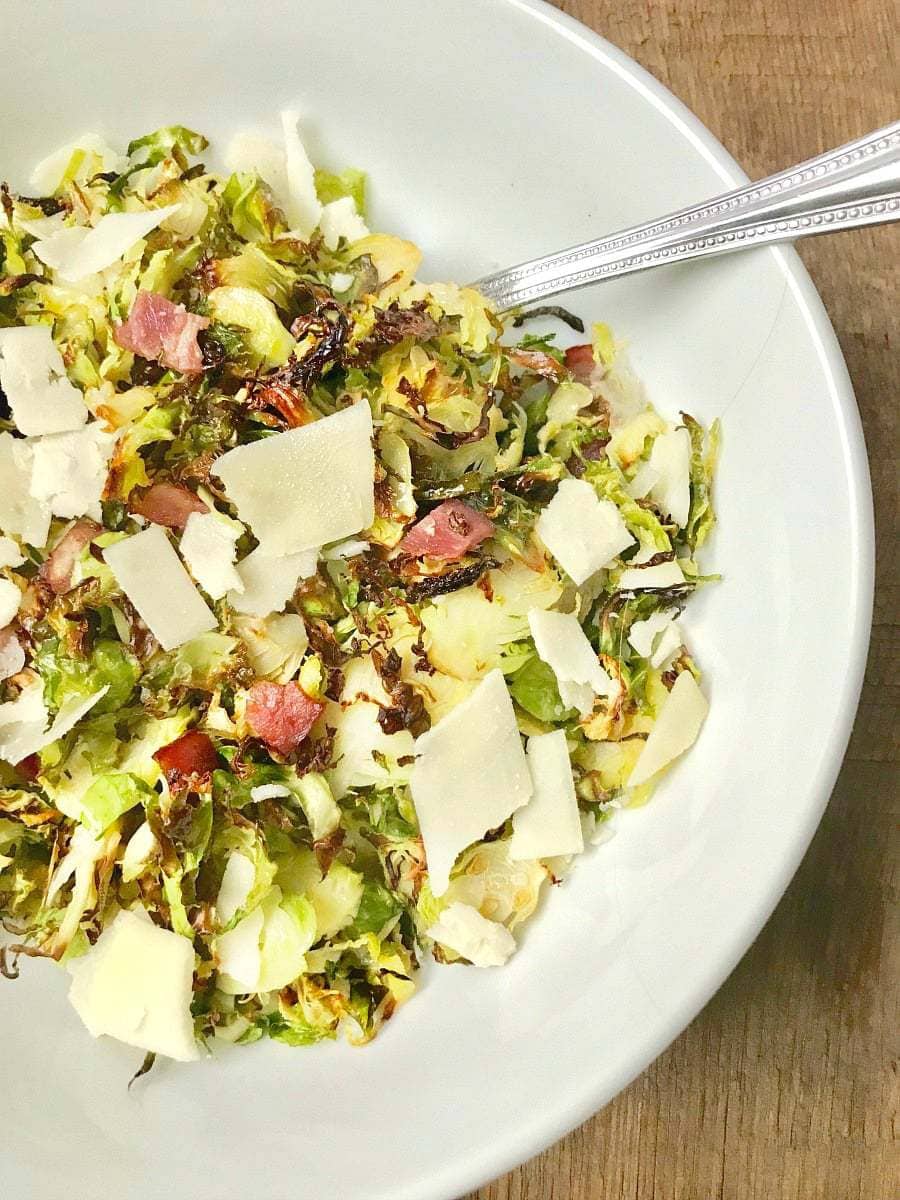 Confession #132 – Have I told you lately just how thankful I am for you?  I feel like I don't say it enough.
This isn't just a Thanksgiving sentiment…but in case I haven't said it lately…in case I get too excited about food and forget to tell you…I am using this as an opportunity to say I am so, so grateful to have you all in my life.  And I feel this way 365 days a year.  
I am living my dream with this blog, and the idea that so many of you check in here and trust me with your meals is overwhelmingly awesome.
I wish you all the good things in life, not only at Thanksgiving but throughout the coming year.
And now onto Brussels Sprouts.
Crispy, delicious, and savory Brussels sprouts that have become my newest addiction.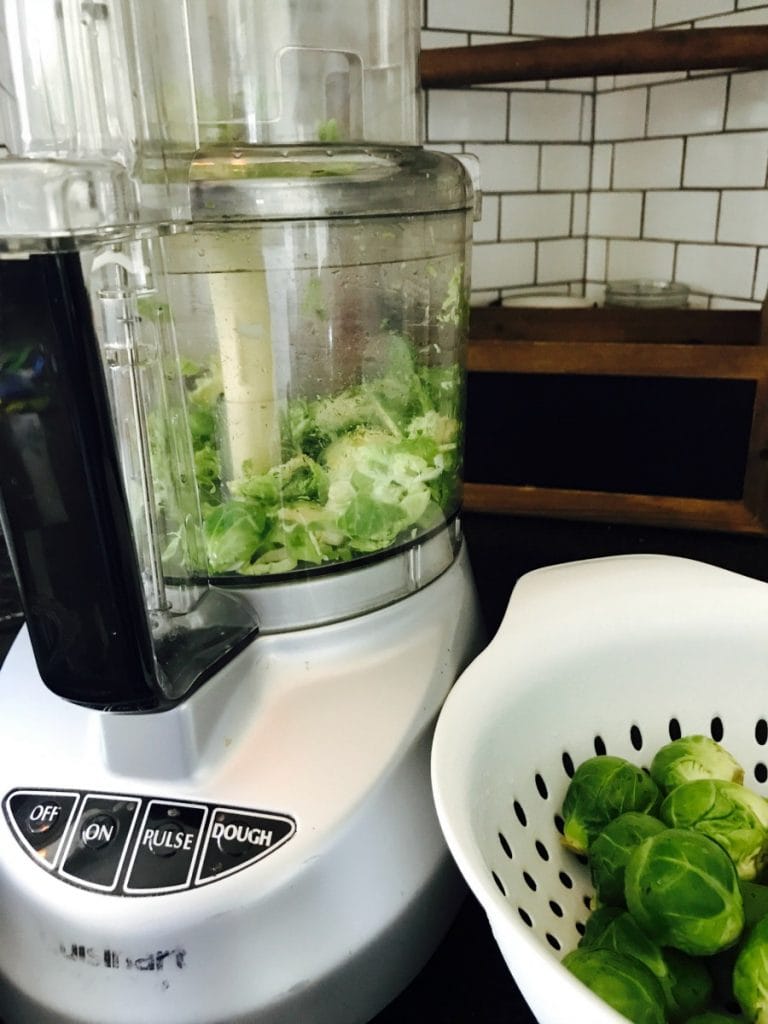 Have you ever made Shaved or Shredded Brussels sprouts?  OMG…you need to asap.  You can even buy them pre-shredded at Trader Joe's, but I'm telling you – it's SO easy if you have a slicing tool on your Food Processor.  It took me just a minute or two to shred 8 cups of sprouts.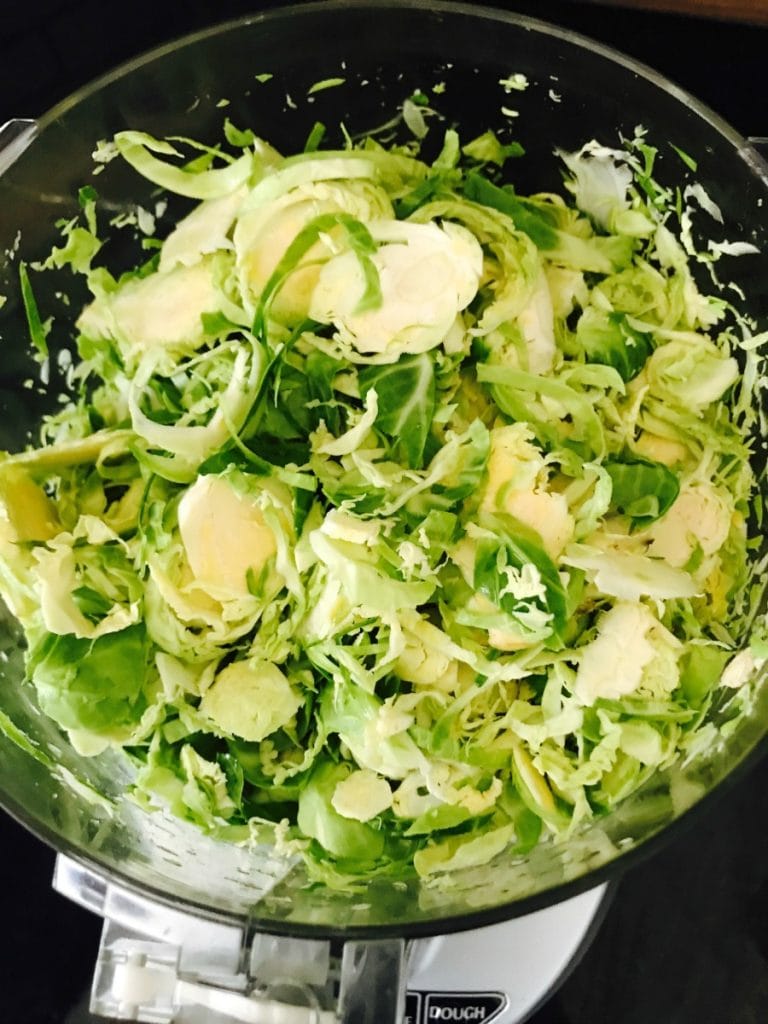 The benefit of having shaved Brussels is the quick cook time, and the level of crispiness that is achieved when you roast them.  It's almost like Brussels sprouts in a chip form.  I love making big batches and using the leftovers for breakfast.  I just saute them up to get them crispy again and throw some eggs on top.  SO YUM.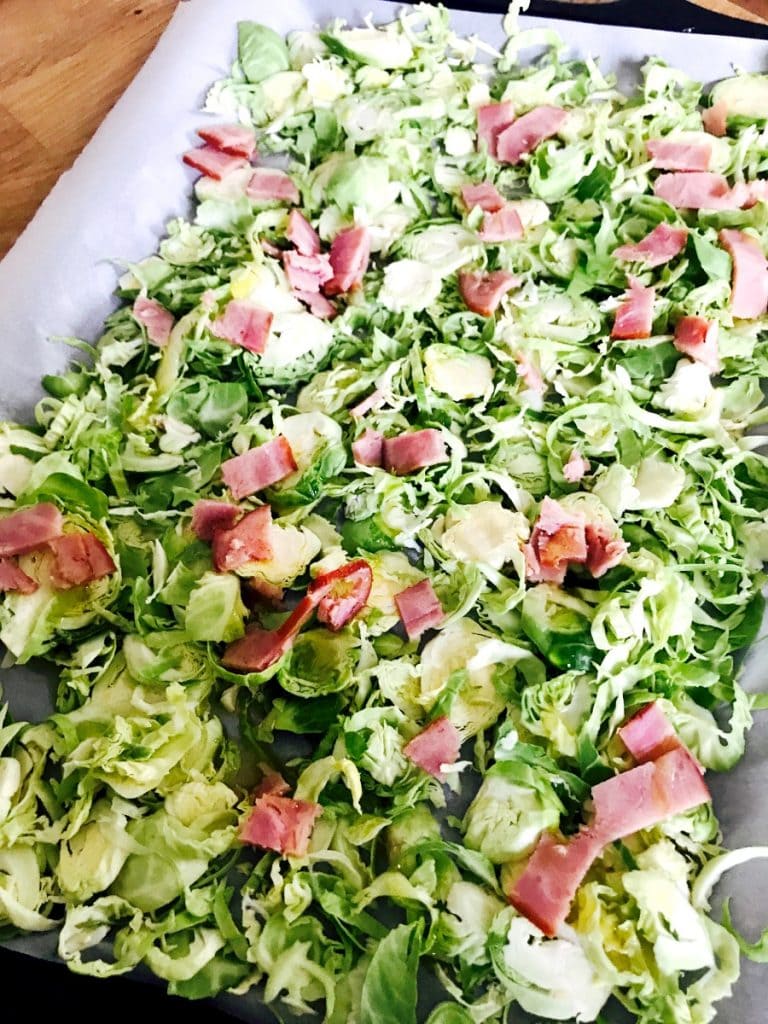 For this recipe, I added some chopped turkey bacon to the sprouts and drizzled on some extra virgin olive oil and sprinkled sea salt.  I put the bacon on raw so it would roast right with the sprouts and this worked fine, but you could also crisp it up separately.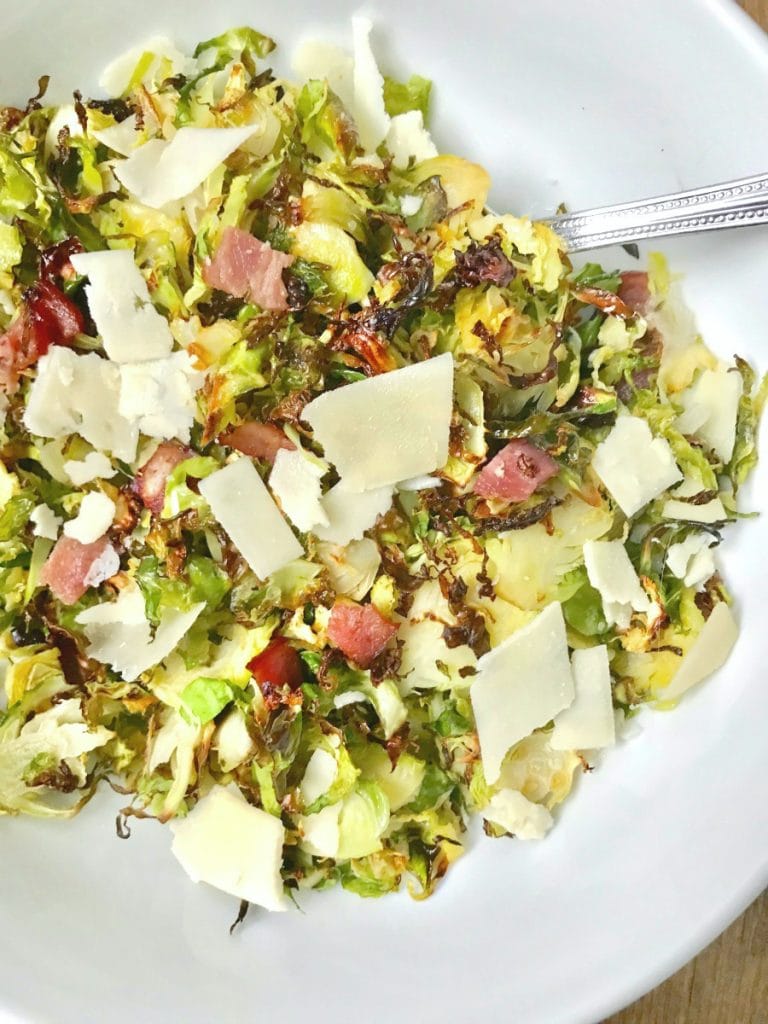 And after 16 minutes of cook time, my Brussels were perfectly crisp and crunchy.  You do need to watch a little at the end so they don't end up burning, which can happen fast.  Just set a timer for 15 minutes and then eye them up until they are to your liking.  They are super delicious right out of the oven as is, but I let them cool a bit and then top with some shaved Parmesan.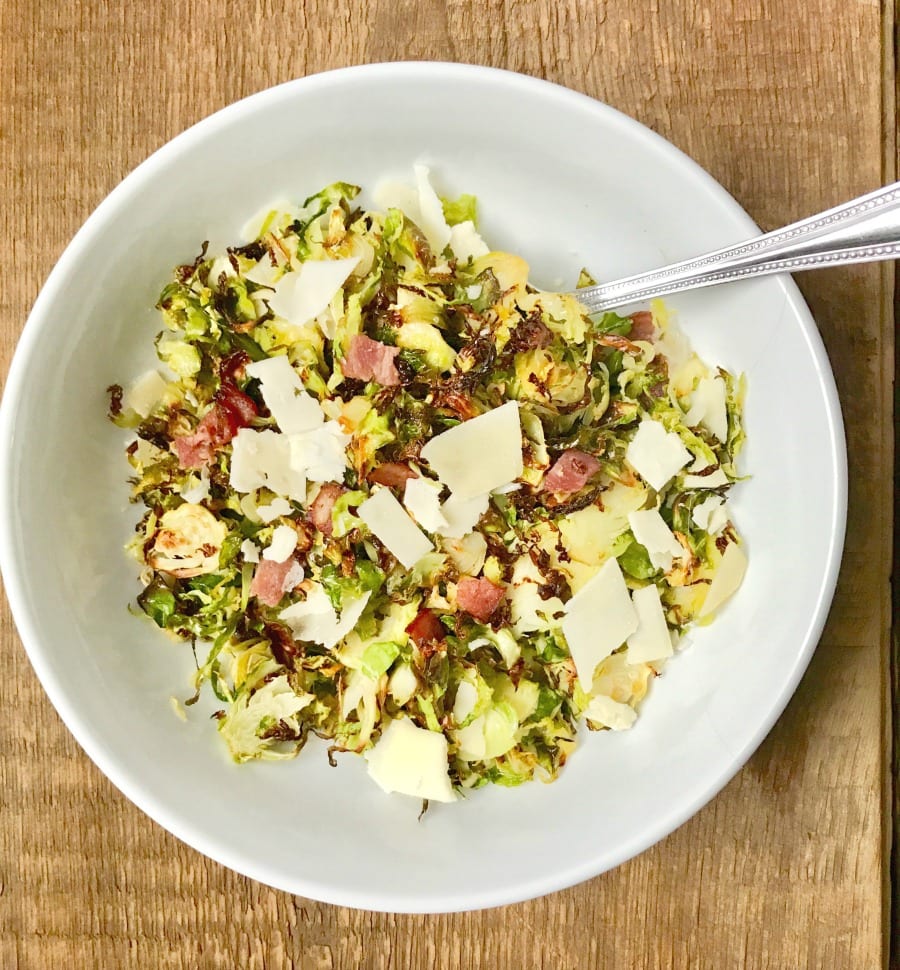 I mean, I can't even.  I have to portion this out and hide the rest, because I almost can't stop myself and I'm pretty sure my stomach couldn't handle more than a couple cups at a time.  It's a struggle though.  Oh – and when I decided to make some balsamic reduction to drizzle on top, I really had to restrain myself.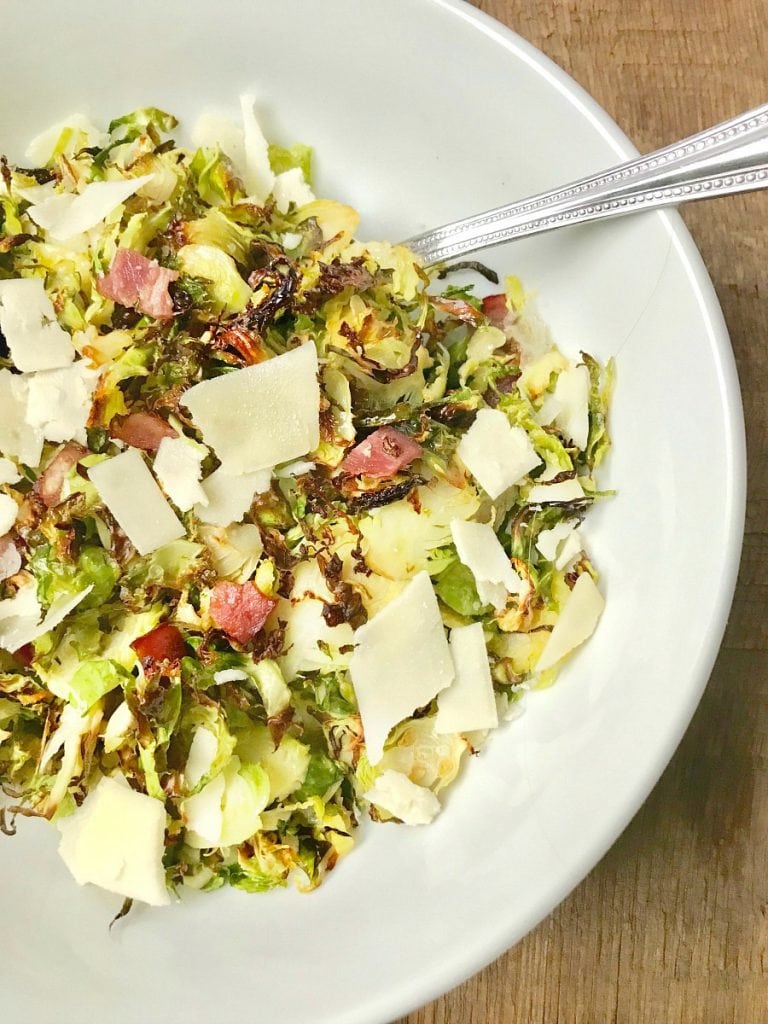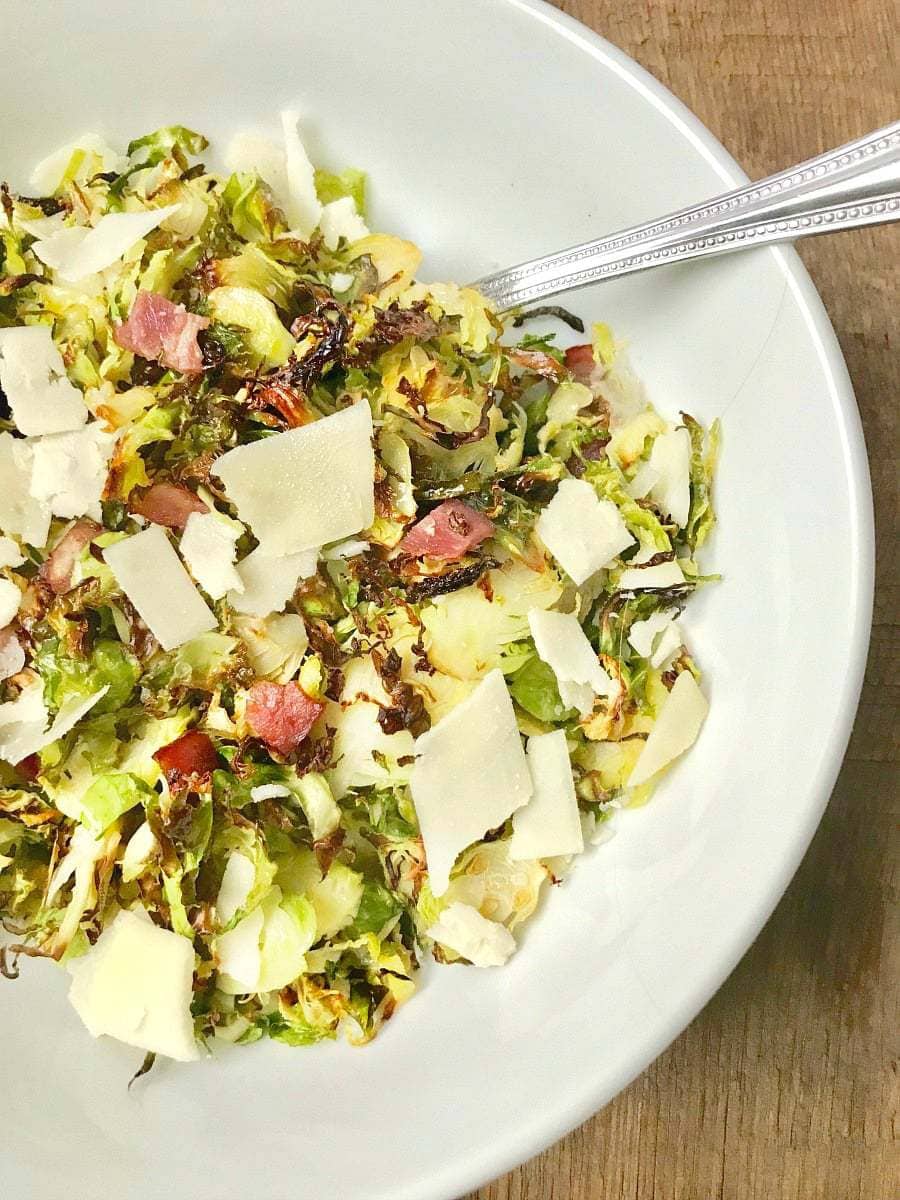 Even my husband, who isn't the biggest fan of Brussels Sprouts, really liked these.
So these will be at my Thanksgiving table this year, and I am hoping some of you try it for yours.  If you do, let me know!  And if you don't, they are just as yummy on a non-holiday, too.
Wishing you a Happy Thanksgiving from our house to yours. May your home be filled with laughter and happiness!
Print
21 Day Fix Crispy Shaved Brussels Sprouts with Bacon, Parmesan, and Balsamic
Author:

Prep Time:

10 minutes

Cook Time:

15 minutes

Total Time:

25 minutes

Yield:

8

servings

1

x
Category:

Side Dish

Method:

Oven

Cuisine:

American
---
Description
These 21 Day Fix Shaved Brussels Sprouts with Bacon, Parmesan, and Balsamic are so quick and easy, but taste special enough for a holiday side!
---
Scale
Ingredients
16 oz

of whole Brussels Sprouts (or sub the pre-shredded ones)

3

T of olive oil

1/2 tsp

sea salt

1/3 cup

shaved Parmesan cheese (I used a Parmesan blend)

4

slices of turkey bacon, diced up small

1/2 cup

of balsamic vinegar
---
Instructions
Preheat oven to 400 degrees. Wash and dry your Brussels sprouts thoroughly. Using the slicing blade of your food processor, shred your Brussels Sprouts.
Line two baking sheets with parchment paper and divide bacon bites equally on each pan.
Divide shredded Brussels sprouts onto the two pans, laying them as flat as possible in a single layer.
Drizzle each pan with 1 1/2 T of olive oil and 1/4 tsp of sea salt.
Roast for 15 minutes and then keep watch until you achieve desired crispiness. It took me 17 minutes :).
Remove sprouts from the oven and let cool for a few minutes.
Heat balsamic vinegar in a small saucepan over medium-high heat until boiling. Reduce heat to medium-low and simmer for 10 minutes until reduced by half.
Top Brussels sprouts with Parmesan cheese and drizzle with the Balsamic reduction.
Enjoy!
---
---
Keywords: side dish, brussels sprouts, bacon, cheese, vegetables, gluten-free