Whether you are hosting many guests, or simply bringing a dish to Thanksgiving this year, you will want to have a Gluten Free option. This ultimate roundup of 60+ Gluten Free Thanksgiving recipes gives you so many delicious options to choose from for each course!
We've been gluten-free for almost 5 years now, so cooking gluten-free meals has become second nature.
Whether it's a regular weekday or a special holiday, our table is always gluten-free. You might think this makes hosting holidays difficult.
Nope.
I serve everyone the same dishes. All gluten-free and made with clean, whole food ingredients, and no one ever knows the difference. Gluten-free is still delicious!
If you're not used to cooking this way, and have a gluten-free guest coming for Thanksgiving, it could be stressful. Or if you ARE gluten-free and want to bring a dish that everyone will be sure to enjoy, it might be tough to decide what to make.
So, I rounded up some of my favorite drool-worthy gluten-free Thanksgiving recipes. I included my favorites from this blog, as well as some other amazing bloggers.
With this list of apps, salads, soups, stuffing, biscuits, sauces, sides, and desserts, I know you can find the perfect dish (or two!) to make your Thanksgiving super delicious!
* Asterisk denotes recipes that are also Dairy Free (or easily adapted to DF by omitting an optional ingredient or topping)
Apps
Instant Pot Baked Brie – Show stopping app that makes it so simple to wow your guests! And you can serve it in the dish you made it in- less dishes is any hosts dream!
Quinoa Stuffed Delicata Squash Rings * | Rhubarbarians – Quinoa stuffed delicata squash rings are stuffed with mushrooms, cranberries, brussels sprouts, and pecans! They are vegan, GF, paleo, and sooo drool worthy!
Instant Pot Deviled Eggs with Bacon, Cheddar, and Chives – I love this amped up version of deviled eggs for special events. Have you made hard boiled eggs in your Instant pot yet?
Cranberry Holiday Salsa * – A delicious app served with tortilla chips or, my personal favorite, over goat cheese and GF crackers.
Honey Roasted Feta Dip – Four ingredients and super quick to make! Serve with your favorite GF crackers or with sliced apples and pears!
Roasted Shrimp Cocktail with Cranberry Horseradish Chutney * – This shrimp cocktail is nontraditional and there is so much to love about it! The shrimp is roasted (is your mind blown yet?) and served with a Cranberry horseradish chutney for some amazing flavor!
Salads/Soups
Maple Cider Holiday Salad * – My favorite maple cider vinaigrette and hearty greens make this almost slaw-like. There is so much potential for customized toppings for your guests, too!
Warm Honey Roasted Butternut Squash Salad – This warm salad could double as a side for your Thanksgiving spread. Butternut squash, cranberries, and goat cheese make an amazing combination.
Harvest Salad Bites with Honey Goat Cheese – Have you tried Belgian endive before? It makes this a healthy, low carb, one-bite appetizer with some really amazing flavors. Highly recommend!
Pear and Butternut Squash Salad | The Foodie and The Fix – Hearty spinach, roasted butternut squash, sweet pears, pecans, tangy goat cheese, and an amazing Maple Balsamic Vinaigrette make this an awesome addition to the table. Make the butternut squash ahead for easier assembly!
Carrot Ginger Soup – this gorgeous and festive soup would be a perfect first course for your Thanksgiving dinner!
Butternut Squash Soup * – Gluten free, dairy free, creamy butternut squash soup is a crowd-pleaser that can be made in the Instant Pot, crock pot, or the stove top for versatility while hosting!
Sides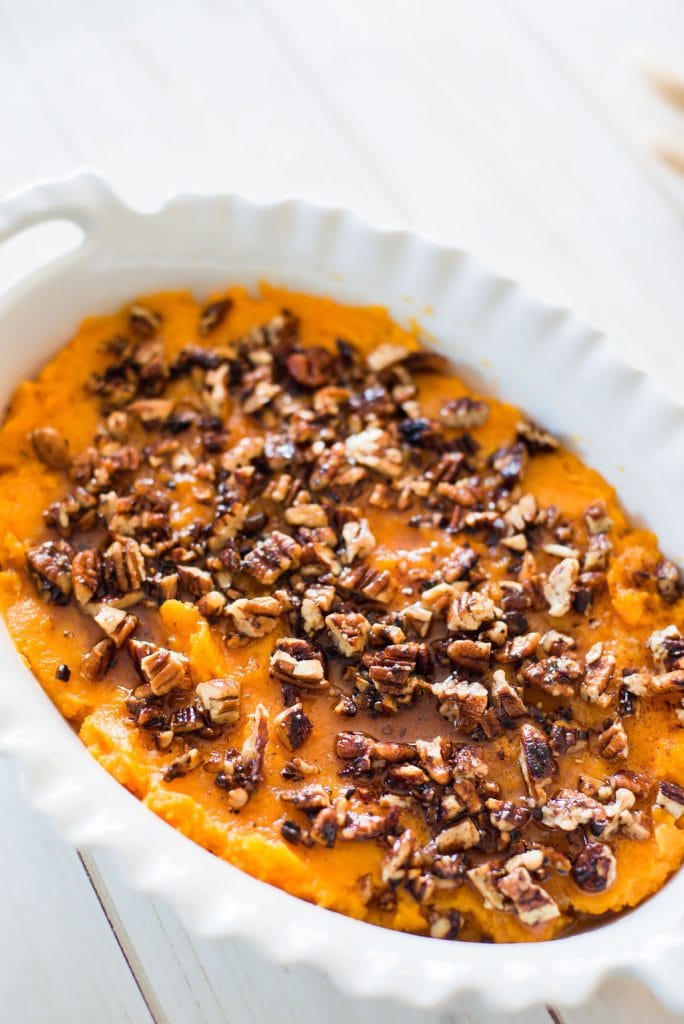 Healthy Sweet Potato Casserole * – Half butternut squash, half sweet potatoes and topped with a delicious pecan streusel, your guests won't know its the healthier alternative!
Instant Pot Mashed Potatoes * – If you aren't making Instant Pot Mashed Potatoes, then you are doing them all wrong! Seriously friends, this is the BEST and easiest way to make creamy, fluffy, no drain Mashed Potatoes right in your Instant Pot!
Healthy Green Bean Casserole (Gluten Free) – no canned anything and made with fresh green beans, a homemade mushroom Alfredo, and the delicious crispy onions – all gluten free!
Instant Pot Loaded Cauliflower Mash – Think loaded baked potato, meets cauliflower mash. Do you think you can pass it off as mashed potatoes? YES!
Scalloped potatoes * | Faithfully Gluten Free – These gluten free, dairy free Scalloped Potatoes are a much lighter version of the old classic side dish. You don't need the heavy cream and cheeses to make this delicious potato dish.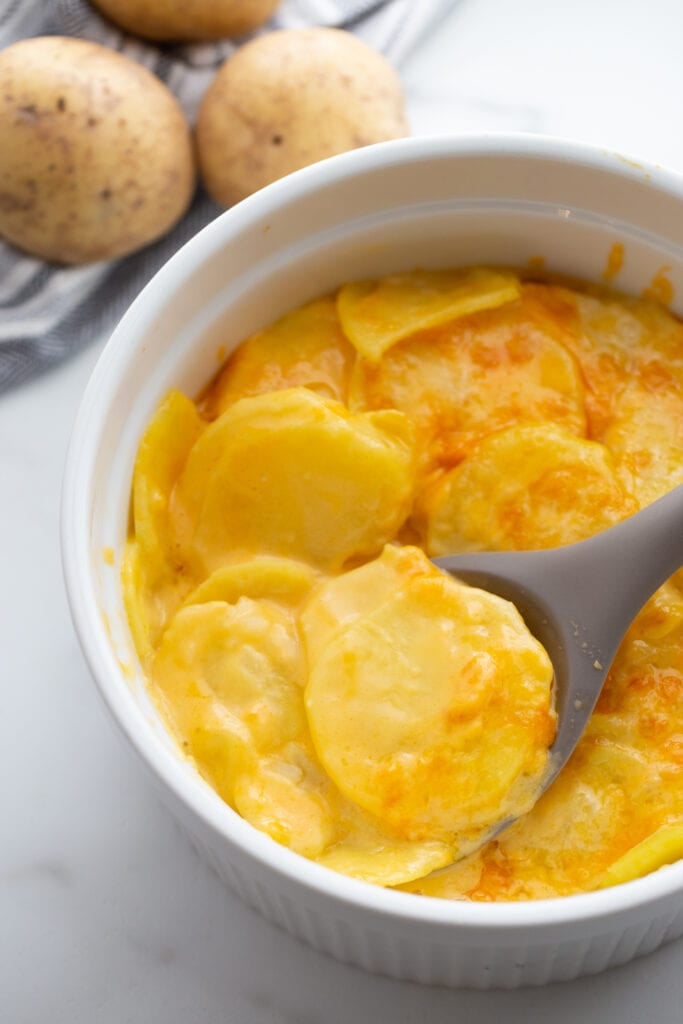 Instant Pot Scalloped Potatoes Au Gratin – Scalloped potatoes au gratin cook so quickly in the Instant Pot – it's such an easy time saver for Turkey Day!
Butternut Squash Risotto – This just tastes like a special occasion…but it's the easiest Risotto recipe ever!
Crispy Shaved Brussels Sprouts with Bacon, Parmesan, and Balsamic – Brussels sprouts CAN be crowd-pleasers! Try roasting a pan of these at Thanksgiving and see what I mean!
Balsamic Brussel Sprouts | Slender Kitchen – These crispy Brussel sprouts are full of flavor and cooked perfectly with just a few pantry ingredients that you likely already have on hand.
Sauteed Green Beans with Apple Cider * | Joy Food Sunshine – These sautéed green beans are fresh and delicious, and a great side dish to serve for the holidays!
Roasted Sweet Potatoes with Goat Cheese & Sage | The Foodie and The Fix – Simple and delicious! Why haven't I been topping my roasted sweet potatoes with goat cheese and sage all along?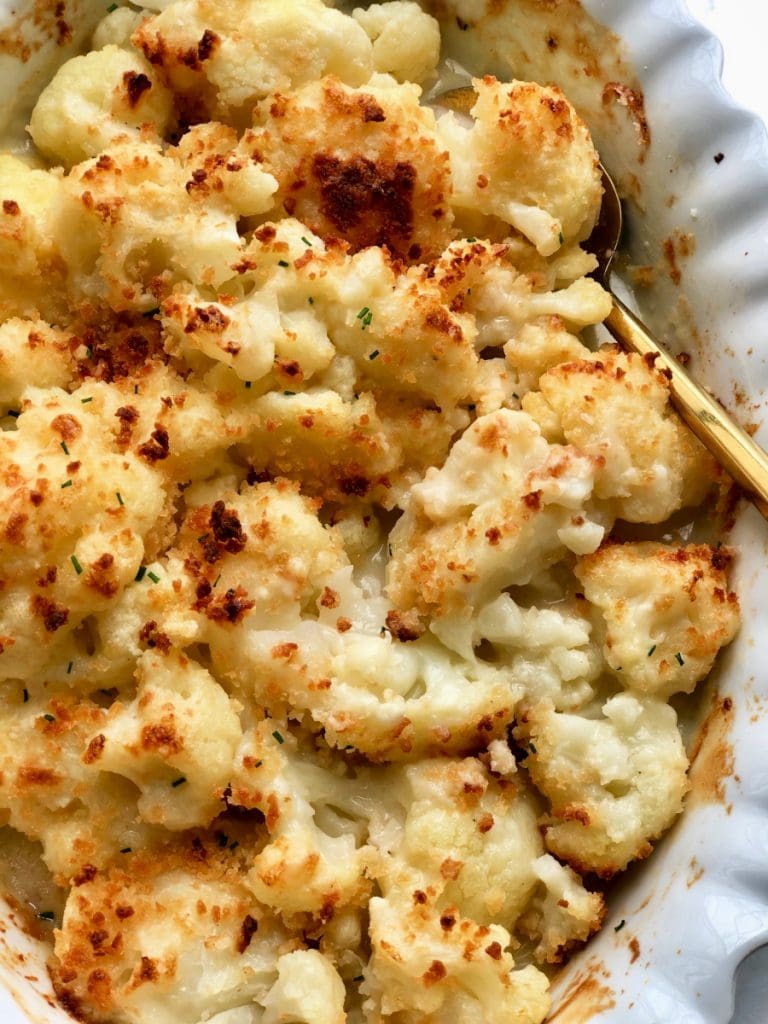 Cauliflower Au Gratin – Using GF flour and panko breadcrumbs you can have your favorite potato dish made with low carb veggie power instead!
Garlic Bacon Sauteed Green Beans with Roasted Mushrooms | Good Life Eats – Garlic Bacon Sautéed Green Beans with Roasted Mushrooms make a great Thanksgiving side dish- loaded with flavor, and a lot more fresh tasting than the traditional green bean casserole. Try it!
Instant Pot Mac and Cheese – Do you serve Mac and Cheese at Thanksgiving? This GF sneaky veggie version is so creamy and cheesy, you will never know the difference!
Chile Lime Squash and Chickpea Salad * | Blossom to Stem – Super nontraditional, this chile lime squash side dish brings a different flavor to a Thanksgiving meal!
Air Fryer Brussels Sprouts * | Recipes from a Pantry – Delicious and crispy Air Fryer Brussels Sprouts make the perfect side dish or snack without the use of the oven. With just 3 ingredients and a handful of minutes, it's quick and easy to make!
Delicata Squash Fries * – You can use your Airfryer this year for some squash too! Delicata requires NO peeling and is easy to cut for quick prep too! Win Win!
Butternut Squash Mac and Cheese – Full of hidden veggie power, but it's so creamy, cheesy, and delicious, nobody would ever guess it's healthy! And the best part – it comes together so fast thanks to the Instant Pot. There are stovetop directions too!
Roasted Acorn Squash with Sweet Whipped Ricotta – A sweet, protein packed veggie side to share this Thanksgiving! Have you tried acorn squash?
Roasted Bacon Sweet Potatoes * | Natural Paleo Family- These roasted bacon sweet potatoes are a hearty, delicious, sweet-and-savory side dish that's perfect for a holiday meal and will be sure to impress your guests!
Garlic and Parsley Roasted Carrots * | Hungry Healthy Happy – A sweet and delicious side dish that you can just throw in the oven and forget about for 20 minutes while you make the rest of the meal. A punch of garlic and lots of fresh herbs – just what you want from a side dish!
Easy Duchess Potatoes * | The Petite Cook- I never realized how easy Duchess Potatoes are to make. These are 3-Ingredient, gluten-free and dairy-free. Fancy and perfect to impress guests on Thanksgiving!
Stuffing/Biscuits
Gluten Free Stuffing with Sausage + Apple – Gluten Free Stuffing with Sausage and Apples made with homemade bread cubes that actually taste like a copycat Pepperidge Farm herbed mix! The perfect side dish for Thanksgiving or whenever you want to make delicious homemade stuffing!
Instant Pot Stuffing with Brown Rice and Sausage * – Brown rice and sweet poultry sausage make this stuffing nontraditional and oh-so-yummy! I love that I can make it completely in my Instant Pot and keep warm that way too- to free up some oven space!
Butternut Squash and Kale Quinoa Stuffing * | Good Life Eats – Butternut Squash and Kale Quinoa Stuffing is a fantastic vegetarian and gluten-free stuffing recipe loaded with tons of veggies and flavors for your Thanksgiving table!
Paleo Sweet Potato Sausage Suffing * | Tasting Page – This healthy Paleo sweet potato sausage stuffing makes for a great Thanksgiving side dish or accompaniment to any night's dinner. The stuffing is grain free, gluten free, dairy free, and sugar free.
Homemade Gluten and Dairy Free Stuffing * | The Fit Cookie – This stuffing is not only gluten and dairy free, but it's also nut free and top 8 allergen free.
Almond Flour Drop Biscuits | Apples for CJ – These Almond Flour Biscuits are an easy one bowl recipe that comes together in only twenty minutes. Drop biscuits that require no rolling, kneading or cutting out. These no fail biscuits are perfect for a Thanksgiving side or topped with pumpkin butter!
Sauces
Low Sugar Apple-Cranberry Sauce * | The Foodie and The Fix – Ditch the "straight from the can" stuff and wow your guests, without a ton of sugar. Its only two steps and four ingredients!
Instant Pot Applesauce – Ready in minutes, no peel, and no sugar added applesauce… I'm not sure what's better?!
Low Carb Pumpkin Butter * | Country Girl Cookin – This low carb pumpkin butter makes a beautiful, sugar free topping for bread, yogurt, or maybe even ice cream and oatmeal. Try it on those almond flour biscuits!
Turkey
Easy Oven Roasted Turkey with Gravy – Making homemade Oven Roasted Turkey with Gravy for Thanksgiving is easier than you think! Just follow my simple tips for the Best Thanksgiving Turkey Ever, including an optional dry brine- that is crazy easy to do!
Honey Brined Turkey * | Food.Com – This recipe uses a wet brine and it comes out juicy and delicious every time!
Easy Turkey Brine | Girl with the Iron Cast – Another gluten-free brined turkey recipe- juicy meat and crispy skin, this easy turkey brine recipe will have your guests wanting it every year!
Instant Pot Turkey Breast and Potatoes – This is the quickest way to juicy, perfectly cooked turkey and delicious homemade gravy. Depending on the size of your breast, you can even make mashed potatoes in the same pot!
Whole Smoked Turkey | Greedy Gourmet * – Have you considered smoking a whole turkey though? Not only does it look stunning, but it will probably be a surprise for everyone.
Grandma's Roasted Turkey | Sweetpea Lifestyle – Dry brined overnight, this turkey is stuffed with sage and lemons and roasted until golden brown perfection!
Desserts
Healthy Pumpkin Pie * – Gluten free, dairy free, refined sugar free pumpkin pie that tastes amazing! I use an almond flour crust and clean ingredients for the filling. And we definitely don't skip the homemade coconut whipped cream!
Healthy Instant Pot Brown Rice Pudding * – Healthy instant pot brown rice pudding has all the flavors of the creamy rice pudding recipe you grew up loving, but it's dairy-free, gluten-free, refined-sugar-free.
Healthy Pumpkin Oatmeal Banana Bread * – Perfect make ahead gluten/dairy free banana bread with a fall twist. It also travels nicely for your guest who didn't leave room and needs dessert to-go!
Swedish Apple Pie * | Texanerin Baking – This Swedish apple pie is similar to a crisp and is naturally gluten-free, vegan, dairy-free and 100% whole grain! Yum!
Instant Pot Apple Crisp * – I love using my instant pot for apple crisp! This recipe takes some shortcuts to eliminate some time during prep- so helpful when you're hosting!
Pumpkin Bread | The Gluten-Free Option – This gluten free pumpkin bread will disappear fast! Make sure to get your slice! It is moist and bursting with fall flavors!
Pumpkin Chocolate Chip Macaroons – Chocolate and pumpkin are a match made in heaven- try these macaroons for a little something different!
Gluten Free Chocolate Chip Cookies – No holiday dessert tray is complete without chocolate chip cookies – and these gluten free chocolate chip cookies taste and look just like the traditional recipe!
Pumpkin Spice Whipped Ricotta – Protein packed and full of fall flavor- I serve with apples for a lighter, GF treat!
Gluten Free Apple Tart – All the flavors of apple pie without all the fuss! Using just a regular baking sheet, you will be able to whip this up easily!
Pumpkin Pie Hummus * – Have you gotten on the dessert hummus train yet? You need to try this pumpkin version and promptly serve it to your Thanksgiving guests! You won't regret it!
Chocolate Pumpkin Cups * – Did you offer to bring dessert to the Thanksgiving meal? Bring these and you will be everyone's favorite! Have I mentioned that chocolate and pumpkin are an amazing combination?
Baked Apples * – A dessert on the lighter side and filled with fiber. This one will be sure to bring variety to your dessert table!

BONUS
Homemade Turkey Stock in a Crock Pot * – Put that leftover bird to use in the crock pot!