This Instant Pot Peach Crisp is the perfect end of summer healthy dessert. Gluten, dairy, and refined sugar free, you can even eat this Healthy Peach Crisp for breakfast if you want (I want)! This post contains affiliate links for products I'm obsessed with.
Despite being excited for all things Fall, I am never in a rush to let go of summer until it's actually over. And I am here to remind you, in all your pumpkin spice glory, that summer is here for another week (well, half week now as this post has become delayed again, lol).
So before you make plans for apple picking, get to your farm stand and pick up the last of the summer peaches because they are gonna be gone soon and there is nothing better than a perfectly ripe sweet peach!
Of course you can make this with frozen peaches, too, so no fear if fresh peaches are done by you. And you can also sub in apples, berries, pears, you name it.
In fact, this Instant Pot Peach Crisp is based off of two other very popular Crisp recipes – my 21 Day Fix Instant Pot Apple Crisp and my Healthy Instant Pot Strawberry Rhubarb Crisp (Stovetop Option).
Will my Instant Pot Peach Crisp be crispy?
If you just cook this Peach Crisp in your Instant Pot, it will not have a crispy top. But there are two things you can do to fix this!
After cook time, you can broil your Instant Pot Peach Crisp for a few minutes right in the same dish!
If you have a Mealthy CrispLid, you can use that to crisp up your topping without turning on your oven! This is how I did it and I can't say enough amazing things about my crisplid!
Want to learn more about the amazing Mealthy CrispLid and how it turns your pressure cooker into an Instant Pot? Check out my CrispLid review!
More Instant Pot Peach Crisp Facts
Peaches cook really fast in the instant pot – just 4 minutes- so this makes an ideal weeknight dessert. Do your kids require a dessert every night? Because mine do and I am somehow started this madness and it doesn't seem to be stopping anytime soon.
You will make this using the Pot-in-Pot method of Instant Pot cooking, which means you will put an instant pot safe dish, like my favorite glass casserole dish, on your trivet inside your instant pot. This handy sling also helps with this process!
This is a dairy free and gluten free Peach Crisp, so the perfect dessert to make if you have guests with those food allergies and intolerances.
It's full of extra fiber from the oats and protein from the almond flour, so if you wanna have this for breakfast, I can get behind that.
My kids love this with Ice Cream, but I love it with Coconut Cream or my fav So Delicious Coco Whip – see below for more info!
How to Make Coconut Cream
It's super easy to make your own Dairy-free Coconut Cream! Just start with a can of coconut milk and refrigerate it overnight.
Then carefully scoop out the chilled cream into large bowl. Using hand mixer or stand mixer with whisk attachment, whip cream until light and fluffy for about 5 minutes. If you want a sweeter cream, add a few drops of stevia while whipping. For a pumpkin version of this cream, see this recipe!
Or, if you are lucky enough to have this So Delicious Coco Whip at a store near you, you can totally just use this! The ingredients are SUPER clean and it's so freaking delicious (Omg, I swear no pun) and even my kids love it. It's only 30 calories for 2 whole tablespoons of cream and made with organic coconut oil.
Is this Healthy Peach Crisp a treat swap on the 21 Day Fix?
Nope! You can have this peach crisp all week long, because it's not a treat swap…or even a full yellow! The container count is listed in the recipe card below!
Check out How to Make Instant Pot Peach Crisp in this handy printable recipe card!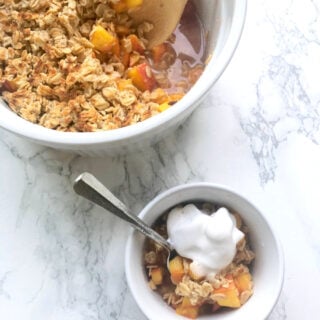 Healthy Instant Pot Peach Crisp
This Instant Pot Peach Crisp is the perfect end of summer healthy dessert.  Gluten, dairy, and refined sugar free, you can even eat this Peach Crisp for breakfast if you want (I want)! 
Ingredients
6

cups

fresh or frozen diced peaches

1-2

tablespoons

arrowroot flour or corn starch

optional...this is to thicken the peaches. I often leave this out

4 ½

tablespoons

honey or maple syrup

divided

2

tablespoons

coconut oil

melted

1

cup

gluten free rolled oats

1/2

cup

almond flour

1/2

teaspoon

cinnamon

1/4

teaspoon

salt
Instructions
In a medium Instant Pot safe bowl (like my fave casserole dish), combine peaches with 1 1/2 tablespoons maple syrup, 1/4 tsp cinnamon, and arrowroot (if using). 

For the crisp topping, whisk honey/maple syrup with the melted coconut oil. Mix oats, almond flour, cinnamon and salt together, then stir in the remaining maple syrup/honey and coconut oil. Place crisp topping over peach mixture. 

Add one cup of water to the steel insert of the instant pot, then place trivet insert in. Cover baking dish with foil, then lay on top of trivet. Set IP for 4 minutes on manual/pressure cook.  **If your peaches are frozen, cook for 7 minutes. 

After cook time, do a quick release. 

In the meantime, preheat oven to broil or grab your CrispLid. When it's safe to remove the dish from the instant pot, place it under the broiler for a few minutes or until the topping begins to crisp. Watch them carefully, and remove just as the crisp topping starts to brown.  I used my crisp lid on 450! Worked amazingly!

Let the Crisp sit and cook for around ten minutes before eating. Enjoy by itself or with coconut cream!
Notes
**To cook in the oven – bake on 350 for about 40 minutes or until the fruit is bubbly and the topping is golden brown.
21 Day Fix: 1 PURPLE, 1/2 YELLOW, 1/3 BLUE, 1 TSP, 2 sweetener TSP (per serving)
WW: 8 points (per serving) [Calculated using maple syrup and omitting coconut cream]
Nutrition
Calories:
261
kcal
Carbohydrates:
41
g
Protein:
5
g
Fat:
11
g
Saturated Fat:
4
g
Polyunsaturated Fat:
1
g
Monounsaturated Fat:
1
g
Sodium:
118
mg
Potassium:
246
mg
Fiber:
5
g
Sugar:
26
g
Vitamin A:
503
IU
Vitamin C:
6
mg
Calcium:
36
mg
Iron:
2
mg