This 21 Day Fix Quinoa Taco Casserole is so simple to make in your Crock Pot or Instant Pot and the perfect lunch or weeknight dinner! 
Confession #86 – I'm getting a little anxious about the start summer.  Which is crazy.  I have always looked forward to being home in the summer, especially since I was able to pull my kids out of daycare and spend two glorious months pretending to be a stay at home mom.  We all loved it.
Especially my husband.
Now that I am officially a stay at home mom, I should be even happier about summer starting…but I was spoiled this year with my daughter in pm kindergarten.
I had the best of both worlds, you see.  We were able to spend all morning together, but everyday at 12:30, my daughter went to school and I was able to put my son down for his rest time.
And therefore I had some sanity.  For about an hour or two a day.
This, people, will exist no more.
And trying to convince my 6 year old that we need to leave the pool, playdate, or park NOW to keep my son's rest schedule in tact will be no treat.
Stay at home moms – any advice for me?
Anyway, while I typically think of winter being crock pot season, I envision using my crock pot a ton this summer for quick and easy meals to help me through the chaos.
And it's easy to put a summer spin on them.  Like this Crock Pot Quinoa Taco Casserole.  Delicious on it's own, it feels a little more summer-ish served in a lettuce wrap with a bit of fresh lime.  Yum!
This is super simple (you don't even need to cook the quinoa first!!) and perfect for lunch or even dinner throughout the week.  Give it a try and let me know what you think!
**I recently updates this recipe
Yields: 4 servings
Serving Size: 1/4 of recipe
21 Day Fix Crock Pot Quinoa Taco Casserole
Ingredients
1 lb organic ground turkey or chicken (be sure cook through for crock pot version)
2 cups of bell peppers, diced
1/2 cup of black beans
1/2 of a red onion, diced
1 garlic clove, minced
1 can of tomatoes and green chilies
1/2 cup uncooked quinoa
1 T chili powder (you can add more to taste at the end)
1 tsp cumin
organic chicken broth (1 cup for crock pot; 1/2 cup for Instant Pot)
2/3 cup of shredded cheddar cheese or Mexican blend
sprinkle of salt and pepper
fresh lime
optional lettuce wraps or corn tortillas
Instructions
Crock Pot: Place all the ingredients in the crock pot and cook on high 3 1/2 hours or on low for 6-8 hours. Taste and adjust seasonings, adding a sprinkle of salt and pepper, if desired. For the last half hour, add cheese and allow to melt. Serve alone, or as a taco filling. I used lettuce wraps for extra green and topped with a squeeze of fresh lime and a bit more shredded cheese. Yum!
Instant Pot: Turn Instant Pot to saute and brown ground turkey. Once it's cooked through, add in veggies and saute for an additional minute. Stir in quinoa, beans, tomatoes, broth and seasoning. Set to manual for 4 minutes, then let steam release naturally. Once you can safely open the pot, top with cheese and place the cover back on to melt it. Serve alone, or as a taco filling. I used lettuce wraps for extra green and topped with a squeeze of fresh lime and a bit more shredded cheese. Yum!
21 Day Fix Container Count:
makes 4 servings, 3/4 GREEN (I used lettuce wraps for a perfect 1 GREEN), 1 YELLOW, 1 RED, 1/2 BLUE each
7.6.9.2
39
https://confessionsofafitfoodie.com/2016/06/21-day-fix-crock-pot-quinoa-taco-casserole/
Confessions of a FIt Foodie
with Instant Pot directions!  Easy just got even easier!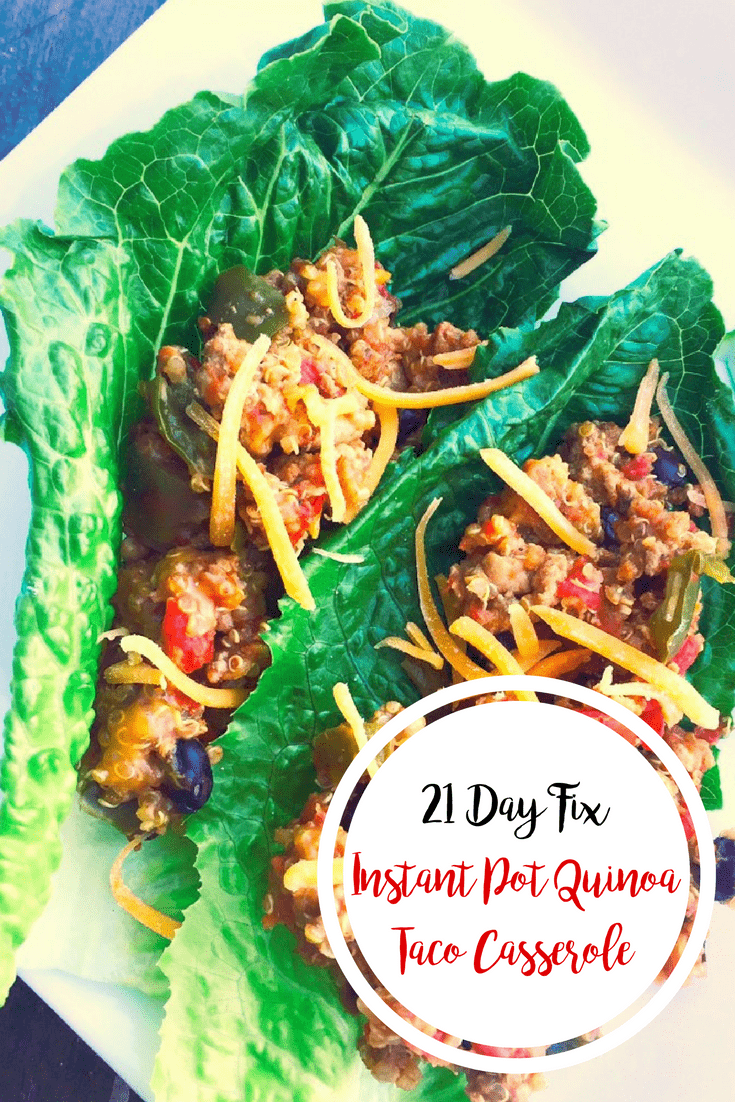 Join the newsletter
Subscribe to get our latest content by email.