Need a 21 Day Fix Meal Plan with lots of Springtime Favorites? These are my family's springtime go-tos! This post contains affiliate links for products I'm obsessed with.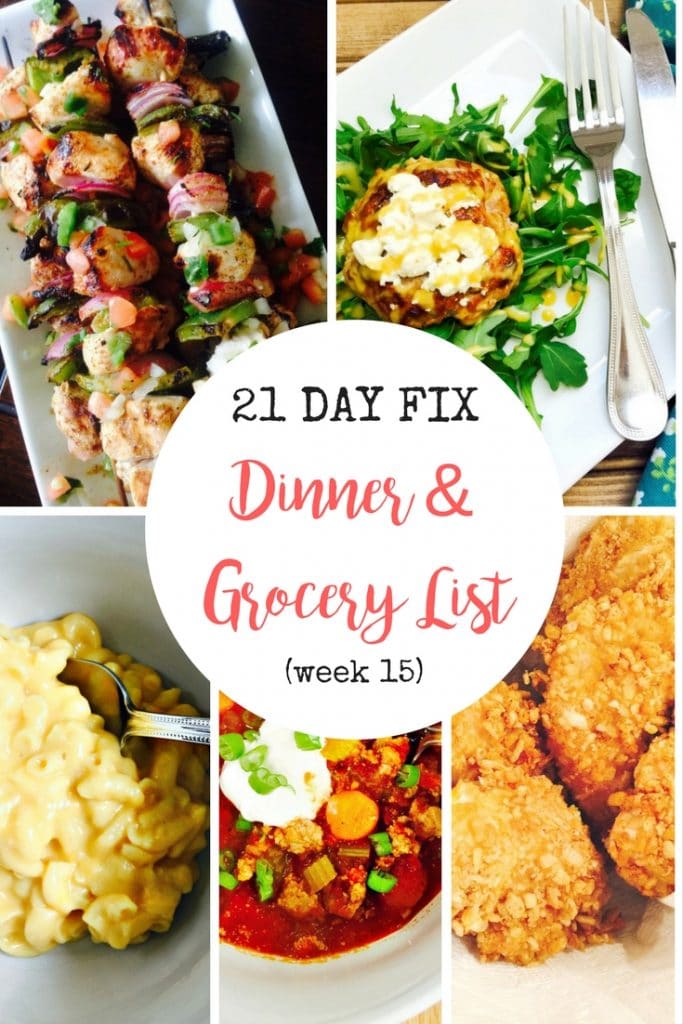 With Spring Break and the Easter Holiday tomorrow, my week has been filled with lots of wine. And chocolate. Oh – and my husband and I managed to sneak away for a quick date night dinner on Thursday and the restaurant happened to be having homemade pasta night.
So yeah.
Anyway, I have been great with my workouts and next week I vow to get my act together again in the kitchen.
This, as you know, requires a plan.
I can't be alone in my chocolate bunny fixation, so for all of you ready to get back on track this Monday, here is a week of delicious 21 Day Fix Dinners for you!
Monday: 21 Day Fix Turkey Burgers with Goat Cheese and Citrus Maple Dijon
Groceries:
Dijon mustard
maple syrup (or sub honey)
1 orange
1 lemon
1 pound lean ground turkey or chicken
crumbly goat cheese (I used the honey goat cheese from Aldi)
salt and pepper
arugula or mixed greens
Tuesday: Southwest Chicken Skewers {21 Day Fix} (serve these with your leftover greens from Monday)
Groceries:
1 lb boneless skinless chicken breast
1 red onion
1 green pepper
salt-free taco seasoning
1 lime
sprinkle of Himalayan salt
toppings – fresh salsa, cheese, avocado, guacamole
Wednesday: 21 Day Fix Simple Spaghetti Squash with Meat Sauce {Crock Pot/Instant Pot}
Groceries:
1 medium to large spaghetti squash
olive oil
garlic
1 lb organic ground turkey (or ground beef if you would rather!)
2 (28 oz) cans of crushed tomatoes
Italian Seasoning
Crushed red pepper
Salt, Pepper
Parmesan cheese
Thursday: 21 Day Fix Krispie Baked Chicken side of green beans and 21 Day Fix Instant Pot Mac and Cheese {Gluten-free}
Groceries:
1lb chicken tenderloins
2 egg
brown rice cereal
Himalayan salt
garlic powder
pepper
olive oil cooking spray
Mac and Cheese
1 head of cauliflower
chicken broth
1 box of elbow pasta (I used gluten free)
vegan butter or ghee (can sub regular butter)
2 cups of freshly shredded cheese – I highly recommend sharp cheddar with a small amount (2 T) of pecorino romano mixed in (use Daiya cheddar for dairy free)
garlic powder
dry mustard
Himalayan salt
Friday: Buffalo Chicken Chili {21 Day Fix } (Have an Instant Pot? Try this version – 21 Day Fix Instant Pot Buffalo Chicken Chili)
Groceries:
carrots
celery
garlic
onion
1 – 1 1/2 pounds of lean ground chicken
1 28oz can of diced tomatoes
chili powder
hot sauce
plain Greek yogurt
blue cheese crumbles
cooking spray
chives