Want to learn how to calculate container counts for the 21 Day Fix?  I'll show you how easy it really is!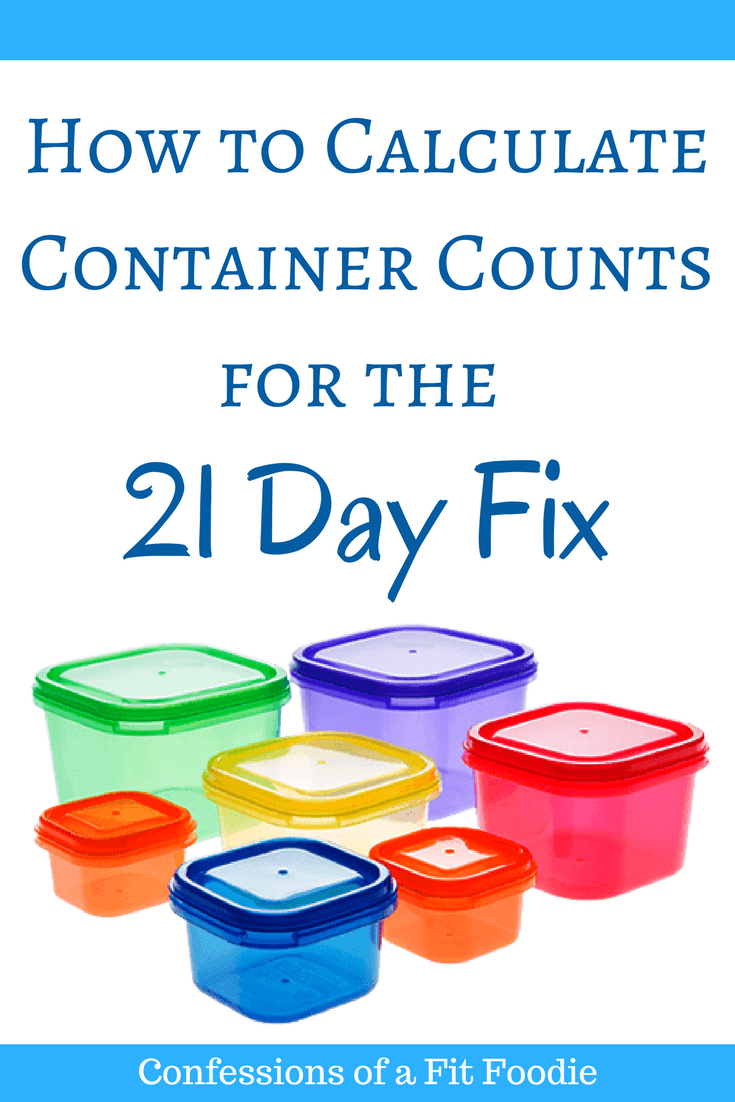 One of the biggest questions I get is how to calculate containers for a recipe, especially when cooking a soup, casserole, or a chili where different food groups are mixed together.  
It's really a simple process – it just takes two steps!
For example – let's take this recipe – one of the most popular on my site:
Serves: 6
Serving size:  1/6 of pan
Ingredients:
2 bell peppers – 2 green
1 medium onion – 2 green
lb lean ground sirloin or other protein – 4 red
2 T salt free taco seasoning – free
1 1/3 cups shredded cheddar cheese – 4 blue
3/4 cup of refried beans – 1.5 yellow
1/4 cup of corn – .5 yellow
1 can of Rotel – 2 green
olive oil cooking spray – free
8 gluten free corn tortillas, cut in half – 4 yellow
toppings:
cilantro – free
2/3 cup of diced avocado – 2 

blue
So the total amount of each container for this recipe is as follows:
Spoons: 0
Greens: 6
Reds: 4
Yellows: 6
Blues: 6 (with the avocado topping)
Purples: 0
Oranges: 0
Now we are ready to move on!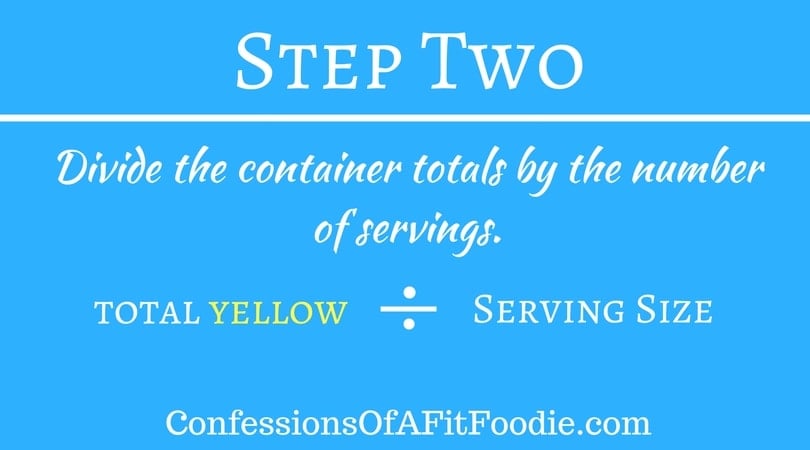 After you know the totals for each color, you can figure out the container counts by dividing the container totals by the number of servings.
This recipe serves 6, so the container totals are figured out in the following way:
Greens: 6÷6 = 1 green per serving
Reds: 4÷6 = 2/3 red per serving
Yellows: 6÷6 = 1 yellow per serving
Blues: 6÷6= 1 blue per serving
That means, for this recipe, each 1 ¼ cup serving would be  1 green, 2/3 red, 1 yellow, and 1 blue!
It's as simple as that!
But remember – all of my recipes have container counts figured out for you already!  Some of my favorite "mixed together recipes" with container counts are: 
Here are some other posts that might help you out! 
21 Day Fix Updated Food List | My Crazy Good Life
The Ultimate 21 Day Fix Container Guide | The Foodie and The Fix
21 Day Fix Container Sizes | Carrie Elle
If you have any questions, leave them in the comments and I'd be happy to answer them for you!