This Healthy Alfredo Sauce is creamy, delicious, and full of flavor without all the extra fat and calories! This homemade healthier alfredo sauce is made with simple ingredients like almond milk and a freshly shredded blend of cheeses in place of heavy cream. It's a great way to enjoy your favorite pasta dinner, just lighted up!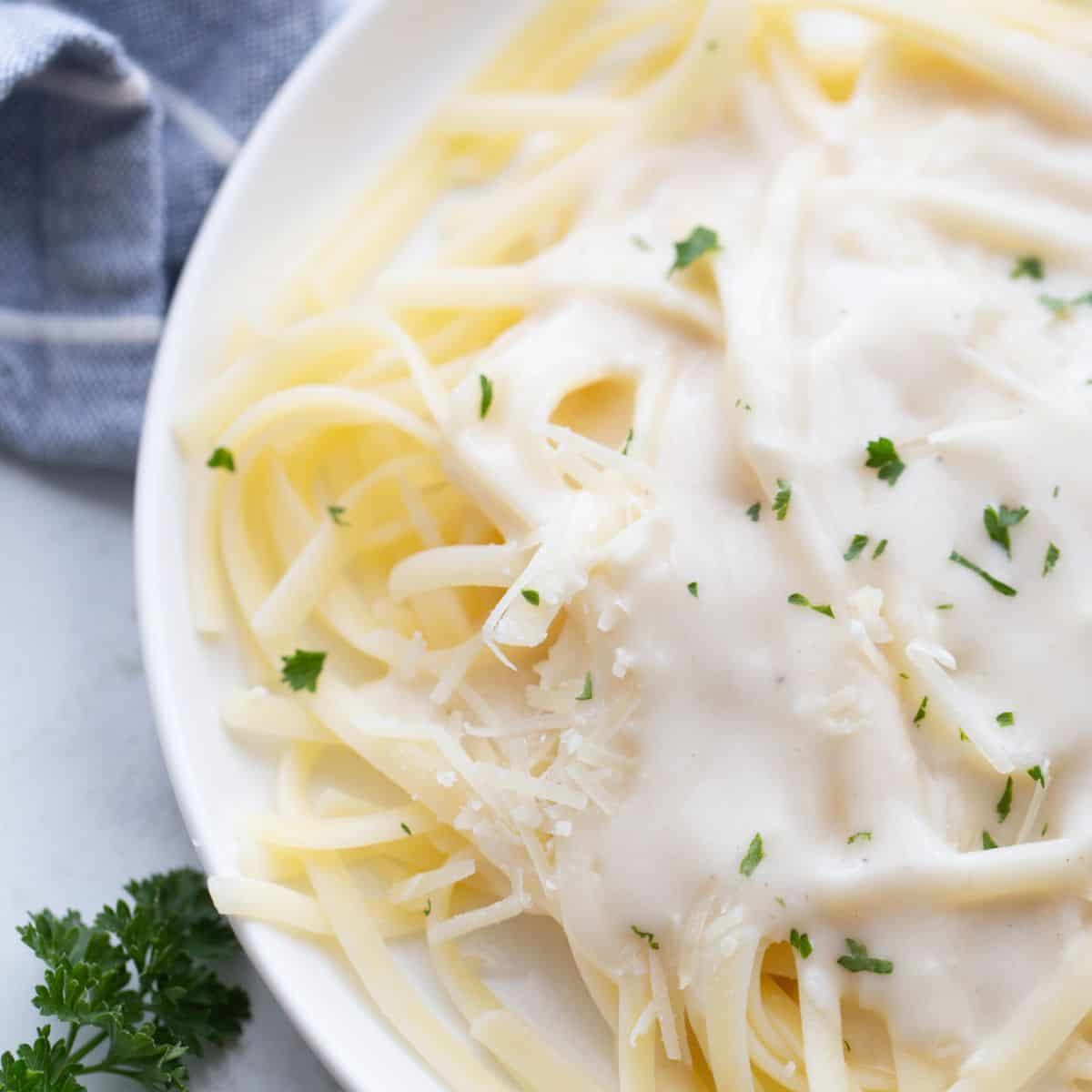 Guys…I am so pumped to finally share a Healthy Alfredo Sauce Recipe on the blog. It's been on my list for what feels like forever, and it is finally happening!
Alfredo Sauce is one of the most calorie-laden ways to top your pasta…until now. This homemade alfredo sauce passed many tastes tests (thanks, Mom!) despite being a much healthier, lower calorie, 21 Day Fix approved version of Alfredo. I can't wait for you guys to try it!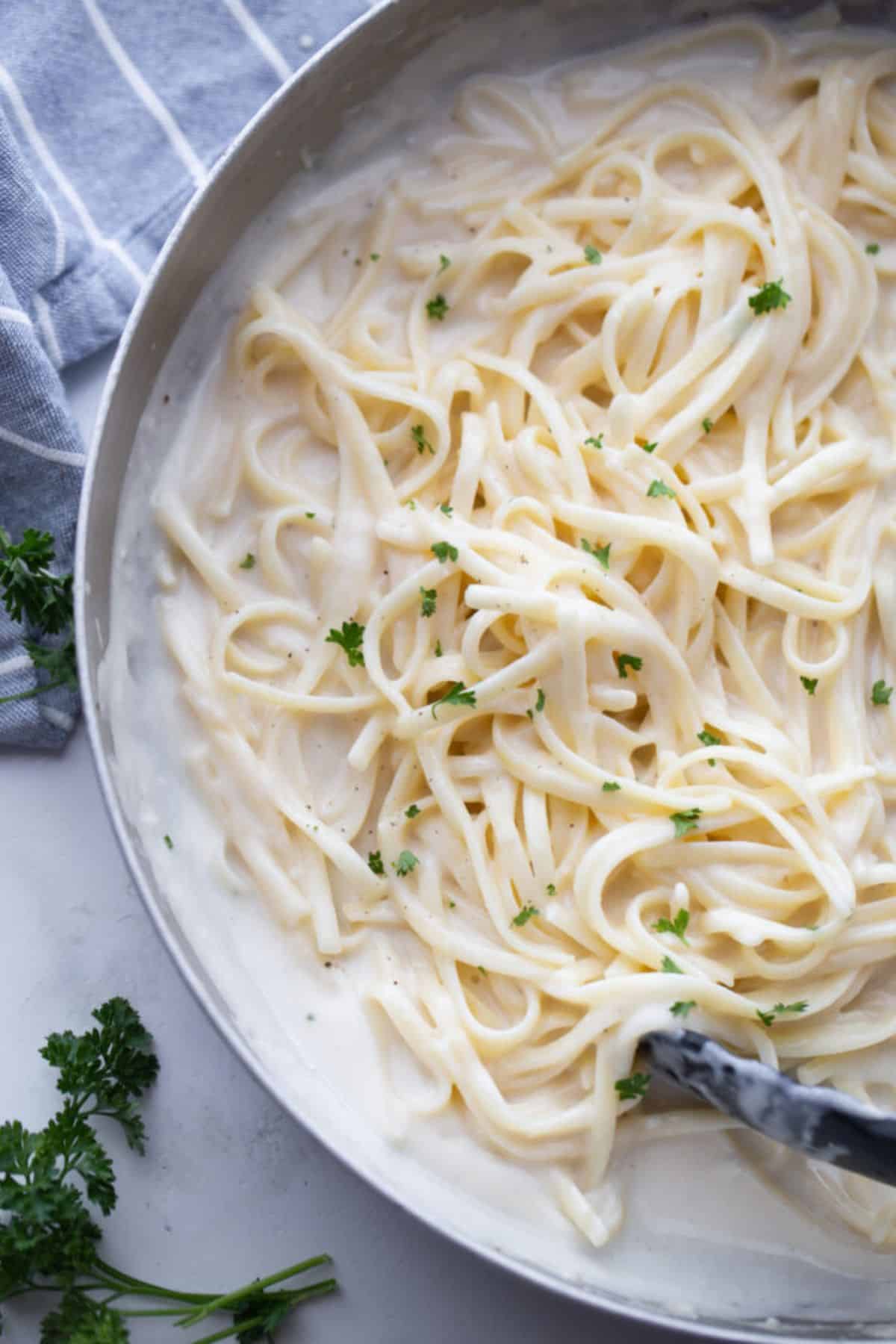 Traditional Alfredo Sauce vs Healthy Alfredo Sauce
Traditional Alfredo sauce is made by heating heavy cream, lots of butter, garlic, and cheese together until it thickens into a rich and creamy sauce. While this classic dish it's very delicious, the heaviness of the dairy tends to upset my stomach.
My Healthy Alfredo sauce, on the other hand, uses real food ingredients, but is creamy, delicious, and full of garlicky flavor in it's own right! I tested 5 different versions of this recipe to get this right…and I know you are going to love the results.
For the record, I tested:
greek yogurt alfredo sauce and cottage cheese alfredo sauce
cauliflower alfredo sauce
and a blend of chicken broth and almond milk to make a skinny alfredo sauce
The version I am sharing here was the big winner! It tastes JUST like the real thing!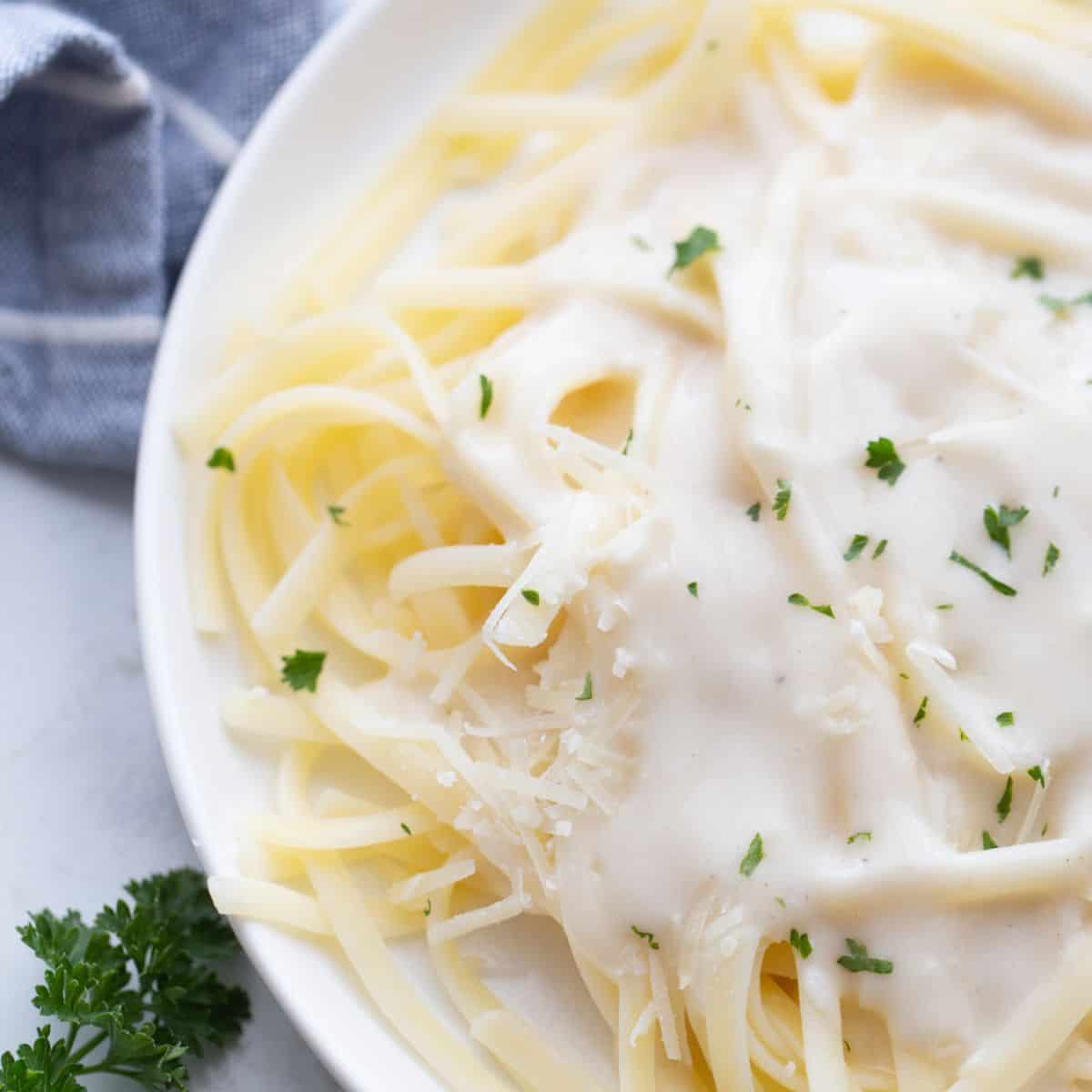 Why You Will Love this Sauce
While you may be tempted with the ease of store-bought sauces, this recipe is actually super fast! Whisk it together while your pasta boils for a super easy weeknight meal.
This tastes like the real deal, for just a fraction of the calories.
It's delicious with pasta or on just on top of your favorite veggies and protein.
It's easily gluten free and can be made dairy free with vegan cheddar cheese and nutritional yeast.
It easily fits in with the 21 Day Fix eating plan or the new WW program.
Ingredients for this Healthy Alfredo Sauce Recipe
The best part of this Three Cheese (yes, THREE) Alfredo Sauce is the simple, real food ingredients used to make it!
Garlic – fresh garlic is a must for this recipe! I love to buy the peeled fresh garlic from Costco to save me some time. In a pinch, you can sub garlic powder.
Olive oil or olive oil spray – just enough to saute the garlic
Butter, vegan butter, or ghee – you can replace this with more olive oil if you wish, but I love the flavor you get from using just over a tablespoon of butter in the sauce. A little goes a long way!
Gluten free flour or whole wheat flour – traditional Alfredo sauce doesn't use flour, but we are going to make a roux here to help thicken the sauce without using cream. Because we are gluten free, I use gluten free flour, but feel free to replace with whole wheat or whatever flour you have on hand.
Original unsweetened almond or cashew milk – As I said before, I make this Alfredo sauce with milk instead of cream. Both almond milk and cashew milk are significantly lower in calories and fat than milk and cream, but they still add creaminess to this Alfredo sauce recipe. If you have a nut allergy, you can sub 1% milk or skim milk in this recipe.
Freshly shredded white cheddar cheese, packed in tight – again, this deviates from the traditional Alfredo recipe, but using freshly shredded cheddar cheese helps to thicken this sauce without cream. Just be sure to pack it in tightly,
Freshly shredded Parmesan Reggiano cheese, packed in tight – Parmesan cheese is the typical cheese in Alfredo sauce – and a little goes a long way.
Pecorino Romano cheese – this is optional, but I love the combination of three cheeses in this Alfredo sauce…and pecorino Romano gives a little extra zip of flavor.
Fresh ground black pepper – enhances all the flavors – I add just a little bit. You can also use white pepper if you have it (I don't!)
Himalayan or Sea salt – you might need to increase the amount of salt depending on your cheese and butter selections, but start with a small amount and go from there.
Garnish – pinch of nutmeg and fresh parsley – these are optional, but they add a little extra flavor and a pop of color to your sauce
Instructions
It's so easy to make Alfredo Sauce with just milk and cheese! Here's how:
The first step to this Alfredo recipe is to saute some garlic in a medium saucepan or skillet– I use 5 cloves of garlic because I am a garlic freak.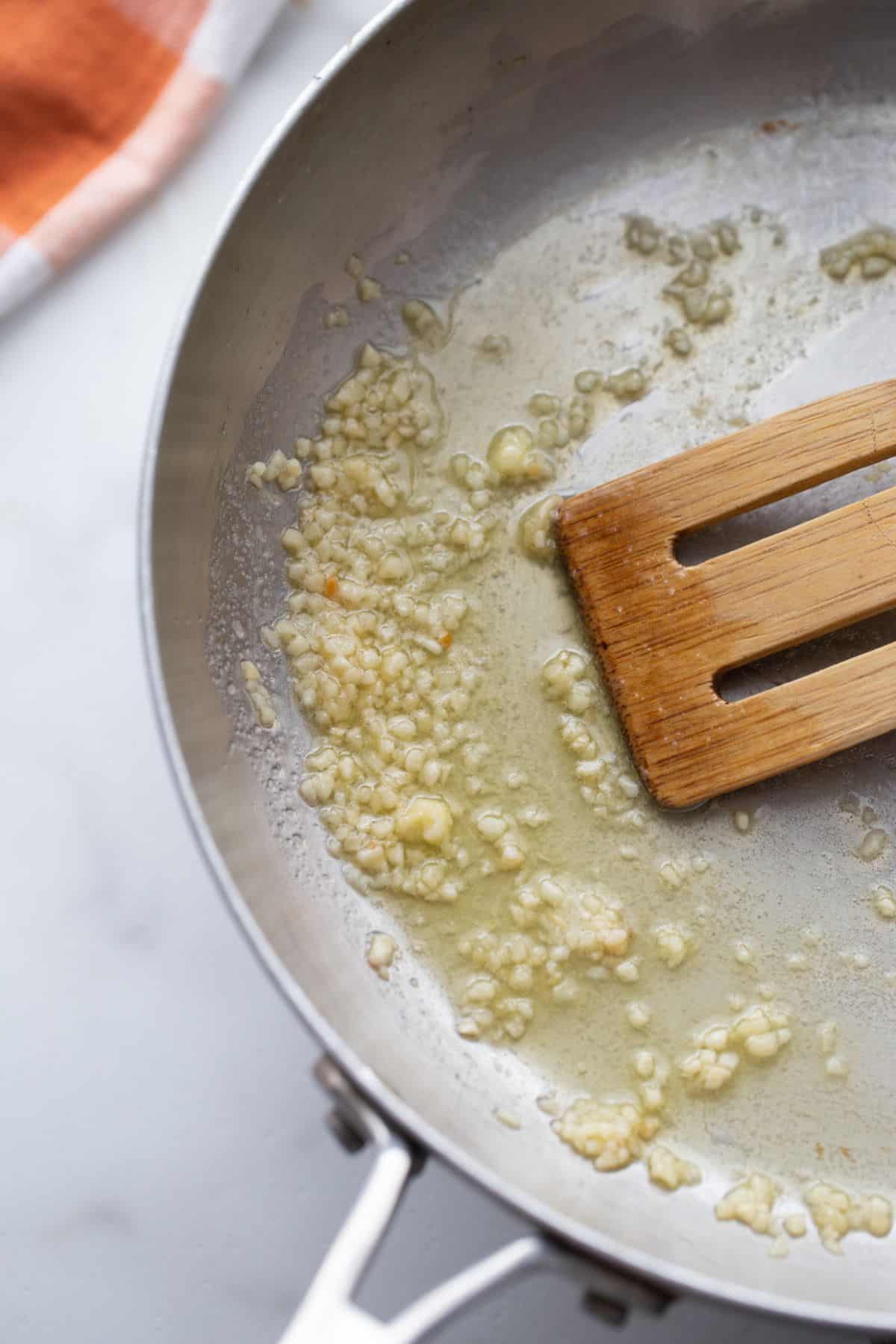 2. Next, like my other Cheese Sauce recipes, it's time to make a roux. While a roux isn't traditionally part of Alfredo sauce, it works well to add thickness to this healthier Alfredo.
Note: a roux is just a fancy word for equal parts fat and flour – in this case we are using butter and gluten-free flour to make a perfect cream sauce base.
3. After the roux is heated and begins to brown, add some almond or cashew milk and whisk until it begins to thicken. This will take a few minutes, so be patient.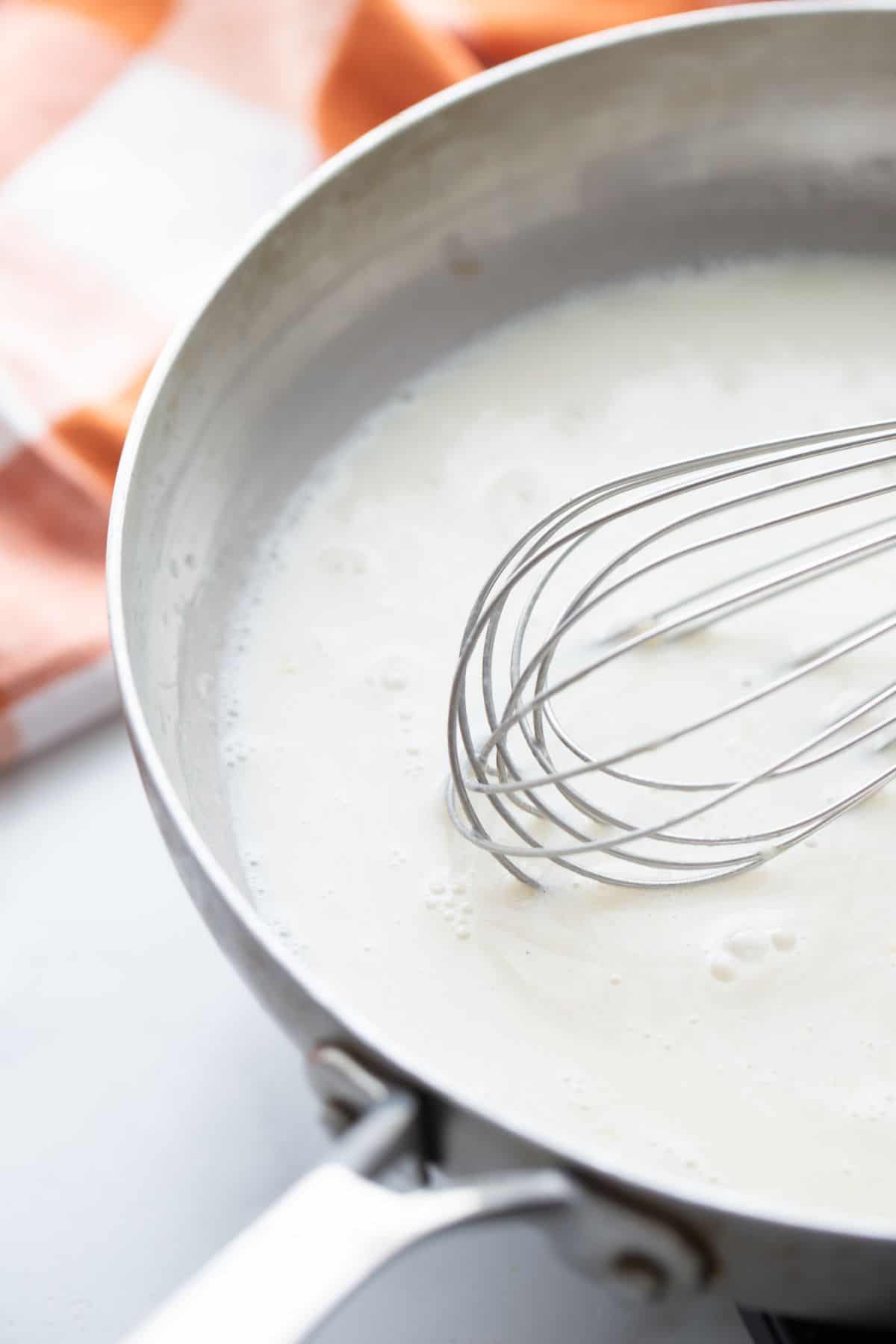 Next it's time to add the cheese! For extra creaminess and flavor, I use a three cheese blend: Parmesan, white cheddar, and pecorino Romano. I lower the heat and whisk away until the cheese has melted and the sauce is creamy perfection.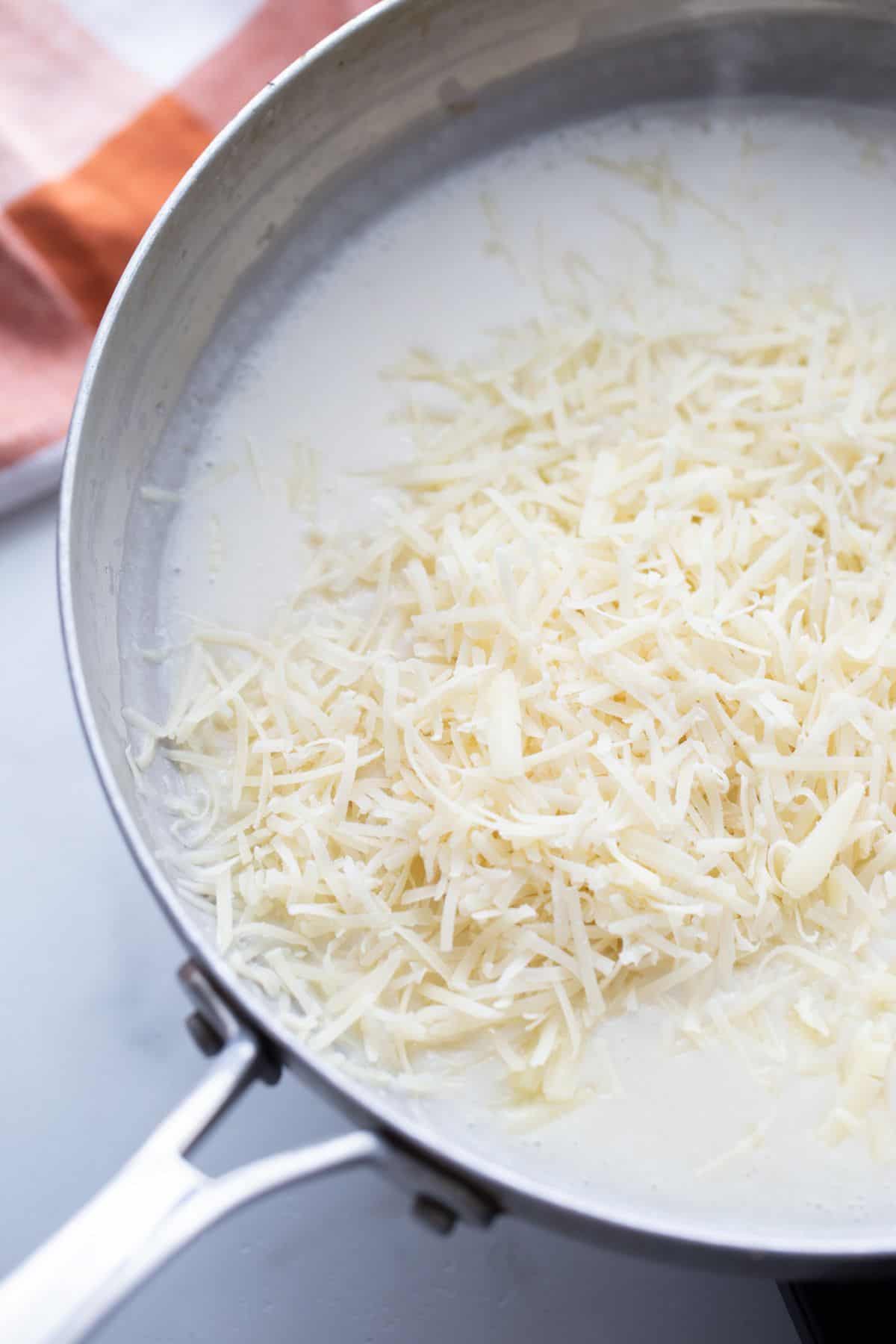 Finally, it's time to season the sauce. Salt and pepper are a must, but you could also add a little nutmeg and fresh parsley to add some additional depth of flavor. Taste and adjust seasoning to your liking.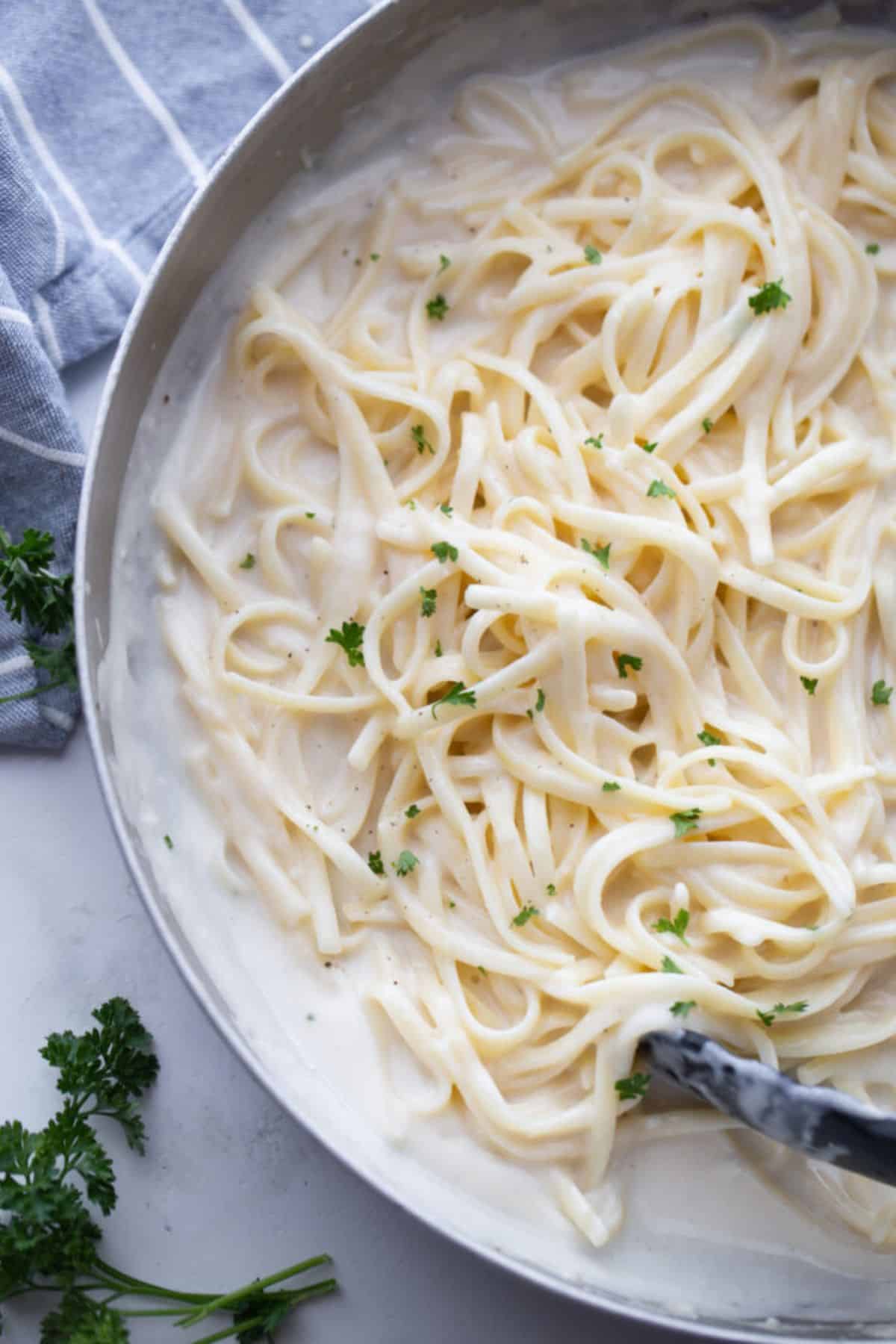 And that is it! A delicious and lower calorie Alfredo sauce ready in less than 20 minutes!
Meal Prep and Storage
To Prep Ahead: while this sauce comes together really quickly, you can also prep it up to 4 days in advance. Store covered in the refrigerator.
To Store: store this Alfredo sauce in an airtight container for up to 4 days in the refrigerator.
To Freeze: Did you know you can freeze cheese sauce? It's true! Freeze in a freezer safe container or in your souper cubes like my Freezable Cheese Sauce for up to 3 months.
To Reheat: reheat in a small saucepan on low heat or in the microwave until warm, adding broth or pasta water if needed to thin sauce slightly.
We typically enjoy this yummy sauce when it's freshly made, but if you wanted to make it ahead of time, you could store it in a mason jar or other air tight container. You could also freeze this sauce using souper cubes like my Freezable Cheese Sauce!
Recipe FAQs
Can I use a different type of milk besides almond or cashew milk?
Yes – you can use whatever milk you have on hand for this recipe. I use almond milk because it lowers the overall calories of this dish.
Can I substitute the gluten-free or whole wheat flour with another type of flour? Can I use almond flour?
You can sub all purpose flour if you are not gluten free, but almond flour or coconut flour will not work in this recipe. Rice flour would also work fine.
Is there a non-dairy alternative to the cheese that I can use?
I love Violife brand of dairy free cheese.
Is there a specific brand of gluten-free pasta that you recommend?
There are so many good gluten free noodles now! Our favorites are Barilla, Jovial, and Tinkyada.
Can I use garlic powder instead of minced garlic?
If you need a quicker version of this sauce, you can sub garlic powder to taste!
Healthy Alfredo Sauce for the 21 Day Fix and WW
This sauce, like my other cheese sauces, is totally ok and approved for the 21 Day Fix! In fact, 1/2 cup of this sauce will only count as 1/2 blue and 1 tsp. I purposely made this sauce 1/2 blue in case:
1. you want to have two helpings.
2. you want to top your sauce with extra Parmesan cheese (me!! this is me!!)
This Alfredo recipe is also a great choice for WW as it's 5 points for all plans.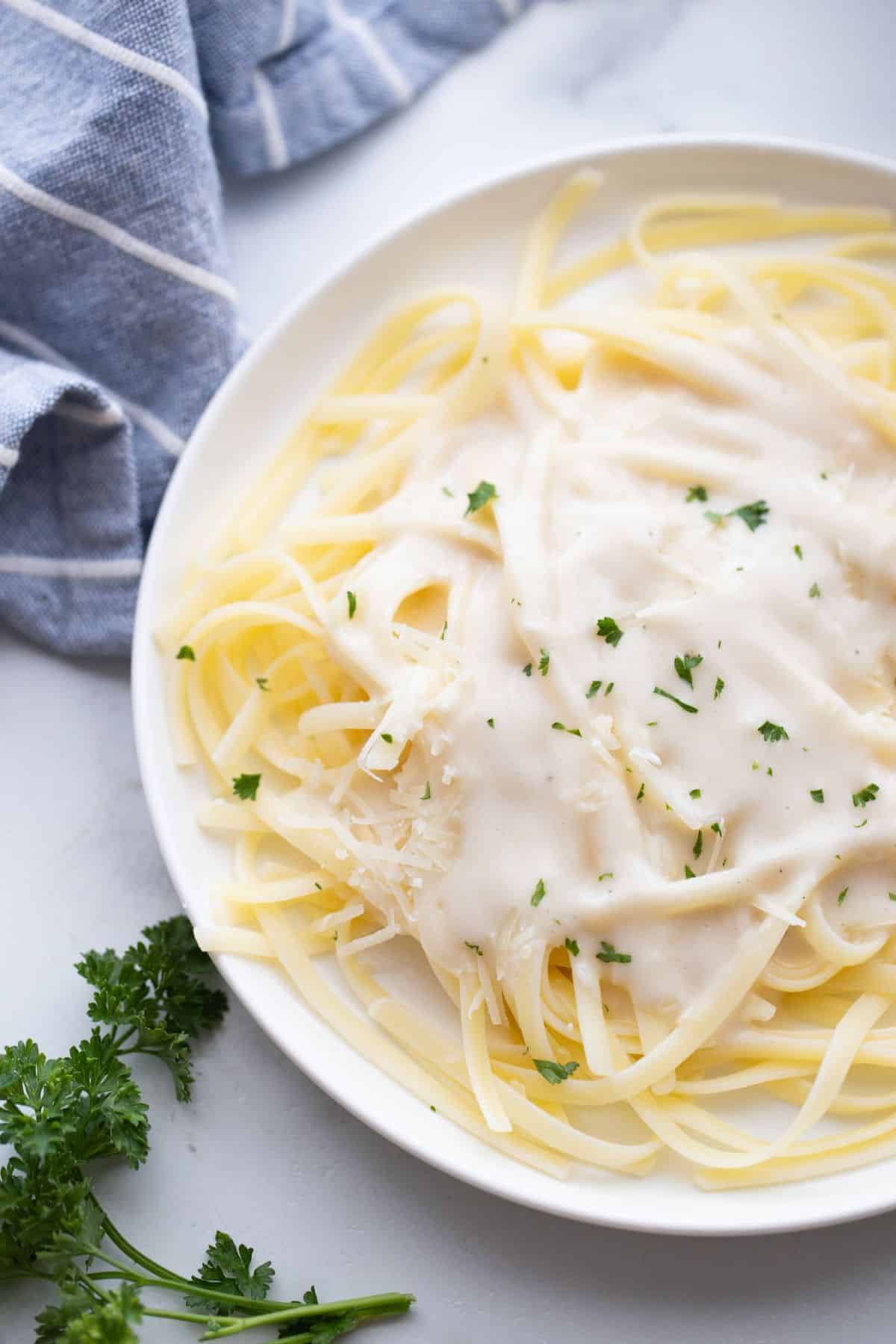 What to serve with this Healthy Alfredo Sauce
I love making a skinny chicken alfredo dish by combining gluten free pasta, some steamed or roasted broccoli, this delicious sauce, and my air fryer chicken thighs or grilled chicken breast.
You can also make Chicken Alfredo Pizza using my Greek yogurt pizza crust!
It would also be delicious with leftover air fryer whole chicken or drizzled over your favorite veggie and protein combo.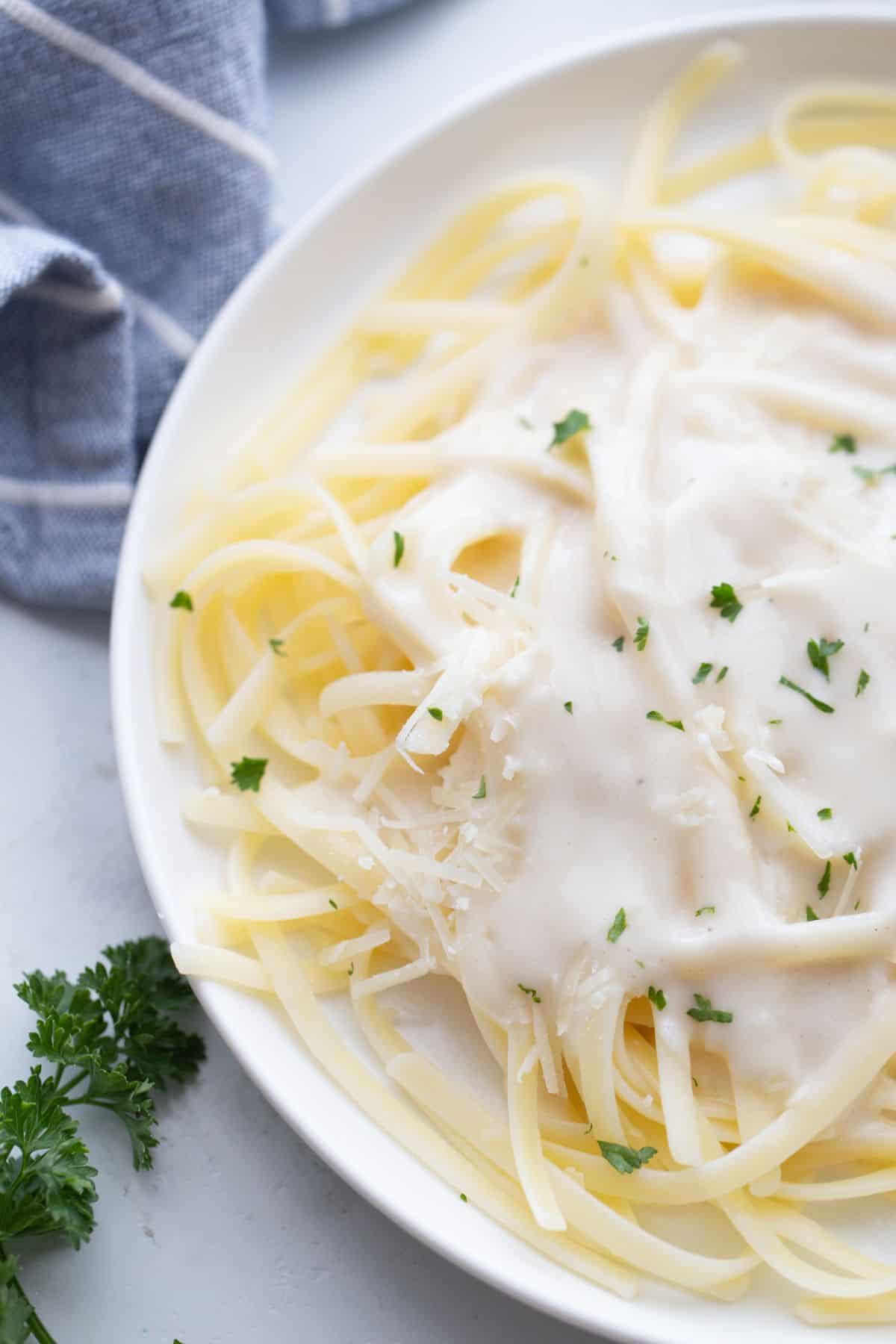 More Healthy Pasta Recipes:
How to Measure Pasta for the 21 Day Fix + 21 Day Fix Pasta Recipes
Instant Pot Enchilada Pasta [21 Day Fix | WW | Gluten Free]
21 Day Fix Pumpkin Pasta with Spicy Sausage (Gluten Free | Instant Pot Option)
Healthy Instant Pot Chili Mac [21 Day Fix | Gluten-Free | StoveTop Option]
Healthy Penne Vodka Sauce with Chicken [21 Day Fix | Weight Watchers | Gluten-free | Dairy-free Option]
Healthy Alfredo Sauce
This Healthy Alfredo Sauce is creamy, delicious, and full of flavor without all the extra fat and calories!  Made with almond milk, this Alfredo Recipe is the perfect way to enjoy your favorite pasta dinner on the 21 Day Fix.
Ingredients
4-5

cloves

garlic

minced

1/2

teaspoon

olive oil or olive oil spray

4

teaspoons

butter, vegan butter, or ghee

4

teaspoons

gluten free or whole wheat flour

1 3/4

cup

original unsweetened almond or cashew milk

1/4

cup

freshly shredded white cheddar cheese

packed in tight

1/3

cup

freshly shredded Parmesan Reggiano cheese

packed in tight

2

tablespoon

Pecorino Romano cheese

or just sub extra Parmesan cheese

Fresh ground pepper

1/4

teaspoon

salt + more to taste

Dash

nutmeg and fresh parsley for garnish

optional
Instructions
Heat a ceramic or stainless steel pan over medium low heat.  Add in olive oil and garlic.  Stir until fragrant, then add in butter. 

Slowly whisk in flour until well combined with the butter and garlic.  

While whisking, slowly add in 1 ½ cups of almond milk.  Increase heat to medium and allow milk and flour to thicken for several minutes.  

Once your roux is thickened, reduce heat to low and add in all the cheese, stirring well until the sauce is creamy. 

If your sauce is too thick, stir in the additional milk.  Remove from heat. 

Add in ¼ tsp of salt (or to taste) and a sprinkle of pepper.  Serve with noodles, veggies, and or your favorite protein and top with extra parmesan and garnish with fresh parsley and a pinch of nutmeg. 
Notes
21 Day Fix: 1/2 BLUE, 1 TSP (per serving) WW: 6 points (per serving) [Calculated using butter, GF flour, and almond milk]
Nutrition
Serving:
0.33
cup
Calories:
140
kcal
Carbohydrates:
4
g
Protein:
6
g
Fat:
11
g
Saturated Fat:
6
g
Polyunsaturated Fat:
1
g
Monounsaturated Fat:
3
g
Trans Fat:
0.2
g
Cholesterol:
26
mg
Sodium:
530
mg
Potassium:
29
mg
Fiber:
1
g
Sugar:
0.3
g
Vitamin A:
271
IU
Vitamin C:
1
mg
Calcium:
315
mg
Iron:
0.2
mg