Looking for a holiday gift or need an idea for your list? Here are a bunch of my favorite small business gift ideas for 2020! This post contains affiliate links for products I'm obsessed with.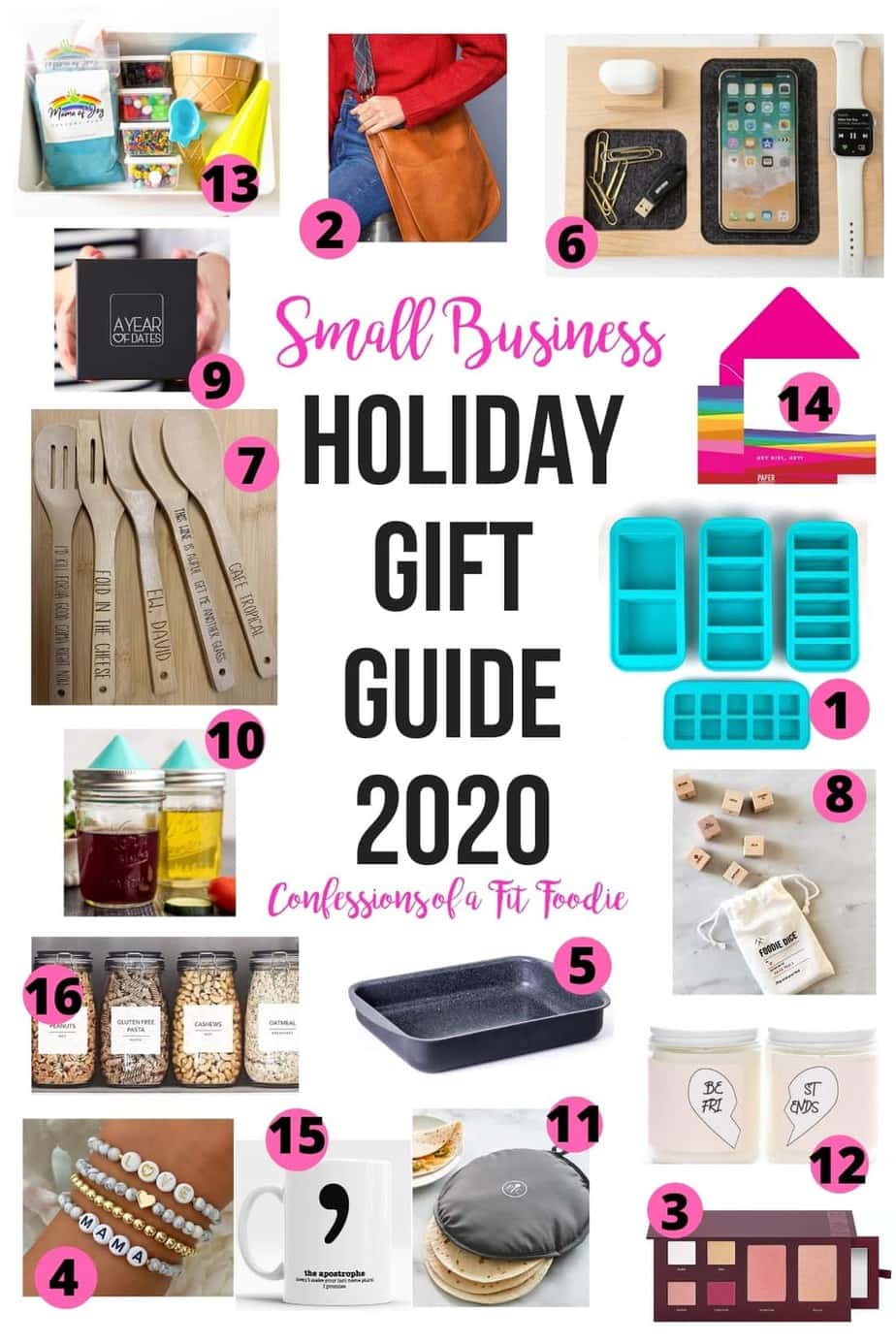 Putting out gift guides is one of my favorite things to do on the blog…I feel like I get to be Oprah for a minute and share all of my favorite things. I only wish I could give them all away, too, lol! #goals
Anyway, supporting small businesses is more important than ever this year, and so for this Gift Guide, I will be sharing a bunch of my favorite small business shops and products for all your gift giving (or, you know, to treat yo' self with). Happy Shopping, friends!
Souper Cubes Ultimate Gift Set – Guys, I have fallen in love with my Souper Cubes this year and for anyone who likes to meal prep or make freezer meals these are a GAME CHANGER! With these amazing silicone trays, you can both bake and freeze in perfect portion sizes. And your freezer will never be more organized! The Ultimate Gift Set is the perfect way to get started, but I am warning you, you will become addicted and want all the cubes, lol. You can also find Souper Cubes on Amazon! *Just to be safe, order by Dec 14th to get by Christmas!
Social Threads Vegan Leather Bag + Straps – I am obsessed with my Camel Vegan Leather Bag and fun, interchangeable straps. The bag is the perfect size and I get tons of compliments on it. I have two straps on my Christmas list, and several other products from this awesome shop that was started by two mommas from Long Island. The bags sell out quickly, so act fast or score a gift card and get on their email list for a restock alert.


Beautycounter Gift Sets – Give the gift of clean beauty and support my other small business – my Beautycounter Shop! Right now everything is 15% off including holiday gift sets! I am always happy to share my favorite products-reach out anytime!
Beaded Name Bracelets – I love these for anyone – daughters, mothers, besties and I especially love getting a few and stacking them! This awesome Etsy Shop has a beautiful Bead Selection and a variety of sizes for all ages.

Daterra Cucina Roasting Pan – I've been drooling over this pan for far too long – it is going on my list this year (aka I am buying it now and wrapping it for myself). Beautifully made, non toxic, ceramic coated pans for roasting meats, lasagnas or whatever your foodie heart desires.

Boho | Minimalist Wireless Docking and Charging Stations – LOVE these! First of all, they are gorg. Second, I love that they are customizable depending on what you are charging. I am buying two different charging stations for my husband and myself and they are going to look great on our nightstands! This one is for me – perfect for my phone, watch, airpods and my chapstick and earrings. Use the code nancylynn for 10% off.
Schitt's Creek Bamboo Spoons – Know a Foodie who is obsessed with Schitt's Creek? These handcrafted Bamboo Spoons are the perfect addition to their kitchen so they can fold in the cheese appropriately. Excellent, responsive seller, as well!
Foodie Dice – endless What to Make for Dinner Inspo, plus I love the look of these! I am going to get these as a Family gift in hopes that my kids get on board with meal planning a little more this year. Also, this is a link to the Paleo Set, but there are other versions…even one for cocktails!
A Year of Dates – After finding this shop on Etsy and then following them on Insta, I am definitely ordering this Box of Date Night Ideas for my husband this year. While getting a babysitter might be a challenge this year, many of the dates can still be done after the kiddos are in bed for the night!
Mini Ergo Spout – a NEW way to top your Mason Jars, this mini version of the regular sized spout is perfect for oils, vinegars, homemade dressing, even melted butter for your popcorn! Such a simple, yet genius idea from the folks at Culinesco. An awesome stocking stuffer, too! Order by Dec 16th and use the code confessions10 for 10% off your order!
Pampered Chef Tortilla Warmer – know a friend who sells Pampered Chef? Or recently invited to a Pampered Chef Party? Support their side hustle by buying this Tortilla Warmer. It freaking works wonders and heats up tortillas, especially the corn variety, like a dream. Perfect for making my Chicken Taquitos!
Ginger June Best Friends Candles – Does 2020 have you missing your bestie? I know the feeling! Send her one half of these adorable Best Friend Candles from Ginger June Candle Company and keep the other. And while you are at it, there are a TON of ideas on this site for everyone on your list! I already bought a bunch of facial rollers for gifts (and one for me) and I am also asking for the Dry Shampoo and the Perfume Roller in Vacation (because who doesn't need a little vacation this year?).
Mama of Joy Sensory Bins – this Ice Cream Sensory Bin is one of the most played with toys in my house currently! Both of my kids love making Ice Cream Cones and Sundaes with all their favorite toppings using this adorable sensory kit. They have the cutest themed bins, holiday bins (the Sugar Plum Fairy will be under our tree this year!) and even a monthly subscription option, too!
Stationary + More from Effies Paper – one of my favorite Etsy Shop discoveries – Effies Paper sells brightly colored stationary and more. I love these Hey Girl, Hey notecards, her First I Drink The Coffee notepad and her Get Sh*t Done Notebook. Perfect for the Female Business Owner in your life! Also – you are supporting a female, black owned business with your purchase!
Grammatical Art Coffee Mugs – for your favorite teacher or Grammar Police, all the Grammar inspired mugs in this shop are hilarious and perfect. As a former English teacher myself, I had trouble picking just one! (I feel like I need the dash one 😂 – you know, bc I love a good dash).
16. Talented Kitchen Pantry Labels + Organization – I've been obsessed with The Home Edit, so I love anything related to organization and creating systems in my home. This small business has the best labels, and I love the different styles, designs, and even have some diet specific labels for your pantry. The minimalist labels are so freaking cute – definitely ordering those!
Want to see more gift guides from years past? Check these out!
Holiday Gift Guide 2019 | Confessions of a Fit Foodie
12 Gifts for Fit Foodies | Confessions of a Fit Foodie
Gifts for Instant Pot Owners [from someone who has THREE] | My Favorite Instant Pot Accessories