Chocolate Coconut "Mounds" Cups are a delicious dairy free dessert that will satisfy your sweet tooth without costing you a 21 Day Fix treat swap! WW Purple, Blue, and Green points included!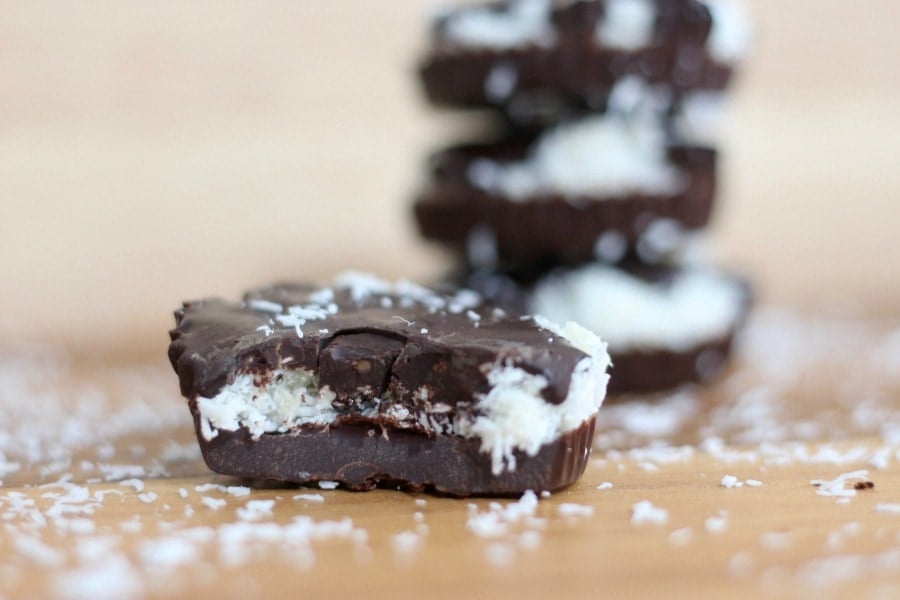 Confession #69 – My sweet tooth has been killing me lately.
I usually get into trouble with peanut butter or too much cheese (anyone else?)…but lately I have been craving chocolate and sweets something fierce.
My timing isn't great, either…with WAY too many candy hearts everywhere.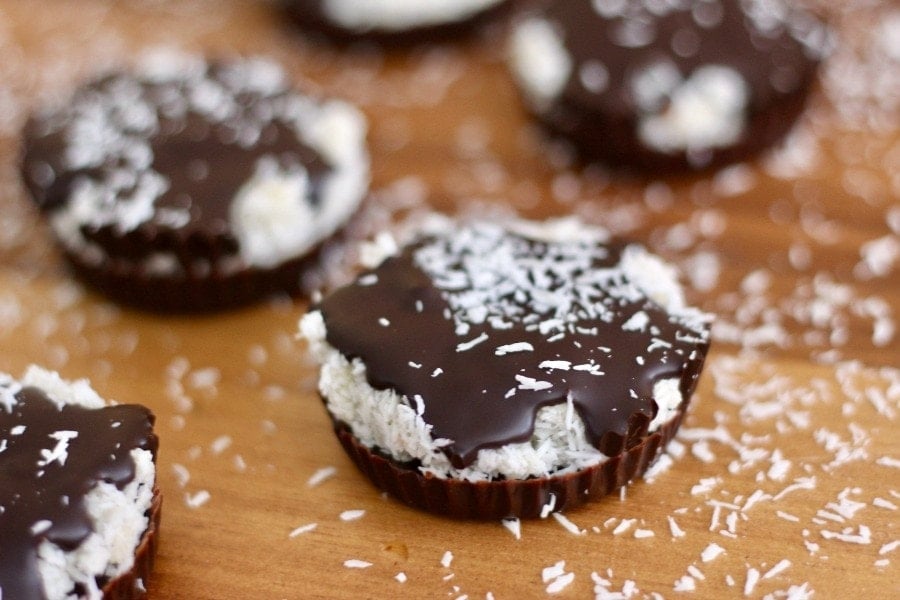 The silver lining of my troubles?
I have a new chocolate treat to share with you. And your valentine…because who wouldn't want a couple of these wrapped up in heart shaped box?
Like it's predecessors, the Peanut Butter Spoons and the Chocolate Pumpkin Cups, these 21 Day Fix Chocolate "Mounds" Bars taste deliciously decadent, but totally clean and healthy.
Would you rather have an Almond Joy? Go ahead and add an almond or two.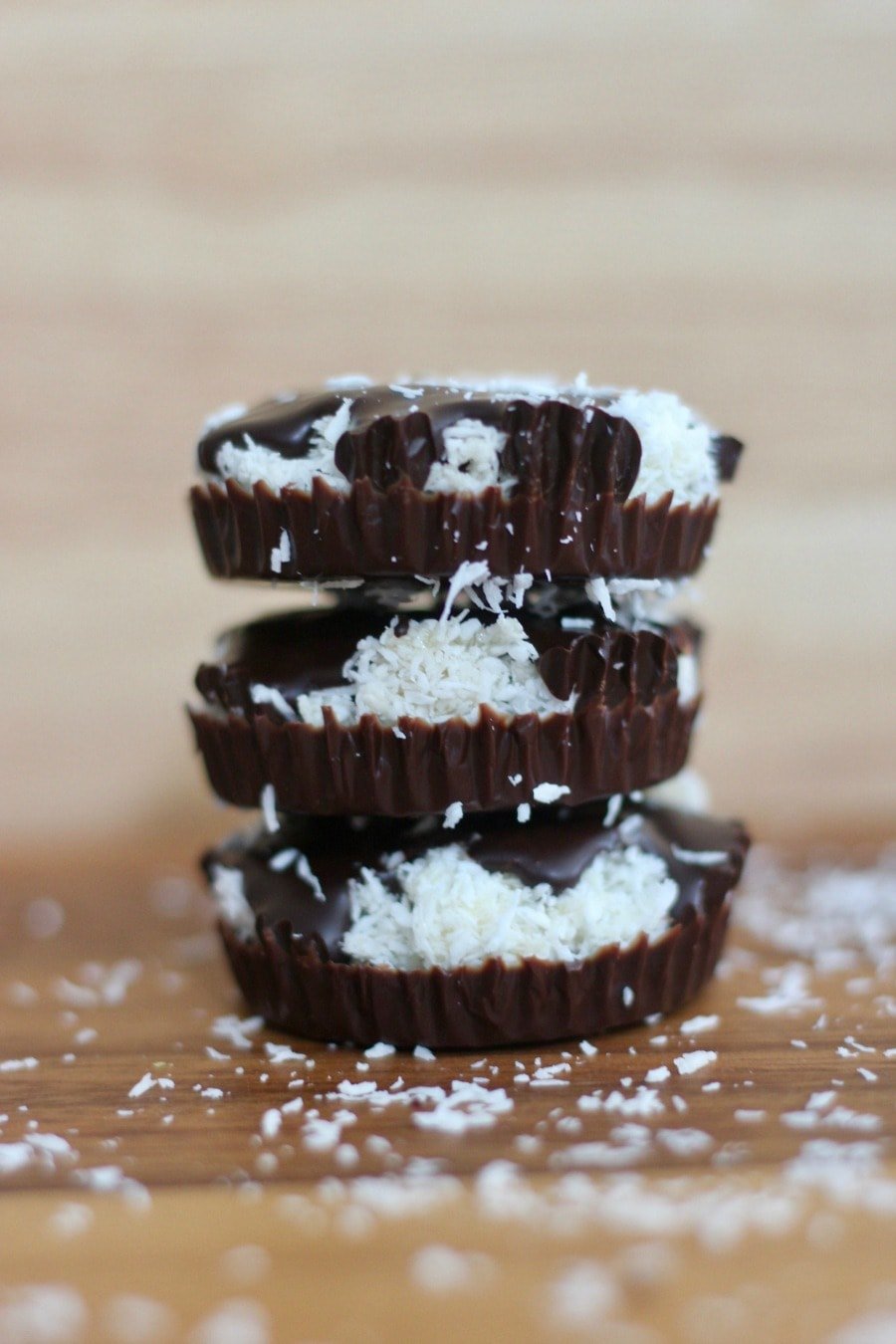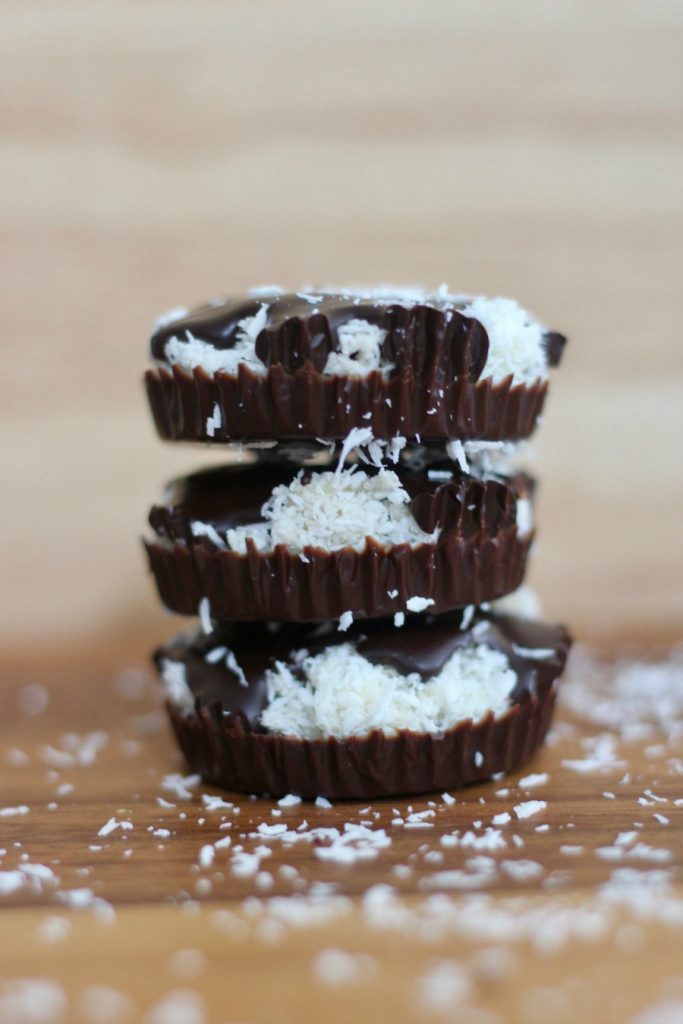 There are NO chocolate chips here, either! It's amazing what a little cocoa powder, honey, and coconut oil can do. I mean, where was this recipe my whole life? You can virtually never run out of chocolate if you know this little trick.
And for those of you who love your daily superfood, I have a Shakeology option for you guys. This is delicious with chocolate and with cafe late!
I have figured this out so it only counts as 2 teaspoons and 1/2 orange, but if you end up sneaking more than one, you may need to count it as a yellow instead, depending your plan.
Either way, it's totally rich and delicious, and will definitely help kick that sweet tooth while sticking on plan.
Enjoy!
Happy Valentine's Day, everyone.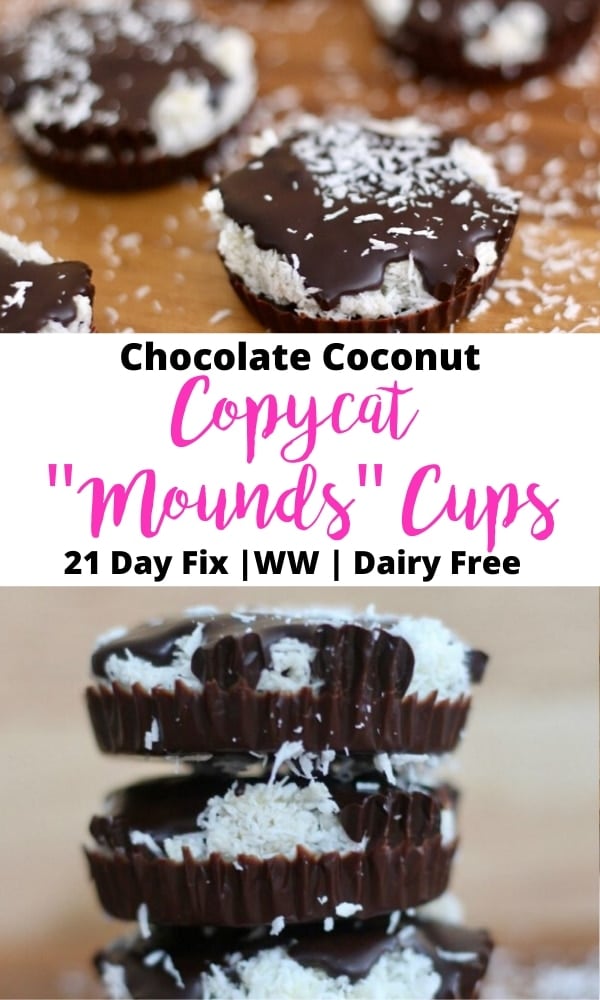 Want more delicious treats that aren't "yellows?" Check out these posts:
Healthy Copycat Mini Reese's Peanut Butter Cups [Dairy Free | Gluten Free | 21 Day Fix | WW]
21 Day Fix Banana Ice Cream Bon Bons
Frozen Chocolate Peanut Butter Spoons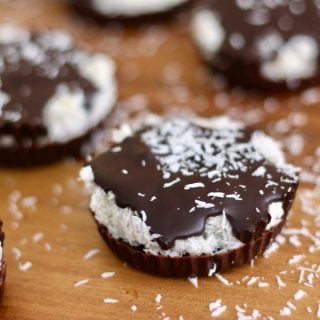 21 Day Fix Coconut "Mounds" Cups
A homemade 21 Day Fix Approved Chocolate Coconut "Mounds" Cups that will satisfy your sweet tooth without costing you a treat swap!
Ingredients
4

tablespoons

coconut oil

1/2

cup

cocoa powder or chocolate Shakeology

1/2

cup

unsweetened shredded coconut

6

teaspoon

honey

divided
Instructions
Spray a muffin tin with coconut oil spray or line with muffin liners

Place 2 tablespoons of coconut oil in a microwave safe bowl for 30 seconds or until it's melted.

Stir in 2.5 tsp of honey and 4 tablespoons of cocoa powder or chocolate Shakeology and mix well. Divide the chocolate mixture evenly between 6 spots in muffin tin. Place in the freezer for 5 minutes.

Combine 1 tsp honey and coconut, then spoon 1 rounded T into each muffin tin.

Melt the remaining 2 tablespoons of coconut oil in the microwave, then stir in the remaining 2.5 tsp honey, 4 tablespoons of cocoa or chocolate Shakeology.

Pour over top of coconut layer and return pan to freezer for 5 minutes.

Enjoy straight from the freezer or store in the fridge!
Notes
21 Day Fix: 1 chocolate coconut cup counts as 2 tsp and 1/2 orange and 1 sweetener tsp WW Green - 9 points per cup; WW Blue- 9 points per cup; WW Purple- 9 points per cup
Nutrition
Serving:
1
cup
Calories:
167
kcal
Carbohydrates:
12
g
Protein:
2
g
Fat:
15
g
Saturated Fat:
13
g
Polyunsaturated Fat:
0.2
g
Monounsaturated Fat:
1
g
Sodium:
5
mg
Potassium:
155
mg
Fiber:
4
g
Sugar:
6
g
Vitamin C:
0.2
mg
Calcium:
12
mg
Iron:
1
mg