Looking for a 21 Day Fix Meal Plan that will make your picky kid happy and keep you on plan? Check out this post! This post contains affiliate links for products I'm obsessed with.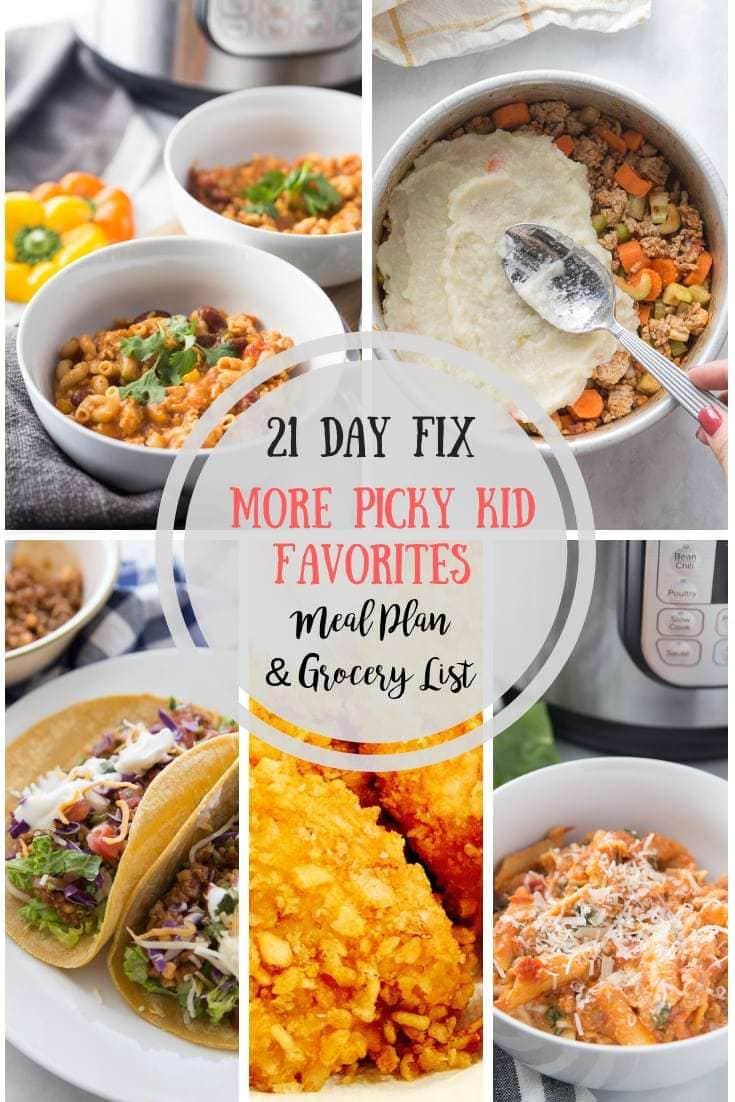 If you have kids, chances are, they've gone through a picky eating phase. It is tough. No one wants to be making multiple meals or to be told, "Ew that's gross," after you've just spent precious time in the kitchen preparing said meal.
My kids can certainly be picky. Don't think for one second they care that I'm a food blogger or that people are out there making my recipes (Have I told you lately how much I love you guys?! ❤️) . They don't.
And we also have some fun texture issues that make a lot of food off limits. It's really hard and I also cannot relate to this nonsense at all. I was never picky – just ask my mom. I was a foodie from birth.
Anyway, my ultimate advice for conquering picky eating? Keep trying. Don't give up- keep offering healthy options, even if they don't take you up on it. They just might surprise you, even if it's years later! Also, HIDE those veggies!! Mask them in something delicious like taco meat, chili, or even a smoothie! They won't even know they're there.
This week's meal plan revolves around dinners that are kid tested and approved but don't taste like they came right off the kids menu- so you can enjoy them too and stay on plan!
And if you love this meal plan, definitely check out my other Picky Kid Plan!
Picky Kid Approved Meal Plan & Grocery List
Monday: Healthy Instant Pot Shepherd's Pie [21 Day Fix| Gluten and Dairy Free] or Healthy Shepherd's Pie (Stovetop/Instant Pot)| 21 Day Fix Shepherd's Pie | 1 YELLOW, 1 GREEN, 1 RED and 1 1/2 tsp per serving
Groceries:
olive oil or coconut oil cooking spray
carrots
celery
1/2 of an onion
1/3 cup of chicken broth
Himalayan salt
3 T of tomato paste
1 lb organic lean ground turkey
cauliflower
red potatoes
2 T of vegan butter, olive oil, or ghee
Tuesday: 2B Mindset Cauliflower Taco Meat (21 Day Fix Friendly/Instant Pot Friendly) | 1 RED, 1 GREEN, (plus taco toppings) per serving
Groceries:
1lb of ground meat of your choice (we using love lean ground beef)
3 cups of cauliflower rice (can be frozen)
1 cup of low sodium tomato sauce
1-2 T of salt free taco seasoning
Himalayan salt
Your favorite taco toppings
Optional: whole wheat or corn tortillas
Tip: Serve as a taco filling for the kids and on top of a taco salad for the adults…you may be able to get all your greens for the DAY in one meal!
Wednesday: 21 Day Fix Krispie Baked Chicken | 1 YELLOW, 1 RED per serving
Groceries:
1 lb chicken tenderloins
1 egg and 1 egg white
2 cups of brown rice cereal
Himalayan salt
garlic powder
pepper
olive oil cooking spray
Tip: Serve with your kid's favorite crispy veggies! Any root vegetable can become a fry- experiment with sweet potatoes, turnips, or rutabaga! Better yet, try these Delicata Squash Fries [21 Day Fix | 2B Mindset] | 1 GREEN per serving . You could also try my Instant Pot Mac and Cheese!
Thursday: Healthy Instant Pot Baked Ziti | 21 Day Fix Instant Pot Baked Ziti [Gluten-free] | 1 YELLOW, 1 RED, 1 1/4 GREEN, 2/3 BLUE, 1/3 tsp per serving
Groceries:
olive oil cooking spray
1 ¼ lean ground beef or Italian poultry sausage
½ onion
2 tsp olive oil
3 cloves garlic
Himalayan salt
2 ¼ cups of gluten free pasta
1 (28oz) can crushed tomatoes
2 T fresh basil (or 1 tsp dried)
oregano
2 cups of chopped spinach
¾ cup of ricotta cheese
1 cup of freshly shredded or cubed mozzarella
⅓ cup of Pecorino Romano or high quality Parmesan Cheese
Friday: Healthy Instant Pot Chili Mac [21 Day Fix | Gluten-Free | StoveTop Option] | 1 1/2 YELLOW, 1 RED, 2 1/4 GREEN, 1/2-1 BLUE, 1/2 tsp per serving
Groceries:
2 tsp olive oil
1 lb ground lean turkey or lean ground beef
1 onion
2 bell peppers
1 small zucchini
3 cloves of garlic
1 cup of kidney beans
1 ½ cups of uncooked gluten free elbows
2 teaspoons of chili powder
1 ½ teaspoons of cumin
¼ teaspoon of salt
1 (14oz) can of tomato sauce
1 (14 oz) can of mild diced tomatoes with green chilis
⅔ – 1 ⅓ cup of shredded sharp cheddar cheese
cilantro for garnish