I love this printable 21 Day Fix Meal Planner PDF to help me keep track of my daily containers and water intake! Just download and print your 21 Day Fix Bracket and track your meals and snacks!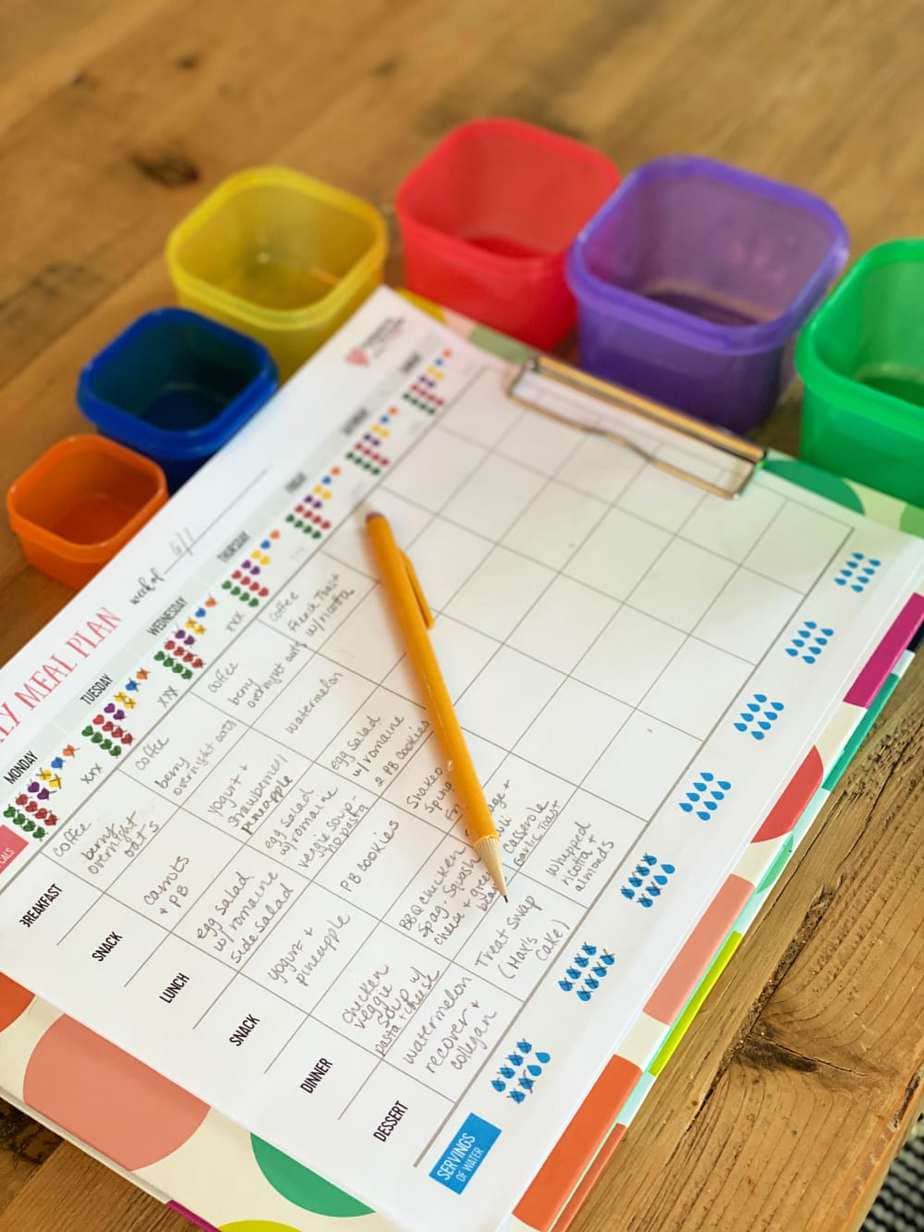 A fun and easy 21 Day Fix Meal Planner PDF
You guys know I love my Meal Planning Spreadsheet for weekly meal planning and to get a good week at a glance, but when it comes to daily tracking my daily 21 Day Fix Containers and water intake, I love having a pencil and paper 21 Day Fix Meal Planner for tracking purposes! This also allows me to account for any changes in my meal plan and be more flexible with snacks and treats as the week unfolds.
How to use this 21 Day Fix | Ultimate Portion Fix Meal Planner
It's simple! My friend Kelley from Kelly Joss Design created a downloadable, printable 21 Day Fix Meal Planner PDF for each Plan A-F. Just simply save the PDF to your computer and print! Then, you can print one copy and put it in a plastic sheet protector or laminate it for multiple uses, or you can print a new sheet each week of the Fix!
Each day, write down your meals as you eat them, then mark off the colored hearts and teaspoons at the top of the paper. Tip: when I only eat half of a container, I use a slash through the heart. When I use a full container, I use an x.
At the bottom of the paper, there is a space to mark off your water intake. I divide my overall number of oz for the day into 8 servings to make it easier to track.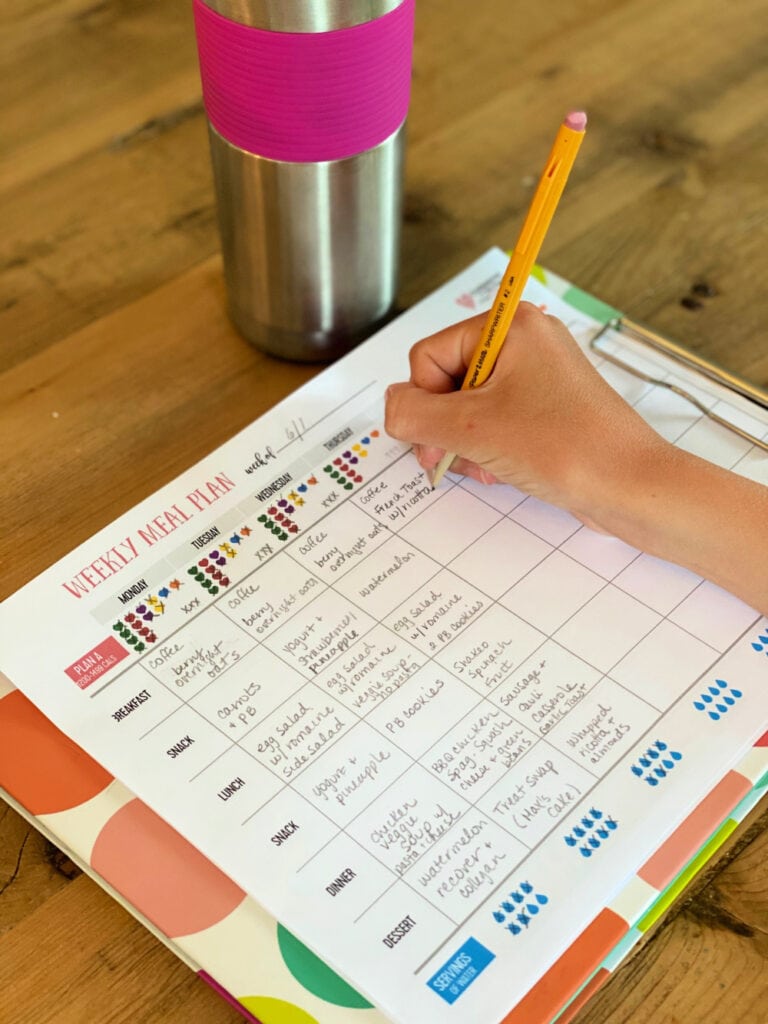 You can even punch holes in your planning sheets and save them in a binder along with your favorite Ultimate Portion Fix recipes!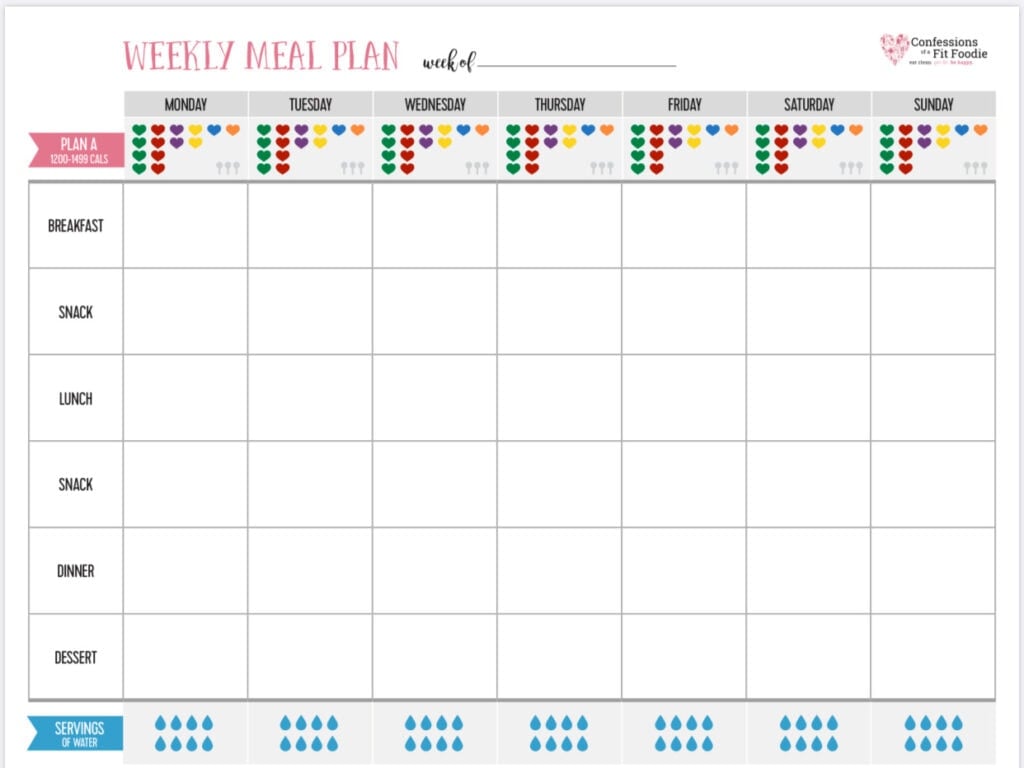 Download your 21 DF Meal Plan Tracker from this list!
CoFF_MealPlanTemplate_Bracket A
CoFF_MealPlanTemplate_Bracket B
CoFF_MealPlanTemplate_Bracket_C
CoFF_MealPlanTemplate_Bracket_D
CoFF_MealPlanTemplate_Bracket_E
CoFF_MealPlanTemplate_Bracket_F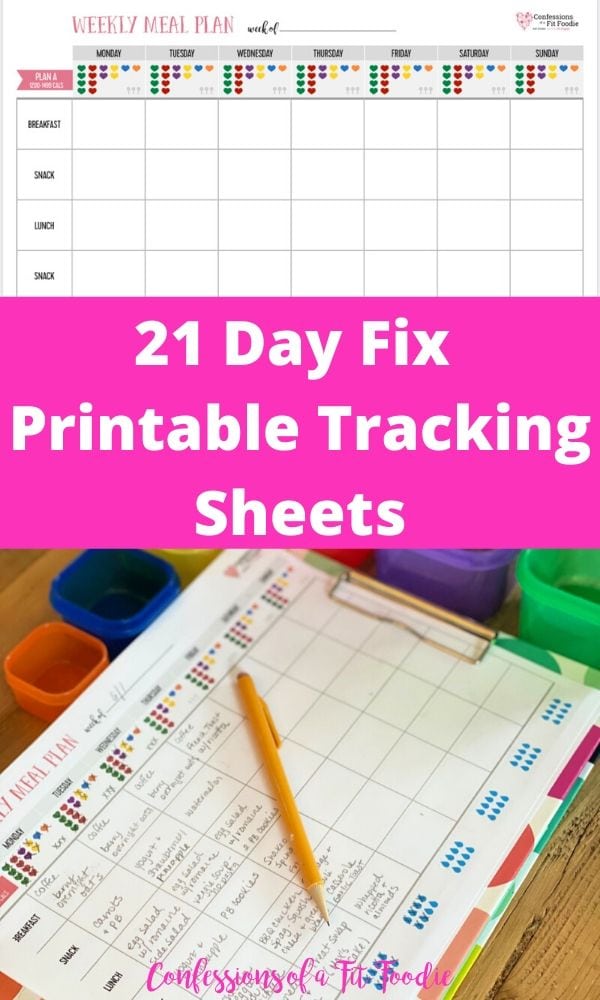 Looking for more 21 Day Fix Resources? Check out these Posts | Printables:
Updated 21 Day Fix Food List Free Printable– this is the latest list of 21 Day Fix Approved Foods
21 Day Fix Meal Plan Spreadsheet [Self-Calculating!] – this is the exact spreadsheet we use to do our weekly meal plans
How to Calculate Containers for the 21 Day Fix – it's super easy to calculate containers for your 21 Day Fix recipes! Here's how!
The Ultimate 21 Day Fix Container Guide | The Foodie and The Fix – All the details behind those little containers from my blogging bestie Stephanie!
Container Filling Hacks and Tricks | Grandnanny's House – Don't sell yourself short! Be sure you are filling your containers all the way to maximize your 21 Day Fix results.
3 Day Quick Fix Guide [Free Printables + Grocery List] – Learn all about the Quick Fix – a quick way to drop the extra bloat and get back on track!
21 Day Fix Snacks | Healthy Snack Ideas – the perfect list of snacks to use on your meal plans!
Need help Meal Planning for the 21 Day Fix? Check out these [Free] 21 Day Fix FULL Meal Plans + grocery lists!
All 21 Day Fix FULL Meal Plans
The Best 21 Day Fix Meal Plans
If you use these Planning Sheets, be sure to tag me on social! I love seeing your meal plans!