A Healthy Weekly Meal Plan with the perfect recipes for a delicious Fall week. This meal plan has breakfast, lunch, and 5 dinner ideas to take the stress out of planning your meals! Plus 21 Day Fix Containers, WW points, and a meal planning spreadsheet included, too.
Healthy Meal Plan
There is a brand new salad shop in my town, and literally there is nothing remotely like it around here, so I have been there TWICE since it opened this week 😂. It has me questioning if I might ever make lunch again. Just kidding! But if I won the lottery, I would for SURE pay someone to make me a yummy salad every day.
This Salad Shop habit is going to run me broke, so I am forcing myself to meal prep Mason Jar salads this week so I can just grab them. Go ahead and use rotisserie chicken if you want! Then pop the bones in the IP and make a stock for your ramen.
We love to have Ramen Noodle Fridays around here in the colder months, and it's game on this week. Just so you know – this recipe is also delish with beef and also pork if you want to switch up the protein.
Lastly, making applesauce is a super easy way to make your house smell amazing and is a fun, hands off way to celebrate fall. My kids don't love pork, but if I pair it with applesauce, it's like a treat.
Have a great week!
Fit Healthy Meal Plans
In case you missed it, we launched a New Meal Planning App called Fit Healthy Meal Plans! This app is the perfect way to take my Meal Plan inspo and totally customize YOUR plan + grocery list! It's seriously a game changer for all my meal planning peeps!!!
Click here to read more, but just reach out if you have any questions!
App Users- What Fall Favorites do you want to see in the app? Find lots of meal plan inspo on Fit Healthy Meal Plans app!
About This Meal Plan
If you have been following full plans, and are new to my weekly meal plans, each week there are five dinners and a breakfast planned out, along with a lunch suggestion.
These weekly plans allow for more flexibility, but the meal plan still follows the 21 Day Fix containers and also includes WW points. This plan is perfect for anyone who is interested in healthy eating, portion control, prioritizing whole foods, and living a healthy lifestyle.
Grocery List and Prep Tips
The grocery list can be found in my weekly email for email subscribers! In the weekly email there are also printable prep tips for these meal plans which makes the week go SOO much smoother in the prep department. It's not too late to become an email subscriber and get these resources. Just click the link to sign up – it's FREE!
For 21 Day FIX | Portion Fix Meal Plan Followers
So, all five dinners and a breakfast are already loaded into a meal planning spreadsheet for you here. Just add in lunch and snacks and make any adjustments you need. Note: Click the spreadsheet link, make a copy when prompted, and save it to your computer (won't work quite as well on a phone).
If paper and pencil is more your thing try these:
Weight Watchers Meal Plan Followers
We are working on converting each recipe on the site to the new WW points system. Some recipes still have a link to find your personal points, while others have the points listed. In both cases, if you go to the recipe card on each blog post you will find the WW points info in the "notes" section. Thank you for bearing with us while we work on adapting to the new system!
FAQs
This Week's Plan
Breakfast: Instant Pot Frittata
Instant Pot Frittata is a delicious high protein baked egg dish that's perfect for meal prep. Make this recipe with bacon, spinach and feta cheese for breakfast or a light dinner.  Bonus – swap in your favorite veggies to customize this Bacon and Cheese Frittata however you like! 
Groceries:
Olive oil cooking spray

½

cup

feta cheese

can sub favorite cheese

3 1/2

cups

fresh baby spinach

chopped (can sub kale or other leafy veggie)

½

cup

diced onion

6

eggs

¼

cup

original almond milk

can sub any milk you have on hand

4

slices

turkey bacon

diced (can sub pork bacon)

¼

teaspoon

salt
Get Recipe
Lunch: Mason Jar Salads with Maple Cider Vinaigrette
These Fall Harvest Mason Jar Salads are a deliciously perfect make-ahead lunch to keep you full and on track all season long!
Groceries:
1

lb

chicken breasts

cooked through and diced

8

slices

turkey bacon

cooked and crumbled

2

apples

chopped

2

pears

chopped

1

head

kale or spinach

or a mix of both

1 1/3

cup

Matchstick carrots

1/2

cup

Pecans

chopped

1/2

cup

feta cheese

optional
For the dressing
4

tablespoons

extra virgin olive oil

2 1/2

tablespoons

maple syrup

2 1/2

tablespoons

apple cider vinegar

1

teaspoon

Dijon mustard

Sprinkle

salt and pepper
Get Recipe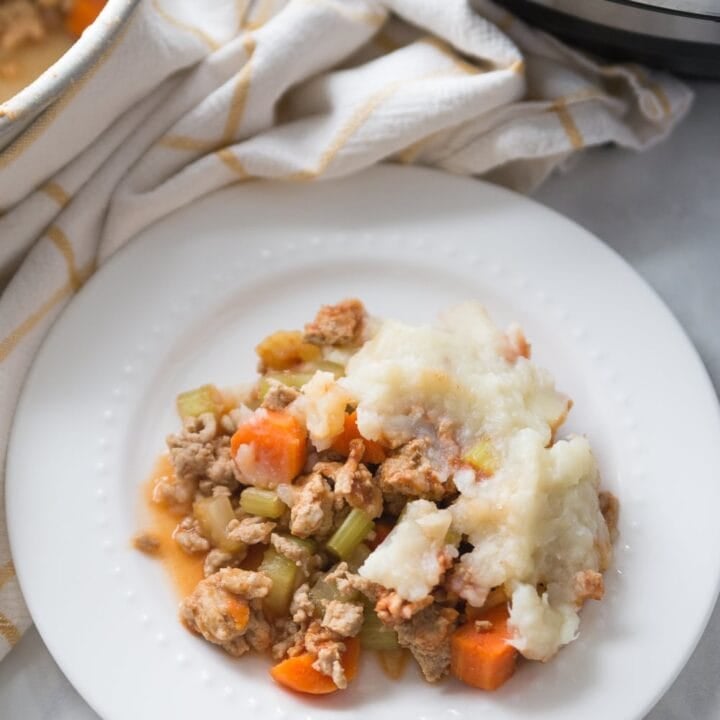 Monday: Shepherd's Pie
Try either the IP version or stovetop/oven!
Groceries:
Olive oil

avocado oil, or coconut oil cooking spray

1

cup

diced carrots

1

cup

diced celery

1/2

onion

chopped

1 1/3

cup

reduced sodium chicken broth

divided use

1

teaspoon

Himalayan salt

3

tablespoons

tomato paste

1

lb

organic lean ground turkey

2

cups

chopped cauliflower

2

cups

red potatoes

peeled and chopped

2

tablespoons

butter

vegan butter, olive oil, or ghee
Get Recipe
Tuesday: Flank Steak Tacos
These Instant Pot Flank Steak Tacos might be my new favorite taco recipe…and that's really saying something!  Tender, oh-so-delicious meat topped with a cilantro lime slaw and using the IP, it's ready in minutes.
Groceries:
For the Tacos
1.5

lbs

flank steak

trimmed of any fat and sliced thin – about 1/2 inch strips

1

lime

2

tsp

olive oil

2

cloves

garlic

minced

1

tablespoon

salt free taco seasoning

10

oz.

can of diced tomatoes with green chilies

salt

to taste

2

tbsp

cilantro

1

package

corn tortillas

warmed

Optional toppings: avocado, cilantro, plain Greek yogurt
For the Cilantro Lime Slaw
2

cups

coleslaw mix

or chop your own cabbage

1/4

red onion

cut into skinny strips

1/2

jalapeno

diced and seeds removed

2

tbsp

cilantro

1

lime

1-2

tsp

maple syrup or honey

chili powder

optional
Get Recipe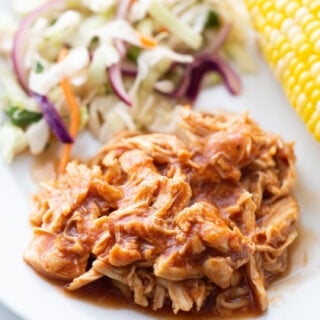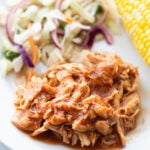 Wednesday: IP BBQ Chicken with Cilantro Lime Slaw
This Instant Pot BBQ Chicken is juicy, tender, and oh so saucy thanks to my Pot-in-Pot cooking hack!  No need to water down the sauce, this BBQ Chicken comes out perfectly pulled and full of yummy BBQ flavor without the dreaded burn message. No instant pot?  I have slow cooker directions for you, too!  Serve with my yummy cilantro lime slaw!
Groceries:
For the Homemade BBQ Sauce:
1/2

cup

tomato paste

1/4

cup

coconut aminos

can sub low sodium soy sauce if not gluten-free

3

tablespoons

pure maple syrup

2

tablespoons

apple cider vinegar

½

tablespoon

yellow mustard

1/4

teaspoon

garlic powder

1/4

teaspoon

onion powder

Sprinkle

sea or Himalayan salt and black pepper
For the Chicken: 
1/4

teaspoon

garlic powder

¼

teaspoon

salt

¼

teaspoon

paprika

Sprinkle

pepper

1 -2

pounds

boneless skinless chicken tenderloins

or chicken breasts cut into smaller strips or chunks
For the Slaw: 
3

tablespoons

cilantro

4

cups

coleslaw mix

or chop your own cabbage

1/4

red onion

cut into skinny strips

½-1

jalapeno

diced and seeds removed

4

teaspoons

maple syrup or honey

Juice from 2 limes

1

teaspoon

olive oil

Sprinkle of salt
Get Recipe
Thursday: Air Fryer Pork Tenderloin
Air Fryer Pork Tenderloin is the easiest way to get tender, juicy pork on the inside with a crisp, caramelized outside. Seasoned with an amazing blend of brown sugar, paprika, garlic, and a dash of chili powder, and cooked to perfection. Great for a quick, yet oh so delicious dinner!
Groceries:
1

teaspoon

salt

2

tablespoons

brown sugar

1

teaspoon

paprika

1

teaspoon

garlic powder

1

teaspoon

chili powder

Sprinkle of pepper

2

pork tenderloins

1-1 ½ pounds each

2

teaspoons

olive oil or olive oil cooking oil spray
Read more
Thursday sides: IP Applesauce and green beans
The best and EASIEST Instant Pot Applesauce made with no added sugar! This homemade applesauce is ready in minutes and you can choose to peel or leave the skin on. Then just walk away and let the Instant Pot do the work!
Groceries:
3-6

lbs

organic apples

roughly chopped away from the core; peeling is optional!

1/3

cup

water
Get Recipe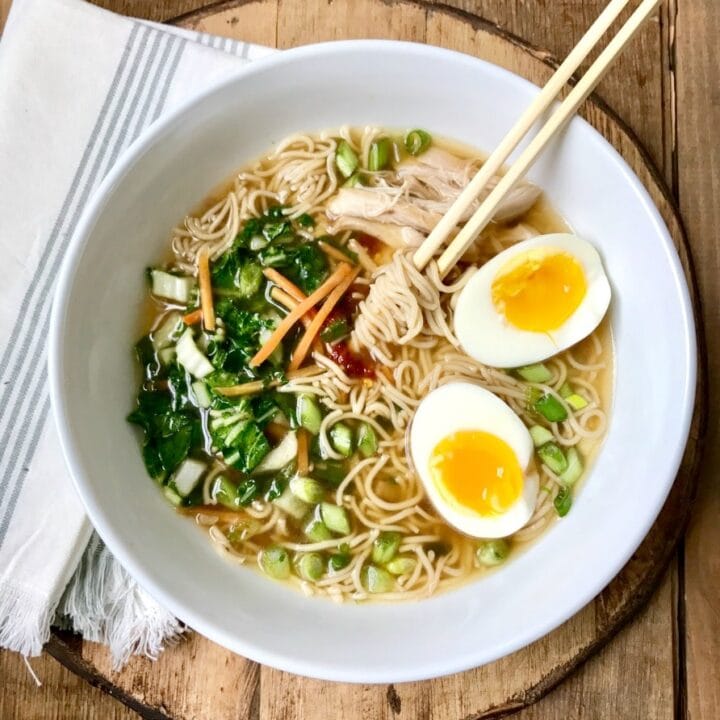 Friday: IP Ramen Noodles
This yummy Instant Pot Ramen Noodles soup is a healthier, 21 Day Fix approved version of everyone's favorite dorm room dinner!
Groceries:
2

teaspoons

sesame oil

2

tablespoons

grated or finely chopped ginger

1 1/2

tablespoons

minced garlic

4

cups

stock

I used chicken, but vegetable would also work

3 1/2

cups

water

1 1/4

lb

skinless bone-in chicken thighs

(you can sub boneless)

1/3

cup

coconut aminos

1-2

cups

finely chopped baby bok choy greens or finely chopped baby kale

1-2

cups

shredded carrots

Himalayan or sea salt

1/4

cup

chopped scallions or chives for optional garnish

Fresh chili paste

or sub sriracha

2

soft boiled eggs for garnish
Get Recipe