A Healthy Meal plan with delicious, easy dinners plus a sheet pan breakfast for easy meal prep! Also enjoy a brand *NEW* side dish recipe – crispy air fryer sweet potato fries! Plus 21 Day Fix Containers, WW points, and a meal planning spreadsheet included, too.
Healthy Meal Plan
It's gorgeous out here in PA today and we finally have a break from sports for an afternoon. As much as I love it, I am excited to sit on the porch with a cocktail this evening without anywhere to be.
Until tomorrow morning, that is.
Anyway, I am excited for next week's meal plan! I love prepping a big tray of Eggplant Parmesan on Sundays to enjoy for a quick and satisfying dinner. We also have three track meets and swimming after school, so I am using my crock pot multiple times. Oh – and spring Fridays call for Burgers and Fries – and these NEW Air Fryer Sweet Potato Fries are so freaking easy and delicious and, dare I say it, actually crispy??!! I can't wait for you guys to try!
For lunch, I'm really in the mood for Chicken Salad with Grapes now that the weather is getting slightly warmer. I like it over a big serving of mixed greens to get some green in early in the day! I also plan to use leftover Baked Eggplant Parmesan on one of the days, and if you do the same, just watch your blue container.
There's lots of room to make some pasta or a grain like brown rice – or use a yellow treat swap instead. If you need an idea, just let me know!
Fit Healthy Meal Plans
In case you missed it, we launched a Brand New Meal Planning App called Fit Healthy Meal Plans! This app is the perfect way to take my Meal Plan inspo and totally customize YOUR plan + grocery list! It's seriously a game changer for all my meal planning peeps!!!
Click here to read more, but just reach out if you have any questions!
App users – We made a little tweak to the meal plan format that I think is going to be more helpful! Check it out and let us know what you think!
About This Meal Plan
If you have been following full plans, and are new to my weekly meal plans, each week there are five dinners and a breakfast planned out, along with a lunch suggestion.
These weekly plans allow for more flexibility, but the meal plan still follows the 21 Day Fix containers and also includes WW points. This plan is perfect for anyone who is interested in healthy eating, portion control, prioritizing whole foods, and living a healthy lifestyle.
Grocery List and Prep Tips
The grocery list can be found in my weekly email for email subscribers! In the weekly email there are also step-by-step prep tips for these meal plans which makes the week go SOO much smoother in the prep department. It's not too late to become an email subscriber and get these resources. Just click the link to sign up – it's FREE!
For 21 Day FIX | Portion Fix Meal Plan Followers
So, all five dinners and a breakfast are already loaded into a meal planning spreadsheet for you here. Just add in lunch and snacks and make any adjustments you need. Note: Click the spreadsheet link, make a copy when prompted, and save it to your computer (won't work quite as well on a phone).
If paper and pencil is more your thing try these:
Weight Watchers Meal Plan Followers
We are working on converting each recipe on the site to the new WW points system. Some recipes still have a link to find your personal points, while others have the points listed. In both cases, if you go to the recipe card on each blog post you will find the WW points info in the "notes" section. Thank you for bearing with us while we work on adapting to the new system!
FAQs
This Week's Plan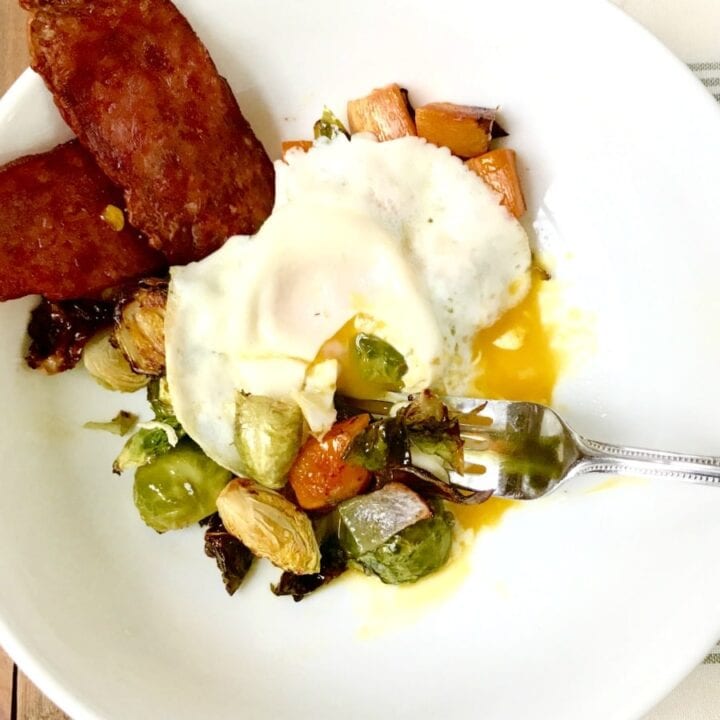 Breakfast: Sheet Pan Breakfast topped with an egg
This Sheet Pan Breakfast is an easy and delicious pre or post workout meal with roasted Brussel Sprouts, Sweet Potatoes, and Bacon made all on the same pan!  Perfect with a fried egg on top and also great for anyone following the 21 Day Fix, too!  
Groceries:
8

slices

all natural turkey bacon without nitrates or preservatives

I love Applegate

1/4

red onion

roughly chopped

2

large

sweet potatoes

peeled (optional) and diced

4

cups

Brussels sprouts

chopped or quartered if large

4

teaspoons

olive oil

Himalayan or sea salt
Get Recipe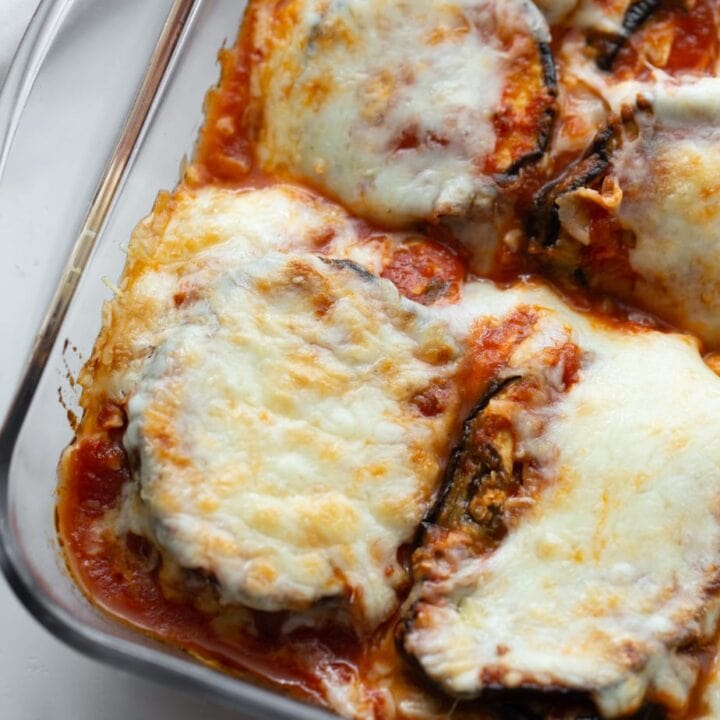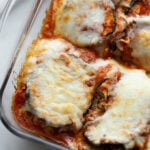 Monday: Healthy Baked Eggplant Parmesan
If you're trying to ease up on your carb intake but still eat delicious and hearty meals, then this recipe for low carb eggplant parm is for you! Made with only six simple ingredients, this dish is sure to be one of your new favorite easy dinner ideas.
Groceries:
3

pounds

eggplant

I like smaller ones because the big ones tend to have a lot of seeds

2 ⅓

cups

tomato sauce or homemade tomato sauce

Olive oil cooking spray

or 2 tsp olive oil

1 2/3

cups

mozzarella cheese

1/3

cup

Parmesan cheese

Salt
Get Recipe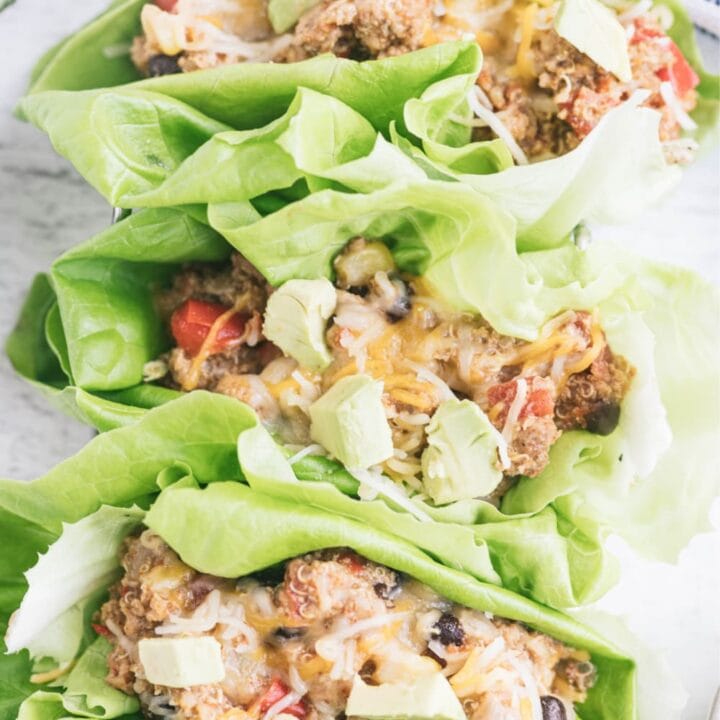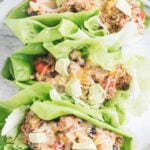 Tuesday: Taco Casserole w/ a lettuce wrap
Taco Casserole uses tons of veggies, quinoa, and ground turkey to make a simple and delicious meal.  Use your favorite Crock Pot or Instant Pot, for the perfect lunch or weeknight dinner! Perfect as a filling in tacos, on nachos, or in lettuce wraps for some extra veggies!
Groceries:
1

lb

organic ground turkey or chicken

be sure cook through for crock pot version

2

cups

bell peppers

diced

1/2

cup

canned black beans

rinsed

1/2

cup

corn

1/2

red onion

diced

1

garlic clove

minced

10

oz

tomatoes and green chilies

1 can

1/2

cup

uncooked quinoa

1-2

tablespoon

Salt Free Taco Seasoning

or sub 1 Tbsp chili powder and 1 tsp cumin

Organic chicken broth

1 cup for crock pot; 1/2 cup for Instant Pot

2/3

cup

shredded cheddar cheese or Mexican blend

Sprinkle

salt and pepper

Fresh lime

Lettuce wraps or corn tortillas

optional
Get Recipe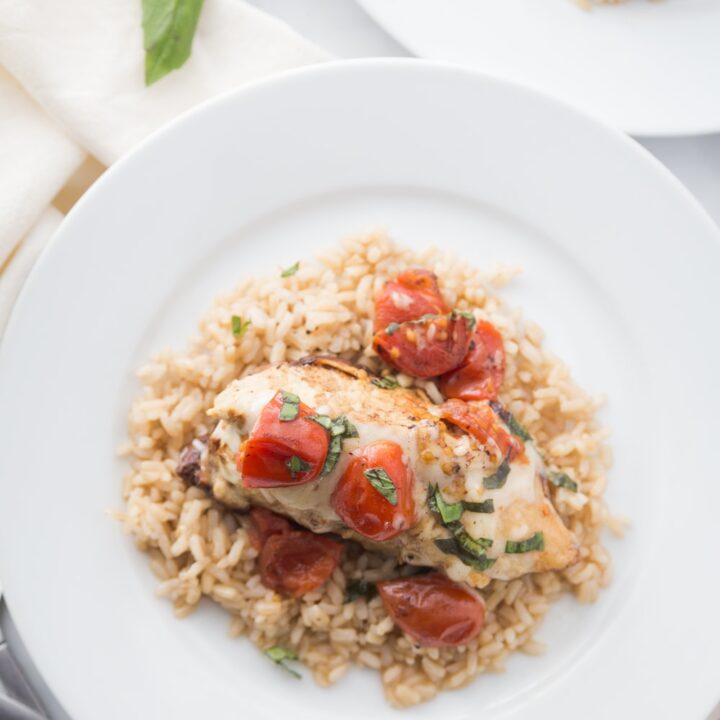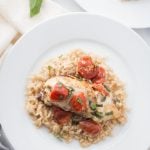 Wednesday: IP or Crock Pot Caprese Chicken
This Instant Pot Caprese Chicken is amazing in both the Instant Pot and the Crock Pot, making it a perfect warm weather dinner when you don't want to heat up the kitchen!
Groceries:
1/2

large

yellow or red onion

sliced

3-4

cloves

fresh garlic

minced or pressed

1

lb.

boneless skinless chicken breasts

3 1/2

cups

cherry or grape tomatoes

halved

2

tablespoons

balsamic vinegar

3 tbsp. for the IP

2

teaspoons

extra virgin olive oil

1

teaspoon

crushed red pepper

optional

Sea salt and fresh ground pepper

to taste

2

tablespoons

fresh basil

chopped

2/3

cup

mozzarella cheese

shredded

Cooking oil spray
Get Recipe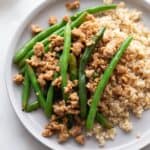 Thursday: Ground Chicken Stir Fry with Green Beans
Ready in less than 30 minutes, this easy ground chicken stir fry with green beans is a perfect meal for busy weeknights! It's basically a quicker, one pan version of my super popular Asian Chicken meatballs recipe and I love making it for meal prep with brown rice or cauliflower rice.
Groceries:
1

lb

Fresh green beans

cleaned and ends removed; or buy the cleaned steam-in-the bag green beans to save more time

2

tsp

Avocado oil

can sub olive oil or coconut oil

1

lb

Ground chicken

1

Tbsp

Tomato paste

⅓

cup

Coconut aminos

can sub low sodium soy sauce if not gluten free

2

cloves

Garlic

minced or grated, can sub garlic powder

1

Tbsp

Ginger

grated, can sub ground ginger

¼

cup

Honey or maple syrup

1

dash

Salt

1

dash

Crushed red pepper

optional

Brown rice or cauliflower rice

for serving
Get Recipe
Friday: BBQ Chicken Burgers
Summer is here and that calls for the best BBQ Chicken Burgers with Homemade BBQ Sauce. Gluten free and can be made dairy free, you'll be grilling up these juicy alternatives to traditional hamburgers all summer long. Perfectly seasoned and dripping in deliciously sweet and tangy homemade BBQ sauce, these BBQ Chicken Burgers are perfect for your next backyard get together and can even be made in your Air Fryer! 
Groceries:
Burgers
1

lb

ground chicken

¼

cup

BBQ Sauce

recipe below, can sub store bought + more for serving

1

teaspoon

smoked paprika

¼

teaspoon

onion powder

¼

teaspoon

garlic powder

¼

teaspoon

salt

Dash

black pepper

optional

1/2

cup

sharp cheddar cheese

diced up into small cubes or shredded (omit for dairy free)

Olive oil cooking spray
Optional Burger Toppings: 
More BBQ Sauce

Sharp cheddar or cheese of your choice and/or avocado

Lettuce, tomatoes, caramelized onions or red onion

Gluten free or Whole Wheat Bun or lettuce wraps

GF: I like Canyon Bakehouse or Udis
BBQ Sauce: 
1/2

cup

tomato paste

1/4

cup

coconut aminos

can sub low sodium soy sauce if not gluten-free

3

tablespoons

pure maple syrup

2

tablespoons

apple cider vinegar

½

tablespoon

yellow mustard

1/4

teaspoon

garlic powder

1/4

teaspoon

onion powder

Sprinkle

sea or Himalayan salt and black pepper

2-3

tablespoons

of water
Get Recipe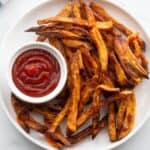 Friday side: *NEW* Air Fryer Sweet Potato Fries
I discovered the secret to crispy Air Fryer Sweet Potato Fries and it couldn't be easier.  Make these homemade sweet potato fries recipe in the air fryer and enjoy a delicious, quick, and healthy side dish that your whole family will love in a fraction of the time.
Groceries:
2

Sweet Potatoes

Avocado oil + Avocado oil spray

Salt

to taste

Garlic powder

to taste

1

Egg white

if your potatoes are large, you may need 2
Get Recipe