Looking for a 21 Day Fix Meal plan with cozy, easy meals that will keep you excited about making dinner during a busy time? WW points, printable grocery list, and meal planning spreadsheet included, too. This post contains affiliate links for products I'm obsessed with.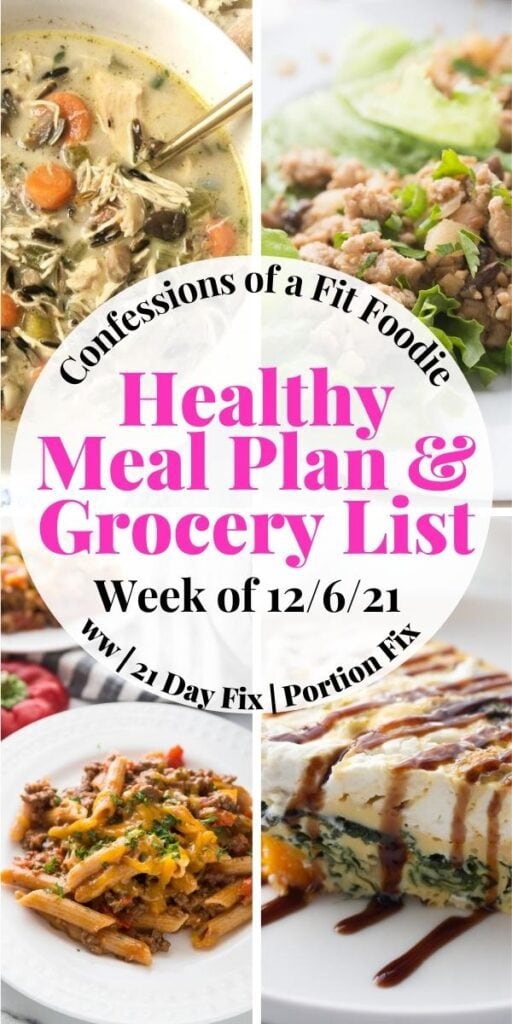 Welp. Somehow it's Friday…and also December, and while I promise not to say it all month…it needs to be said at least once that I have no idea how we got here 😂. But anyway, here we are. My first week with the kids back at school was an absolute blur and I kind of feel like that's not going to change (especially with my youngest having a birthday next week), so I guess I better embrace it! Bring on all the joyful, festive chaos!
And it feels good to be back meal planning for you all! We will have a plan this week and next before taking a bit of a holiday break to be with family, but then we will be ready to go with some new (and hint, FULL) plans for the new year and lots of new yummy, healthy recipes! 🙌
Oh – if you are like me and still shopping, be sure you check out my Gift Guide – I have lots of ideas for everyone on your list. Also, want to know more of my favorite kitchen tools? I now have a SHOP PAGE with all of my faves! I am always adding to it, too, so if you are looking for something and don't see it, just let me know!
Now, onto the plan!
As usual, all five dinners and a breakfast are already loaded into a *7 day template* meal planning spreadsheet for you here – just add in lunch and your snacks. If you aren't following the meal plan exactly or can't find certain ingredients, that's ok. Swap out what you need, and the containers will auto adjust!
If you are an email subscriber, check your inbox for your full list of prep tips!
If you prefer pencil and paper instead of a spreadsheet, try this 21 Day Fix Meal Planner PDF to track your containers and water intake. It's so helpful!
If you are following the 2B Mindset, I created a 2B Mindset spreadsheet tracking tool to record your meals. It's simple, but very helpful if you want to electronically track your food and easily see your week at a glance! Simply click the link, make a copy when prompted, and save it to your computer (won't work quite as well on a phone). Then begin your daily or weekly tracking!
Have a delicious week!
Have a quick recipe question? The fastest way to get an answer is in my FREE Ask the Fit Foodie group– come join us!
Need more planning help? Check out these 21 DF | Ultimate Portion Fix Resources
IF YOU WANT A FULL PLAN, I HAVE TEN FREE COMPLETE PLANS THAT YOU CAN USE FOR YOUR WEEK:
OR, TRY A RECENT Portion Fix MEAL PLAN…
DON'T FORGET TO CHECK YOUR INBOX!
I send out exclusive step-by-step prep tips for these meal plans in my weekly email! Click to get on the list!
This week's 21 Day Fix Meal Plan + WW Meal Plan –
Meal Plan & Grocery List {Week of 12/6/21}