A 21 Day Fix Meal plan with minimal prep so you can spend Mother's Day with your favorite folks! This meal plan is full of simple meals so that you don't have to spend Sunday in the kitchen if you don't want to! WW points, printable grocery list, and meal planning spreadsheet included, too. This post contains affiliate links for products I'm obsessed with.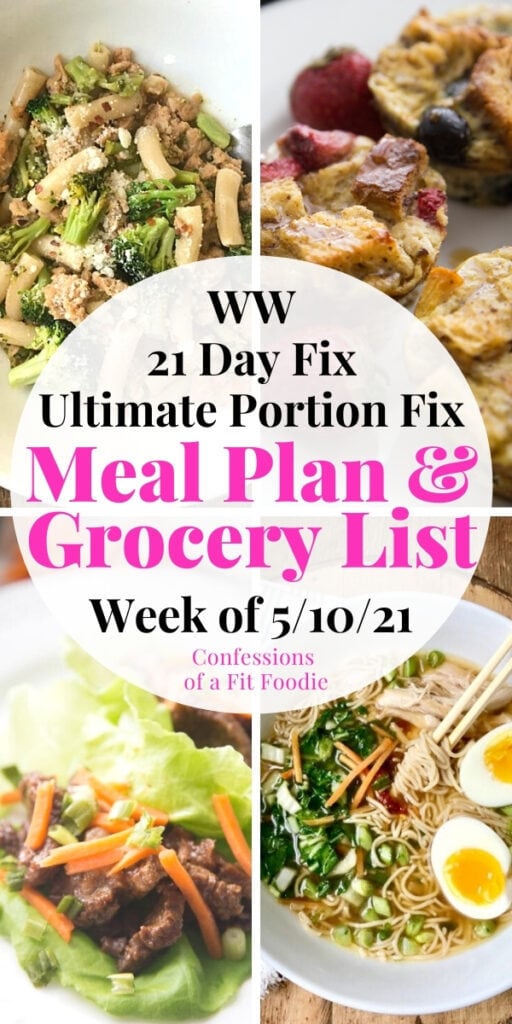 This weekend is Mother's Day, and whether you are a momma or love your momma, or mother's day is a hard day for you, I have a feeling you need some easy meals this week. Because after many, many months of cooking every night, we are all over it (even a food blogger like me is feeling it!!!) So these meals require like virtually no weekend prep and you can still have dinner on the table super fast. As far as the breakfast for the week, these Mini French Toast Casserole Cups would make a yummy and easy Mother's Day Breakfast for your kids or partner to make for you…or a great recipe for you to make for your momma to enjoy on Sunday. Just double the recipe and you have breakfast for the holiday and the whole week! Now enjoy your weekend to the max! 🙌
You will also notice the new format to this meal plan – we thought it might be easier to see the meals a little better! Let us know what feedback you have! For those of you who like the printable grocery list, it's still right there at the bottom of this post!
If you want a good lunch option, I would double the Instant Pot Sausage Broccoli Pasta and just eat that! Again – keep it easy!
All five dinners and a breakfast are already loaded into a *7 day template* meal planning spreadsheet for you here – just add in lunch and your snacks. If you aren't following the meal plan exactly or can't find certain ingredients, that's ok. Swap out what you need, and the containers will auto adjust!
If you are an email subscriber, your full list of prep tips have been sent out!
If you prefer pencil and paper instead of a spreadsheet, try this 21 Day Fix Meal Planner PDF to track your containers and water intake. It's so helpful!
If you are following the 2B Mindset, I created a new 2B Mindset spreadsheet tracking tool to record your meals. It's simple, but very helpful if you want to electronically track your food and easily see your week at a glance! Simply click the link, make a copy when prompted, and save it to your computer (won't work quite as well on a phone). Then begin your daily or weekly tracking!
Have a delicious week!
Looking for some extra accountability? Join my new SUPPORTERS group on Facebook where we chat daily about meal planning, meal prep, staying on track, healthy habits and basically help support each other though the week!
Have a quick recipe question? The fastest way to get an answer is in my Ask the Fit Foodie group– come join us!
Need more planning help? Check out these 21 DF | Ultimate Portion Fix Resources
Updated 21 Day Fix Food List; Free Printable
IF YOU WANT A FULL PLAN, I HAVE NINE FREE COMPLETE PLANS THAT YOU CAN USE FOR YOUR WEEK! Click here to find them all!
Want to check out all of my weekly 21DF Plans? Check out this link!
DON'T FORGET TO CHECK YOUR INBOX!
I send out exclusive step-by-step prep tips for these meal plans in my weekly email! Click to get on the list!
THIS WEEK'S 21 DAY FIX MEAL PLAN AND WW MEAL PLAN-
Meal Plan & Grocery List {Week of 5/10/21}
NEED A PRINTABLE GROCERY LIST? USE THIS: