Looking for Healthy Instant Pot Recipes? Here's a whole month's worth of Healthy Instant Pot Dinners gathered and ready for you to try. They are perfect for the anyone looking for a healthy meal or those following the 21 Day Fix, 2B Mindset, or WW plans. This post contains affiliate links for products I'm obsessed with.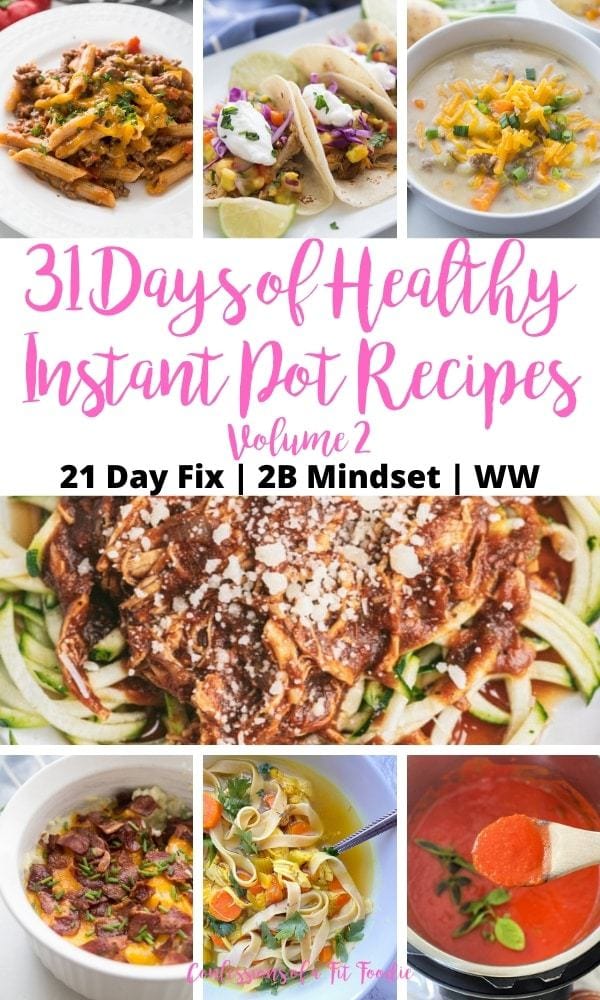 With the Holidays over, there are plenty of you who are sitting with a brand new IP or an upgraded version looking for what you will make first in that shiny new pot!
I've gotchu!
One of the most popular posts here on Confessions is my OG 31 Days of Healthy Instant Pot Recipes, so it's time for a Volume TWO! These are posts that have been published more recently or are older recipes that have been updated with Instant Pot directions.
These meals can be used in any order that makes sense to you and your schedule. If you're like me, a whole month of Instant Pot recipes and ideas planned out? I'm in heaven! (more on this below) I hope this makes planning in the New Year a little easier – enjoy!
What makes these Healthy Instant Pot Recipes?
These healthy pressure cooker recipes are all recipes that include whole, unprocessed ingredients. The recipes are filled with lean protein, tons of veggies, and ingredients you can pronounce!
All of the recipes are Gluten Free (but can be easily adapted for gluten tolerant), some are Dairy Free, many are Low Carb, all have 21 Day Fix containers, and most have WW points. A little something for everyone and every lifestyle – because there is no one size fits all when it comes to food.
How do I use this Healthy Pressure Cooker recipes post?
You have a couple options:
Scroll through the recipes and find ones you like and use them throughout the month as they fit into your schedule and plan.
Treat this like a calendar and follow them in order. To make it easier, click on the quick printable below to plan out a whole month's worth of meals at once! Woohoo!
Healthy Instant Pot Recipes Volume 2
Looking for more Instant Pot help? Check these out-
5 Reasons Why You Need an Instant Pot
Easy Instant Pot Recipes for Beginners | What to Cook First in Your New Instant Pot
What Does the Instant Pot Burn Message Mean?
Gifts for Instant Pot Owners [from someone who has THREE] | My Favorite Instant Pot Accessories
Healthy Game Day Recipes | Instant Pot | Air Fryer