Enjoy this ultimate list of 50+ Best Brunch Recipes with everything from Egg Dishes, to Salads and Apps/Sides, to Sweet Treats, you will find something for EVERYONE! The healthy brunch recipes list is full of ideas for all occasions, and all diets, including gluten free, dairy free, 21 Day Fix and WW! This post contains affiliate links for products I'm obsessed with.
This post was last published 3/31/20 and is being updated with new recipes and photos.
Don't you feel like Spring hits and all of a sudden there are a ton of brunch occasions? Easter, Mother's Day, baby and bridal showers- the list goes on.
I love a good brunch and am always looking for some new recipes to have when I'm hosting. So, if you are hosting a brunch or bringing a dish to an upcoming potluck brunch, get ready!
These also work for bringing Momma breakfast in bed (hint, hint)! #justsayin
50+ Healthy Brunch Recipes
Egg Dishes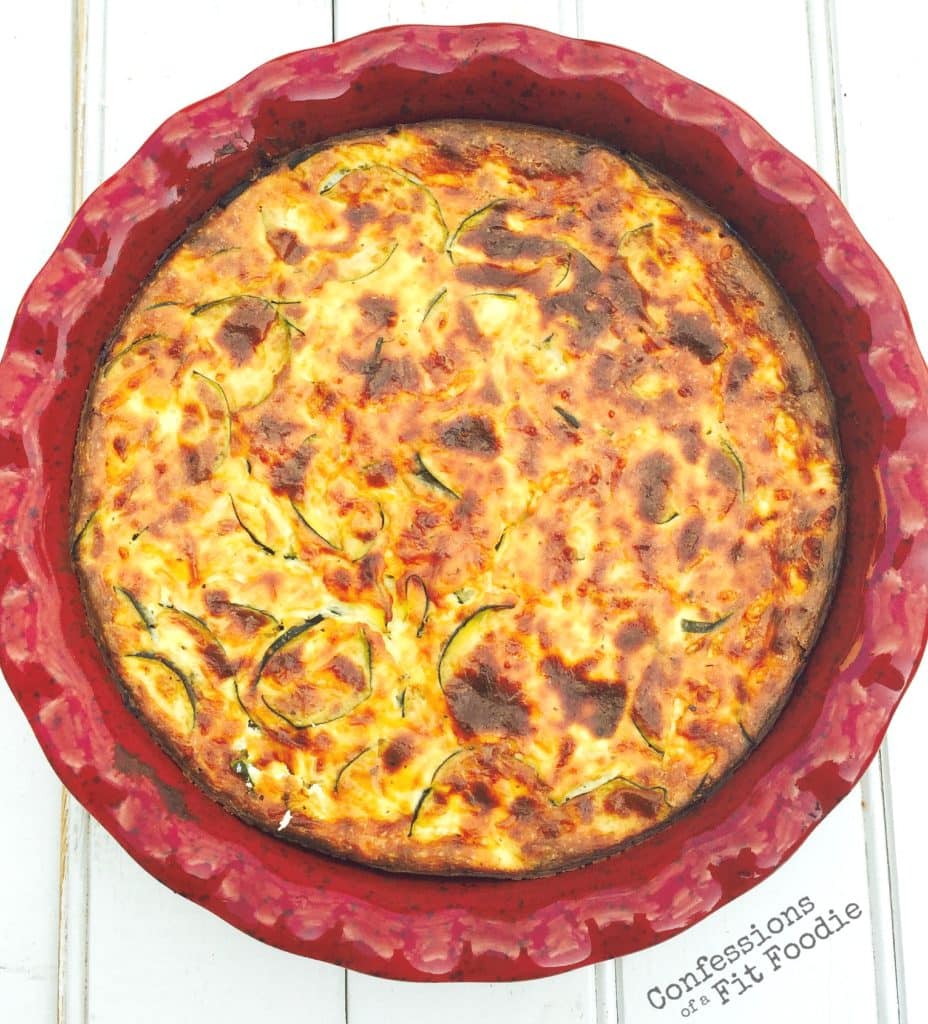 Crustless Zucchini Quiche – One of the best ways to celebrate brunch is with this crustless quiche- I definitely recommend doubling the recipe!
Instant Pot Frittata – Using the Instant Pot, you can make a hands-off frittata. That's a brunch win in my book!
Cheesy Bacon Breakfast Bites – A big crowd pleaser and perfect for a buffet brunch because they are easy to serve yourself.
Garden Vegetable Frittata – You can follow this recipe as-is, or use whatever veggies you have on hand! No matter what, it's a winner!
Instant Pot Deviled Eggs with Bacon, Cheddar, and Chives – These loaded Deviled Eggs are yummy enough to convince the skeptics- and using your Instant Pot to make hardboiled eggs is the best!
Cheesy Spinach, Ham & Egg Cups | The Foodie and the Fix – These are Pinterest worthy and make the best brunch egg cups! Yum!
Crock Pot Breakfast Casserole – I love that you can hide some cauli rice in the bottom of this casserole and it tastes like potatoes! Also, who doesn't love a crock pot dish when hosting?!
Mason Jar Egg Casseroles – A mini, individual portion of my crock pot breakfast casserole, made in the Instant Pot. So much flavor (and shhh! Hidden veggies too!)
Instant Pot Butternut Squash Frittata with Goat Cheese – These flavors are unbelievable together! And this is so easy to make in your Instant Pot!
Sausage and Zucchini Quiche – Tons of protein here with some added veggies- and dairy free!
Air Fryer Hard Boiled Eggs – Just looking for some plain boiled eggs? The air fryer makes it crazy easy!
Instant Pot Hard Boiled Eggs – Using the 5-5-5 method you can have perfect hard boiled eggs that are so easy to peel!
Oats/Muffins/Breads

Gluten Free Chocolate Chip Zucchini Muffins – Who else loves chocolate chip zucchini bread? Well, these are just portion controlled muffins so you can try a little of everything at the brunch buffet!
Lemon Blueberry Bread – This Healthy Lemon Blueberry Bread blends the flavors of fresh blueberries and zesty lemon juice that's perfect for any celebration.
Gluten Free Blueberry Muffins – Gluten Free, Dairy Free Blueberry muffins that taste this good? You have to try them.
Cherry Zucchini Muffins | The Foodie and the Fix – These have a "secret ingredient" in the frosting and hidden veggies- I'm in love!
Instant Pot Baked Oatmeal – Pre-portioned and portable make doing laps around the healthy brunch table for seconds totally doable!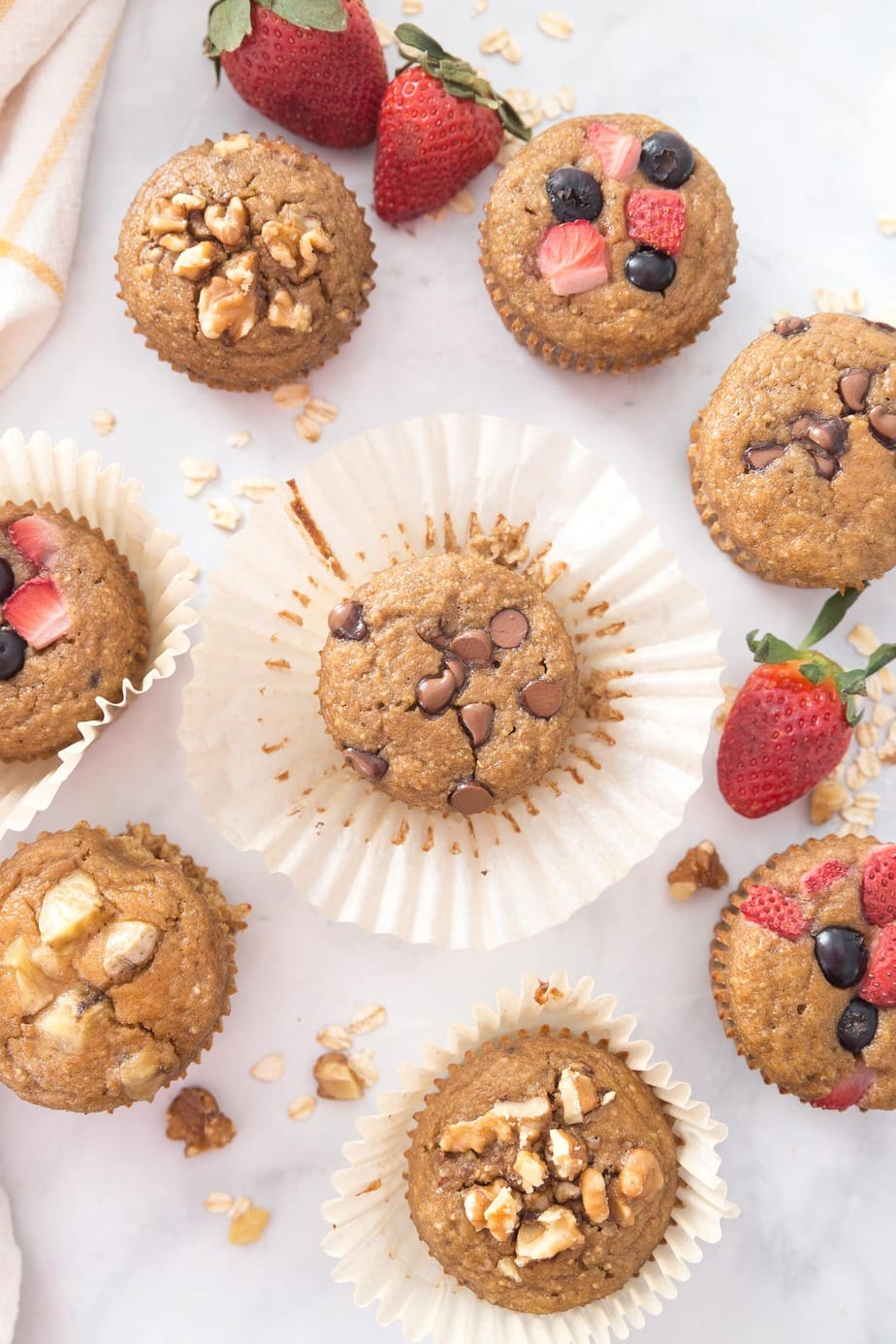 Healthy Banana Oatmeal Blender Muffins – Making a double batch of these for a crowd is simple, and clean up is easy!
Baked Oatmeal Cups – Baked Oatmeal Cups are easily made ahead and customized with everyone's favorite toppings.
Hummingbird Cake Overnight Oats | The Foodie and the Fix – A no yogurt version of overnight oats that tastes like cake without being cake- sounds like a perfect healthy brunch recipe to me!
Healthy Pumpkin Oatmeal Banana Bread – There is something so delicious about the combination of chocolate and pumpkin that makes this banana bread perfect all year long!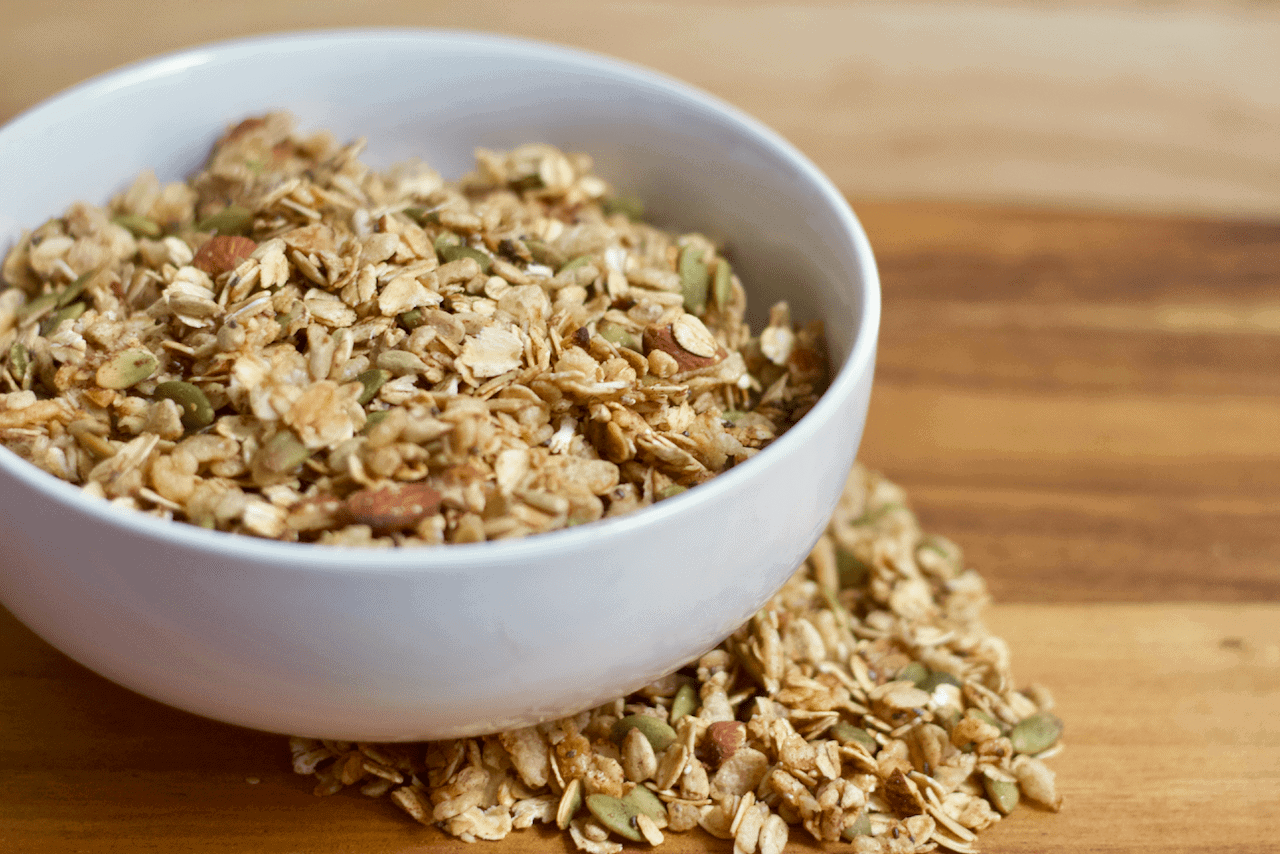 Healthy Homemade Granola – Super easy homemade gluten free, dairy free granola alongside some yogurt and a fruit bowl– you've got DIY brunch parfaits for your guests to enjoy!
Healthy Banana Bread | Gluten Free Banana Bread – Save those ripe bananas and give this healthier banana bread a try!
Baked Oatmeal Jars – Like the Instant Pot version, these mini oatmeal jars are so quick to whip up in the oven and enjoy- you can make a pan version too!
Healthy Apple Muffins – These taste just like a delicious bakery version but are Gluten Free and Dairy Free. Your guests will love them!
Cranberry Orange Muffins – Gluten free + dairy free and the delicious balance of sweet and tart! So perfect and festive for a beautiful brunch buffet.
Pancakes/Waffles/French Toast
Gluten Free Pancakes – These are some of the best pancakes you will ever have, GF or not! Break out the griddle and make a huge batch for brunch day!
Pancakes with Caramelized Bananas and Walnuts – These are amazingly fancy and decadent – perfect if you want your brunch to be a little "extra"!
Gluten Free Make Ahead Freezer Waffles – My favorite thing about these waffles is that you can make them ahead for the best brunch. One less thing to do day of!
Cinnamon Roll French Toast Casserole Cups – Get your cinnamon bun fix with a healthier alternative- french toast cups with heaps of cinnamon and a dairy free topping.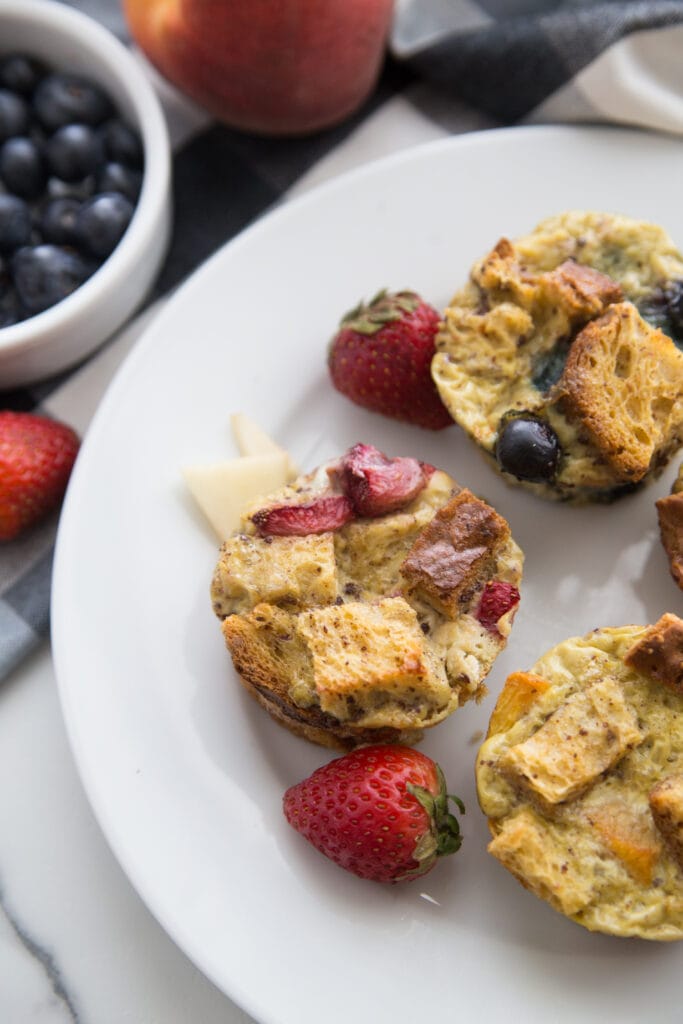 Mini French Toast Casserole Cups – I love a good plate of French Toast and this recipe lets you have a few bites and still enjoy everything else on the table.
Easy Whole Wheat Crepes | The Foodie and the Fix – I love these with my whipped ricotta and strawberries!
Lemon Ricotta Pancakes | Carrie Elle – These are so fancy and yummy- give them a try!
Healthy Air Fryer French Toast Sticks – Let your Air Fryer join in on the brunch prep with these french toast sticks. They are perfect for your littlest brunch guests, and "big kids" too!
Salads

Easy Gluten-free Mediterranean Chickpea Salad – A great savory, vegetarian option for a brunch menu. And it's so so pretty!
Maple Cider Holiday Salad – I love this salad, not just at the Holidays. Easy to scale up or down depending on how many guests you are hosting. Also great to bring to a potluck!
Cucumber Tomato Salad with Avocado + Feta – This salad screams spring and summer when you want to eat your weight in cucumbers and tomatoes!
Chicken Salad with Grapes – A fun twist on chicken salad! Would be yummy as little sandwiches on a brunch buffet.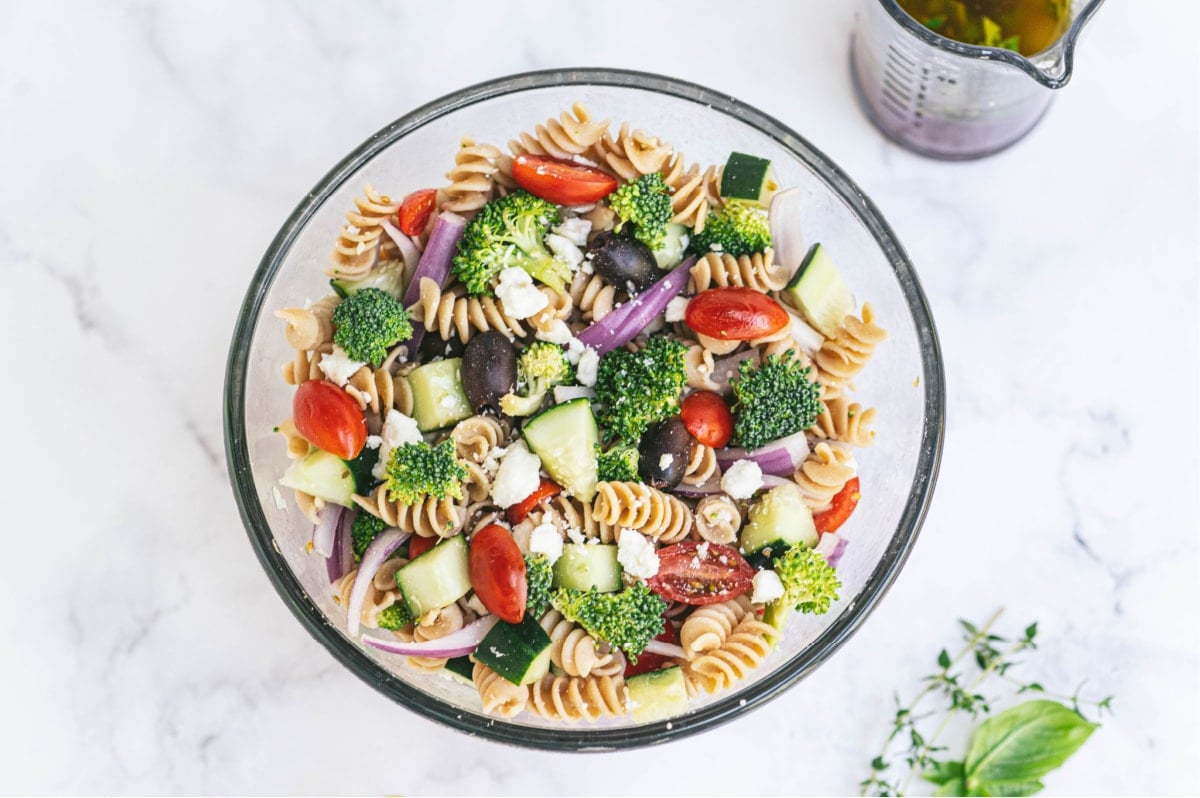 Greek Pasta Salad – A veggie packed pasta salad that gives a beautiful bit of color to a brunch spread.
Roasted Corn and Black Bean Salad – Another colorful, savory vegetarian option that is a crowdpleaser.
Ramen Noodle Salad – This salad stores well, so it can be prepared the day ahead and just mixed when the time is right. A great option for hosting!
Cucumber Cantaloupe Salad – Another light, fresh, simple salad that feels like a summer day!
Winter Fruit Salad – Not just for the Winter. This fruit salad is great all year long for a simple crowdpleaser on your brunch table!
Watermelon, Blueberry and Feta Salad – So light and fresh and simple! But the whole group will love it!
Mexican Street Corn Salad – Also known as "crack corn salad" – Give it a try and you'll see why.
Lemony Arugula Salad with Shrimp – Perfect for a served brunch – it's light and yummy so you have room for many courses!
Apps | Sides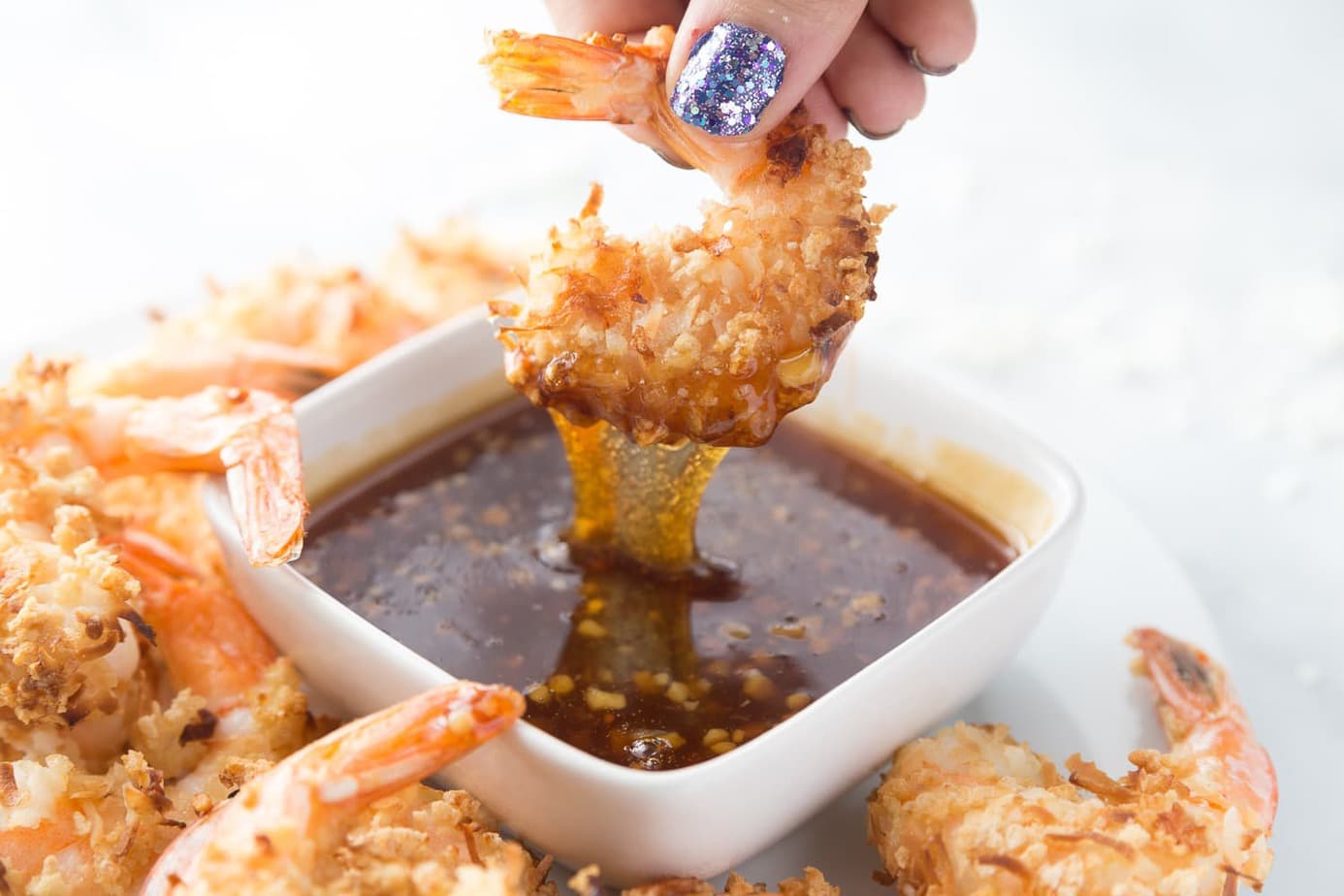 Healthy Coconut Shrimp with Sweet Chili Sauce – This Healthy Coconut Shrimp Recipe can easily be made in the Air Fryer or in the Oven and it's DELISH with some homemade Sweet Chili Sauce.
Zucchini Fritters [Gluten-free] – Serve with a little dish of Greek yogurt topping and finish off with DIY Homemade Everything Bagel Seasoning to take these to the next level!
Crispy Brussels Sprouts with Bacon, Parmesan, and Balsamic – Serve warm or cold – these Brussels are dreamy either way!
The Best Gluten Free Mini Crab Cakes – Crab cakes in the air fryer are so good! I love the mini version to serve a crowd.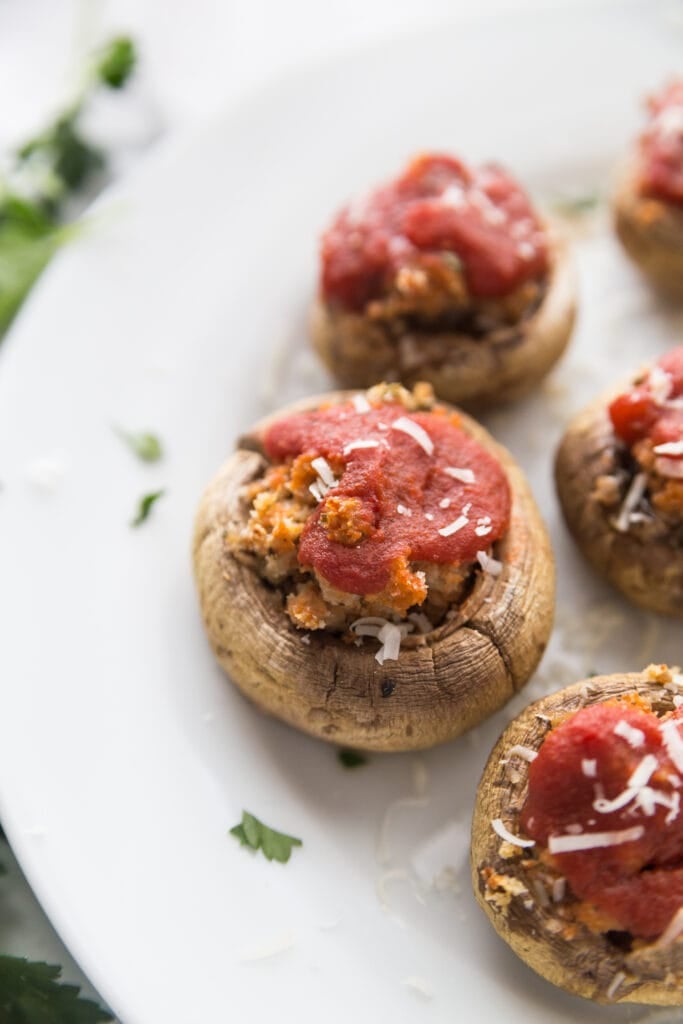 Italian Stuffed Mushrooms – These are so simple to make and everyone always asks for the recipe.
Three Cheese Zucchini Bake – I've been making this for more years than I'd like to admit and everyone always loves it. A huge pan of three cheese zucchini bake is a great healthy brunch recipe idea.
Instant Pot Scalloped Potatoes Au Gratin – The perfect side for a balanced brunch menu! Easy cheesy potatoes made in the instant pot!
Everything Bagel Goat Cheese Snack – Looks so fancy, but crazy simple. Veggie dippers and crackers are great alongside this goat cheese app.
Holiday Bruschetta Appetizers – I love these apps all year long because they make a perfect "popable" bite and look so inviting on the buffet!
Instant Pot Baked Brie – Have you tried making Brie in the IP yet? Once you do, you won't do it any other way.
Butternut Squash Mac and Cheese – Creamy Mac and cheese with hidden veggies?! Yes, please! The ultimate win-win!
Roasted Shrimp Cocktail with Cranberry Horseradish Chutney – Shrimp cocktail is such a good high protein option at brunch- and the chutney is out of this world!
Low Carb Cauliflower Hash Browns – Everything at brunch can be so high carb, so try these low carb 4 ingredient "hashbrowns" to balance it all out.
Sweet Treats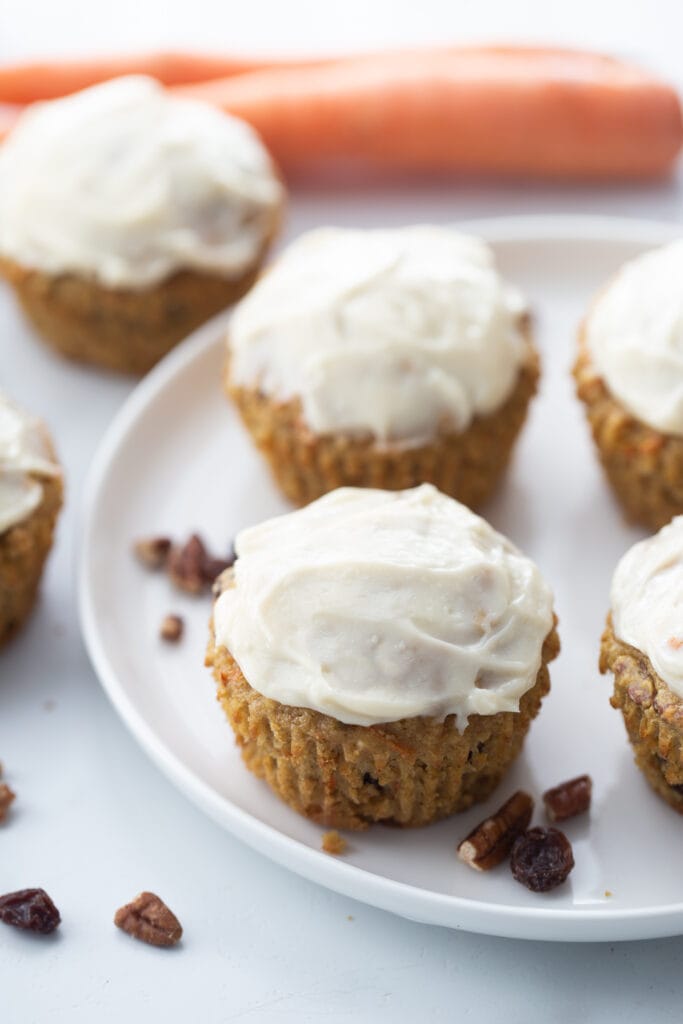 Healthy Carrot Cake Muffins + "Cream Cheese" Frosting – These are perfect for Easter, but any brunch is perfect for Carrot Cake. They are GF, and easily made dairy free, too!
Mini Cheesecake Recipe (Healthier + GF) – Made lighter thanks to the addition of Greek yogurt, these mini cheesecakes are to die for delicious and beautiful, too!
Gluten Free Monster Cookies [Dairy Free] – These are so festive and easily made to customize into any party theme! Perfect for hosting friends and family with dietary restrictions!
Healthy Brownies – Shhh! They'll never know they are healthy, but they will sure be tasty!
Instant Pot Apple Crisp | Gluten-free Apple Crisp – This is basically fruit and oatmeal right? I love having the versatility to make it in the Instant Pot or oven.
Gluten Free Apple Tart – Like a low maintenance apple pie, this tart is really pretty looking on a brunch table spread!
Holiday Pear Apple Cranberry Crisp – Made with fiber rich oats, almond flour, and honey or maple syrup, Healthy Holiday Crisp can be made quickly and easily in your Instant Pot or right in your oven. Brunch perfection!
Chocolate Chia Pudding – Make ahead chia pudding is a nice little treat for your guests and also has a TON of health benefits!
No Bake Peanut Butter Cookies [Vegan | GF] – Perfect for your vegan guests and great to make ahead for your brunch.
Healthy Strawberry Shortcake – This Healthy Strawberry Shortcake Recipe might be your new favorite warm weather dessert!
Berry Crisp – Serve with or without the homemade coconut cream – it's delicious any way you eat it!
Healthy Copycat Mini Reese's Peanut Butter Cups – Do we need an excuse to make healthier homemade peanut butter cups? I don't think so. But if we did, turning them into PB eggs for Easter brunch sounds like a pretty solid one to me.
Healthy Instant Pot Peach Crisp – Don't tell, but I've actually eaten this for breakfast. So brunch seems even more appropriate!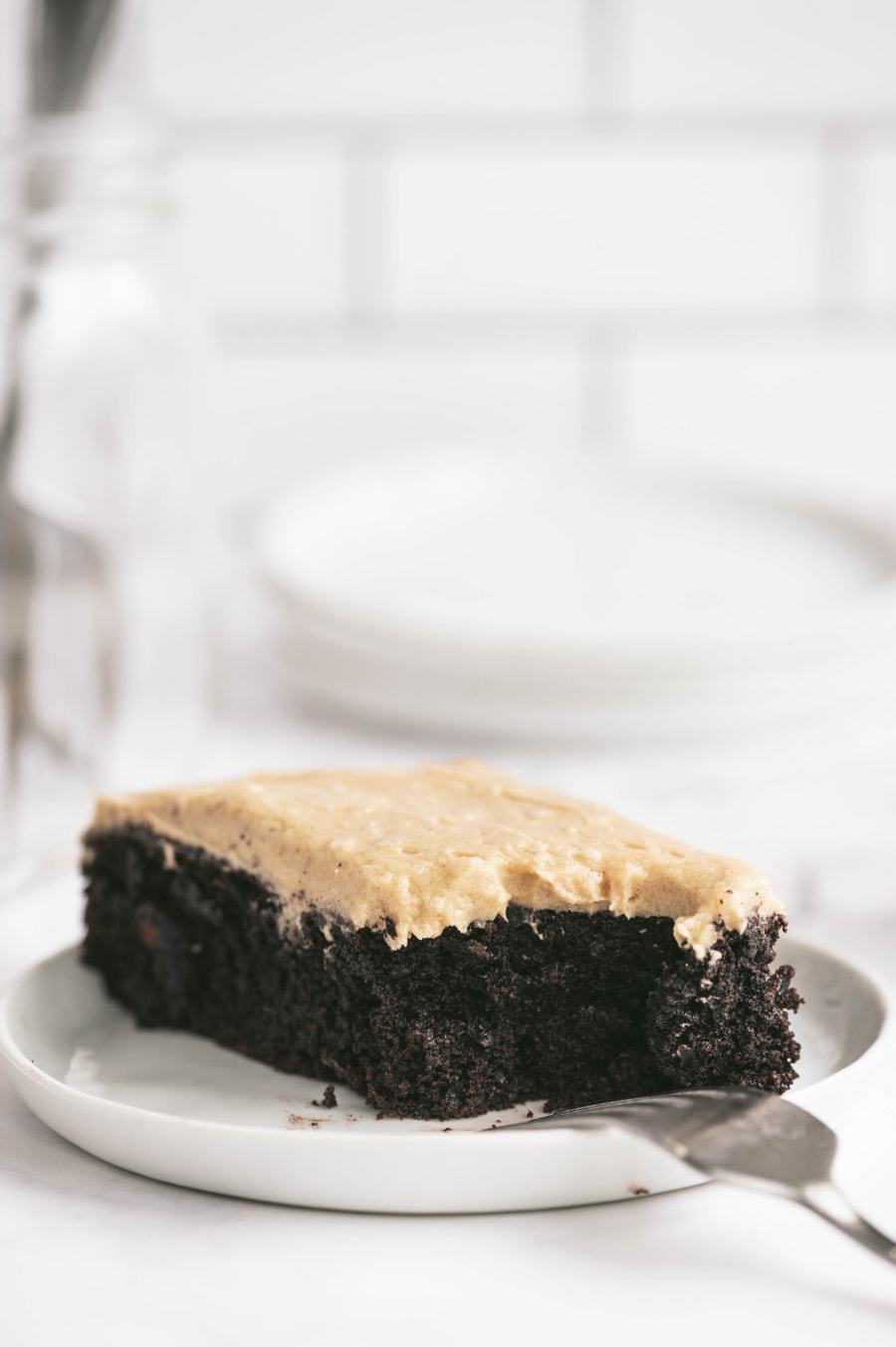 Gluten Free Chocolate Cake with Peanut Butter Frosting – Grain Free, Dairy Free, Gluten Free, Refined Sugar Free, 21 Day Fix approved CAKE that's delicious?! Sign me up.
Caramel Apple Dip – Tip: soak your apple slices in warm salt water for 5 minutes before serving and they will stay fresh and beautiful for your brunch!
Healthy Instant Pot Brown Rice Pudding – Comfort food with a healthier twist- I really really love this rice pudding, and so do all my guests.
Banana Cupcakes with Cardamom-Coconut Frosting | The Foodie and the Fix – These banana cupcakes are topped with a huge amount of whipped cardamom-coconut frosting. Dreams do come true!
Whipped Ricotta Cheesecake Stuffed Strawberries – A protein packed sweet treat that looks so cute and fun on the buffet!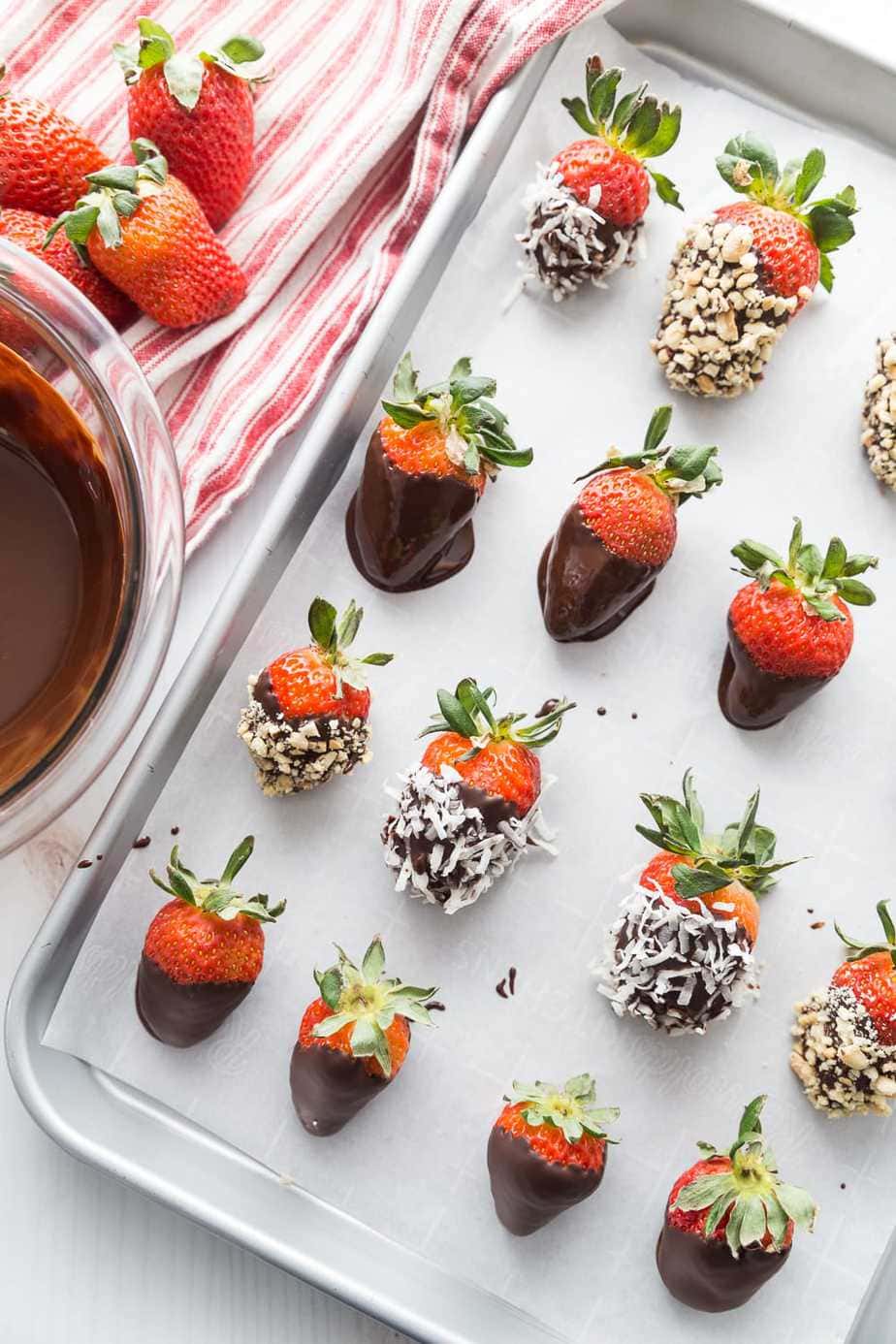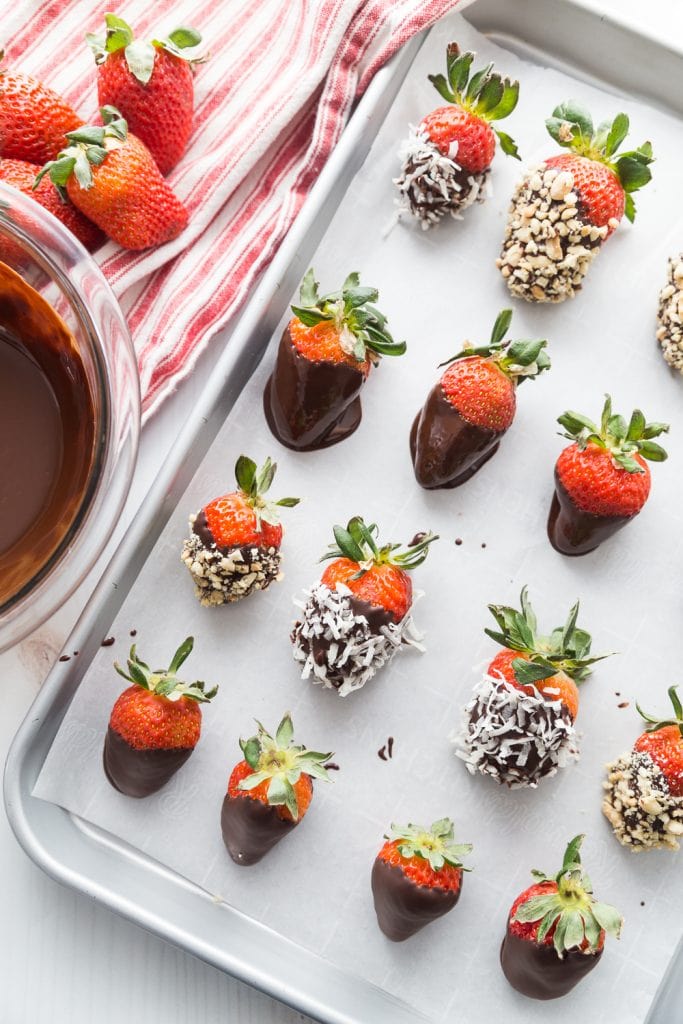 Instant Pot Chocolate Covered Strawberries – This seems like the perfect job for your brunch sous chef! I love using my IP as a double boiler- give me all the chocolate covered things!
Dairy Free Chocolate Fondue – Such a fun option for the best brunch menu! Use a variety of dippers to make everyone happy- strawberries are my favorite!
Vegan Chocolate Pudding – A great vegan option for your brunch spread, and everyone will love it!
Healthy Instant Pot Strawberry Rhubarb Crisp – Gluten Free, Dairy Free and packed with some amazing flavors and simple ingredients.
Strawberry Cheesecake | Carrie Elle – Another secret ingredient recipe to wow your guests – definitely make the day before your brunch gathering!
Beverages
Orange Strawberry Mimosas– Every brunch needs a yummy and pretty drink like this fun spin on the classic mimosa!
Frozen Strawberry Rhubarb Margaritas – Such a fun twist on a marg for spring and summer!
What are you going to try? Share your favorite Healthy Brunch Recipes menu with me!